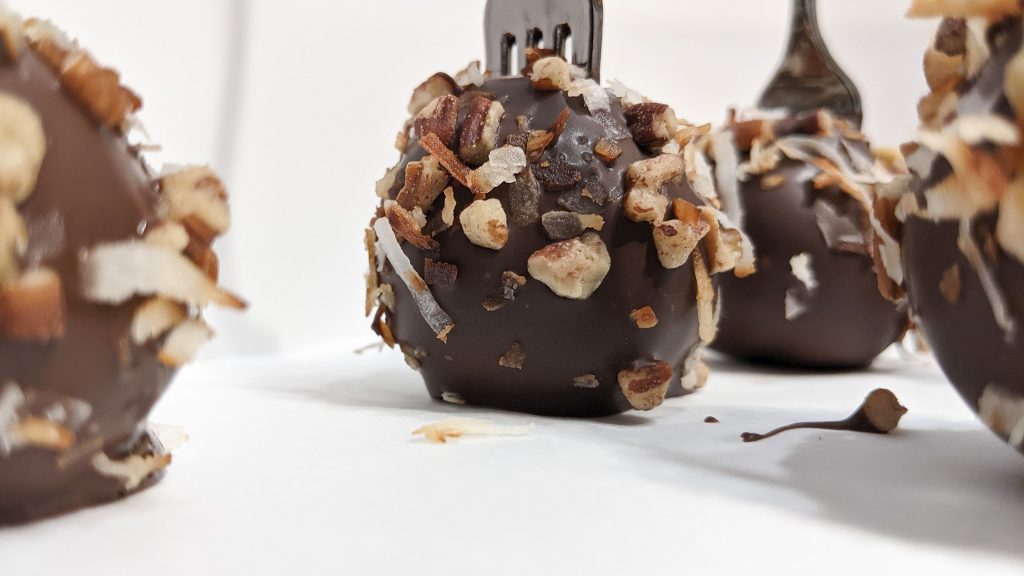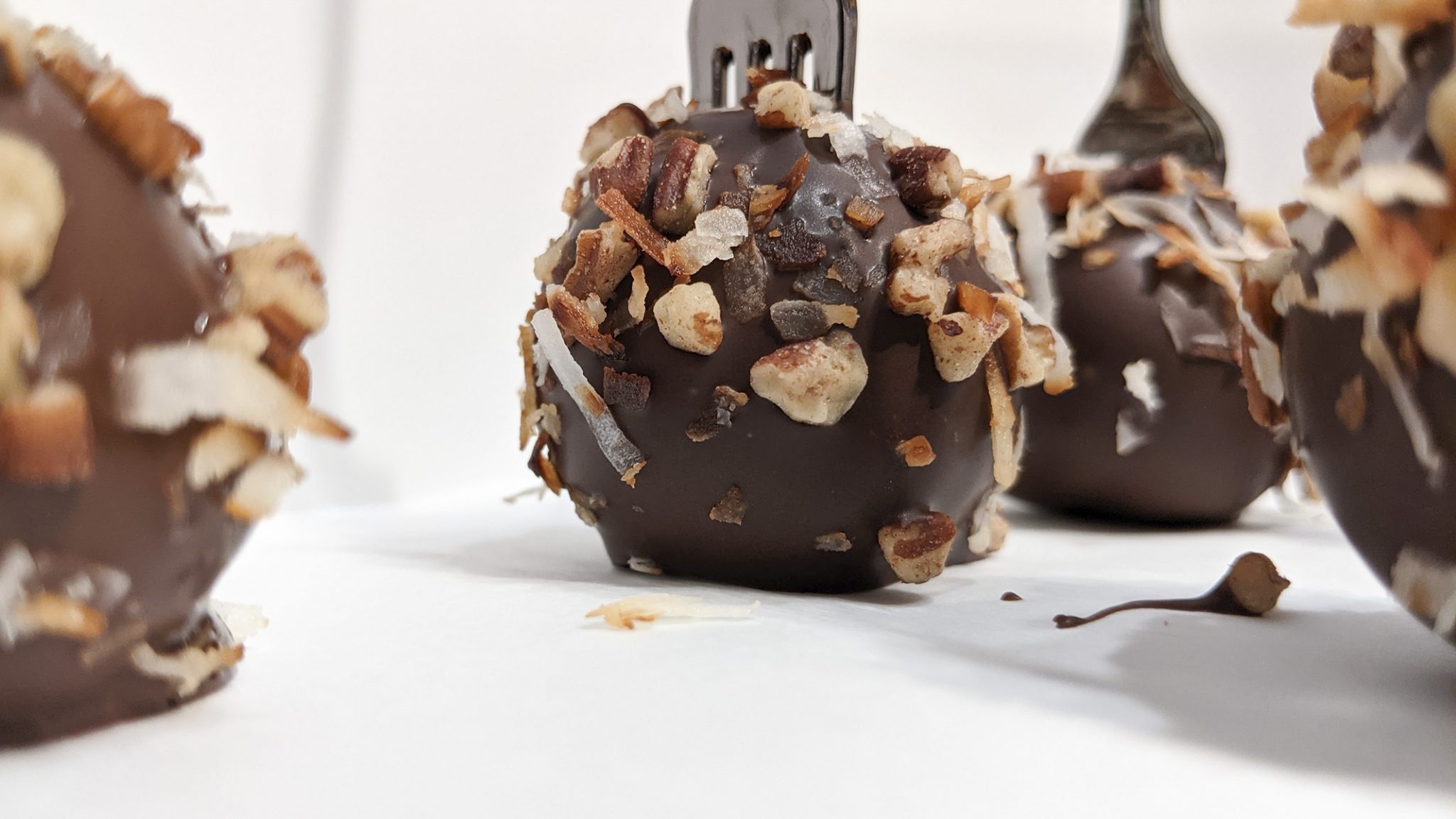 Black forest cake meets German chocolate cake in this unique and delicious cake pop recipe that you will be making again and again. These black forest German chocolate cake pops turned out better than I expected them to. And I already had high hopes for them. I made these for my husband's birthday this year and they were a huge hit. It was totally Robbie's idea to add the maraschino cherries to the center of these cake pops and it make them amazing.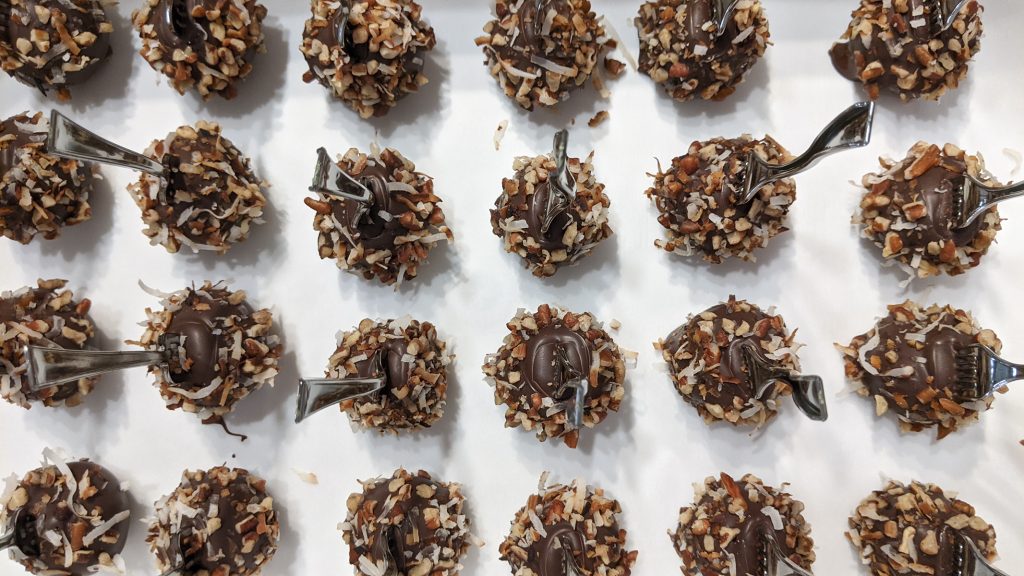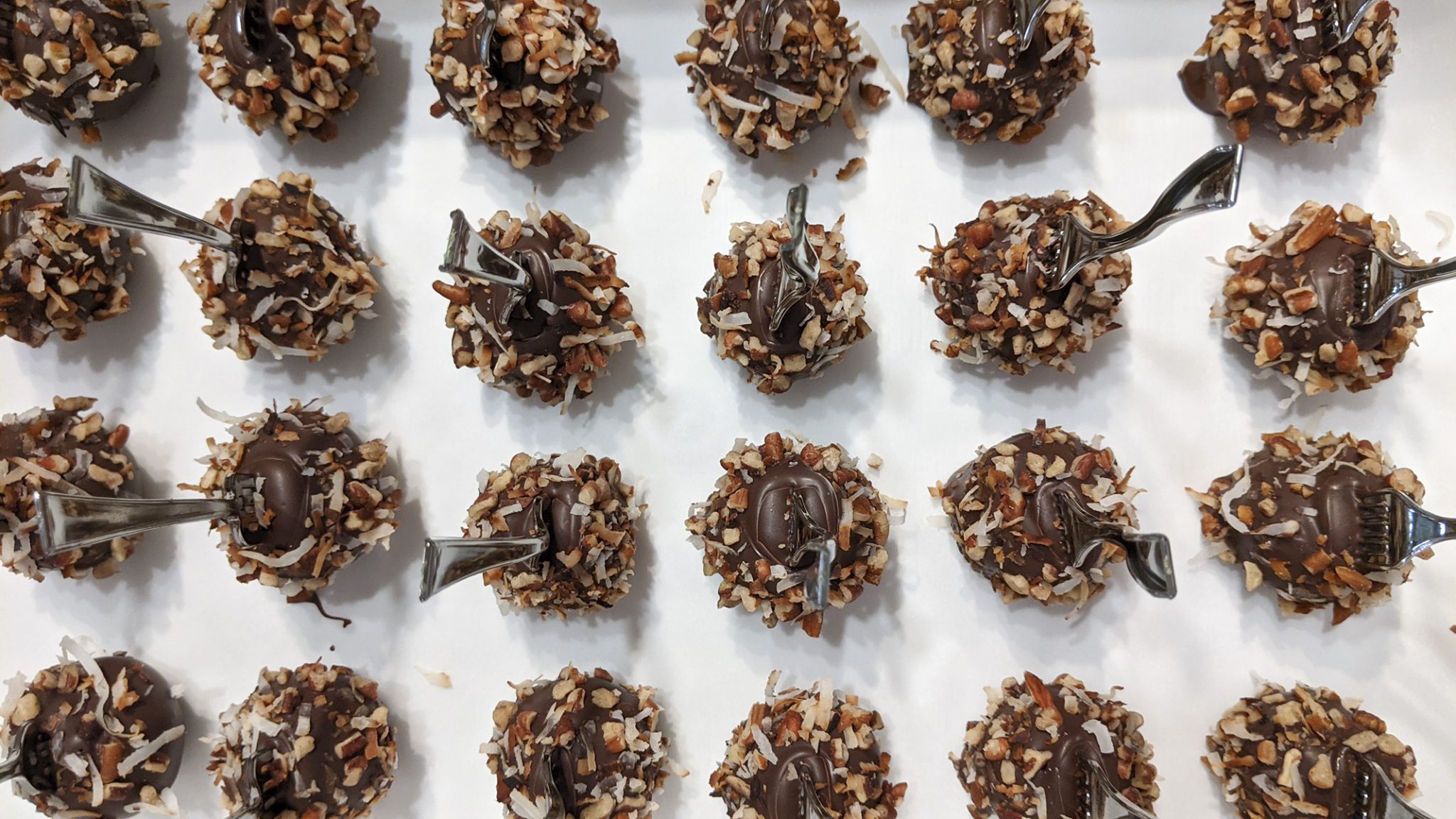 Supplies Used
I actually used boxed cake mix and frosting to make these black forest German chocolate cake pops. I just wanted to simplify things a little bit since there are a lot of steps in making cake pops. To start with, just make the cake according to the package directions. I baked it in a 9×13 inch pan since the shape of the cake didn't matter.
I used these mini tasting forks instead of the usual cake pop stick. It actually made coating them in chocolate so much easier. When I have used the cake pop sticks for cake pops, I always have a few that end up falling off and dropping into the melted chocolate. Not this time! These mini forks were awesome and I will be using them for all my cake pops. They come in different colors too.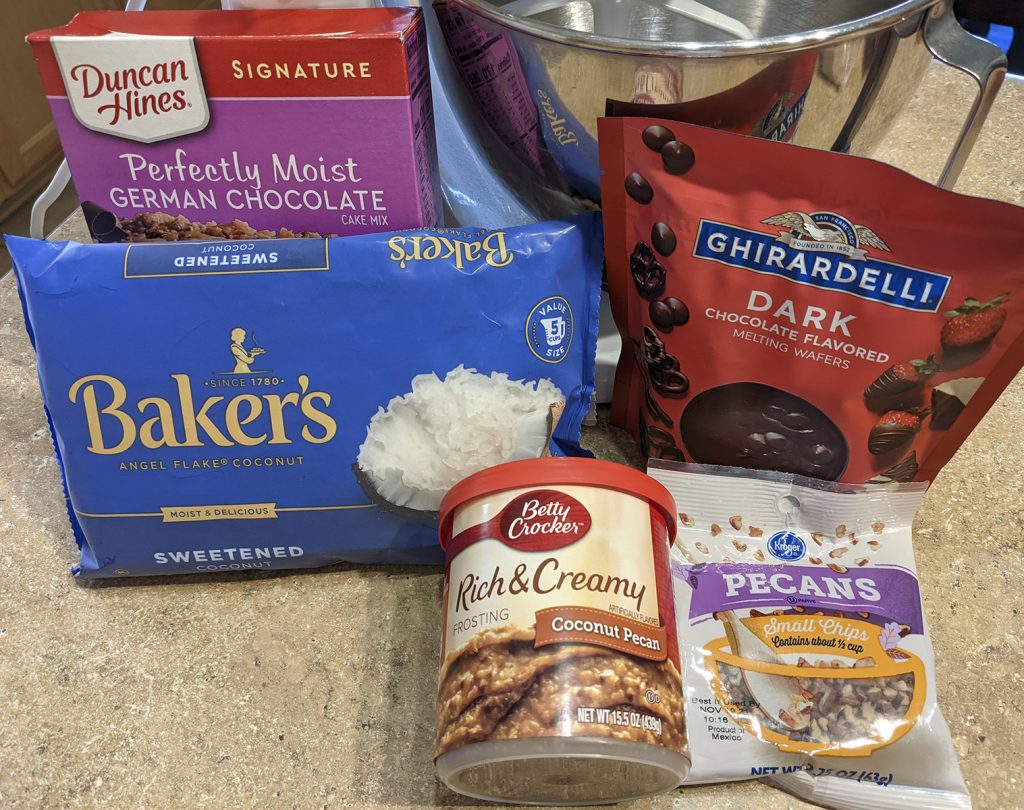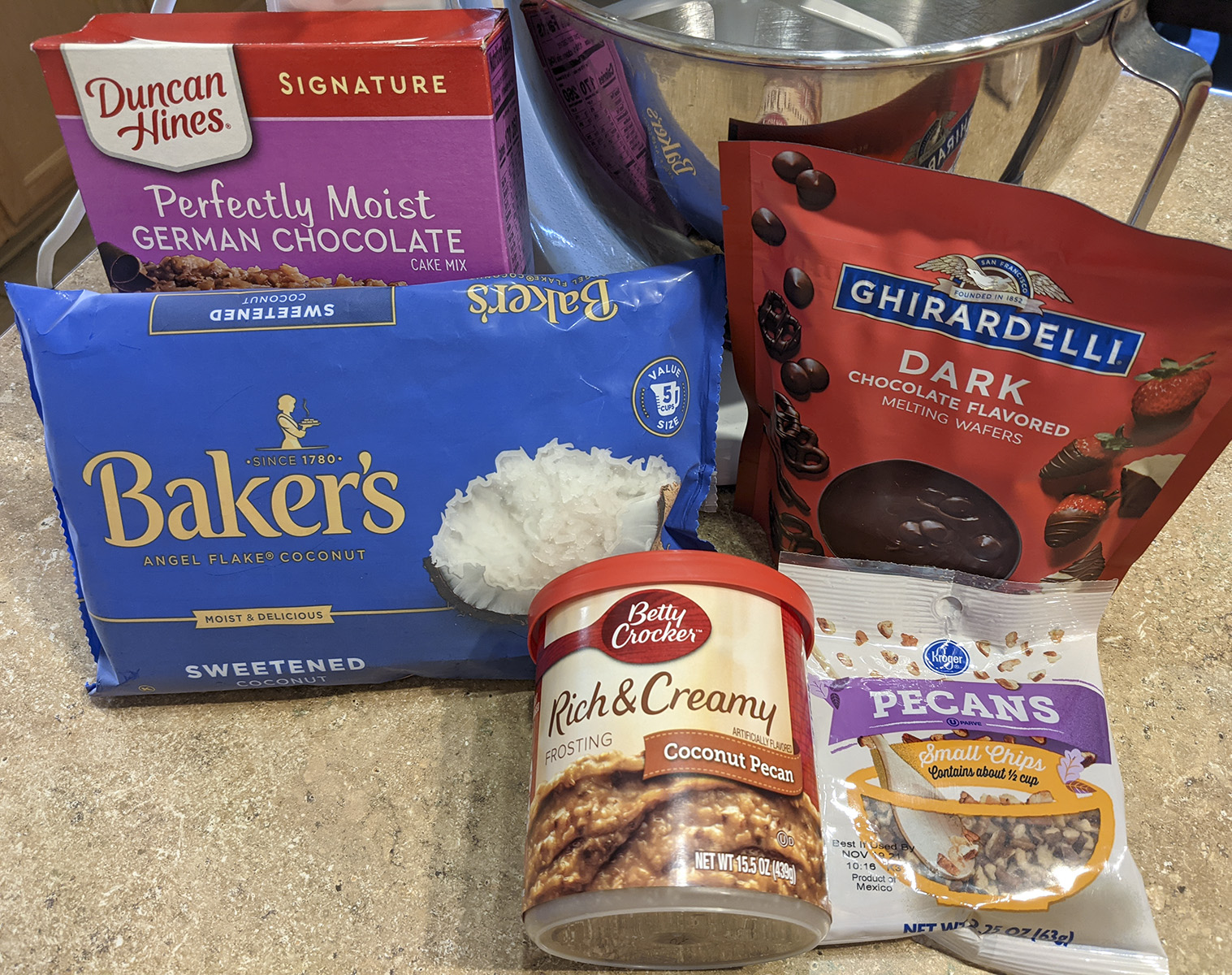 How To Make These Delicious Treats
Once it is done baking, let it cool and transfer it to a mixer bowl. You can also mix this by hand, but if you have a stand mixer it really makes the job easier. Mix the cake on it's own to break it up nicely. Add a good sized scoop of the coconut pecan frosting. I used a little less than half the tub for these cake pops. Don't add too much to start with because it can get too moist and won't have the right consistency. You can always add more if you didn't add enough to start with.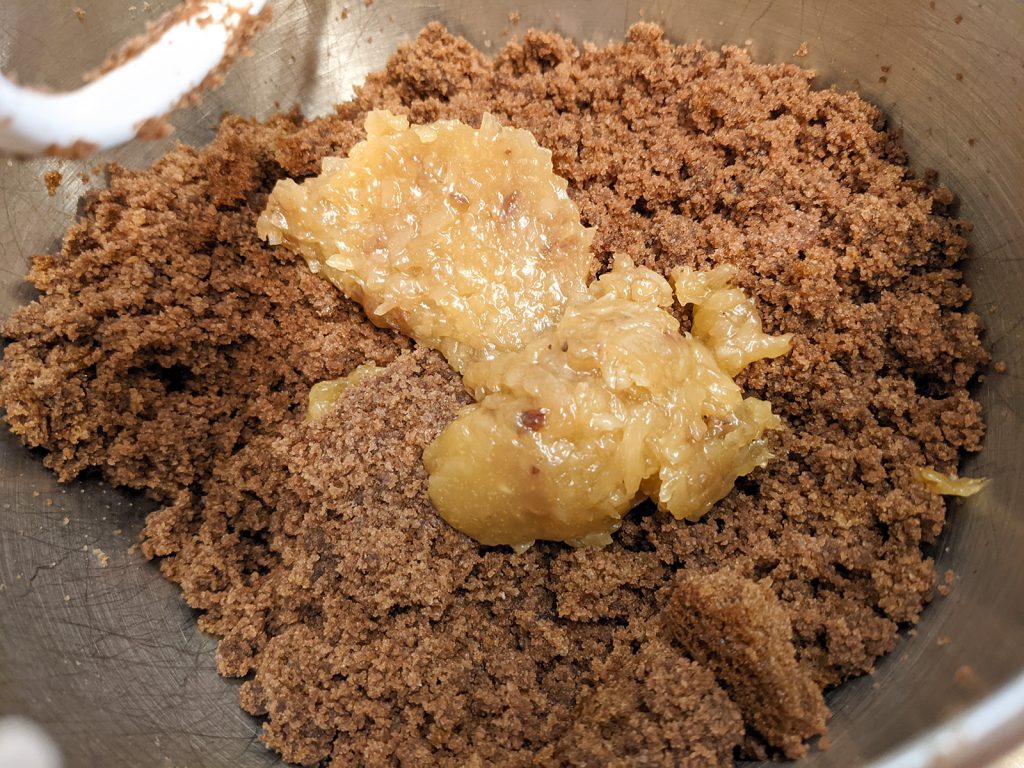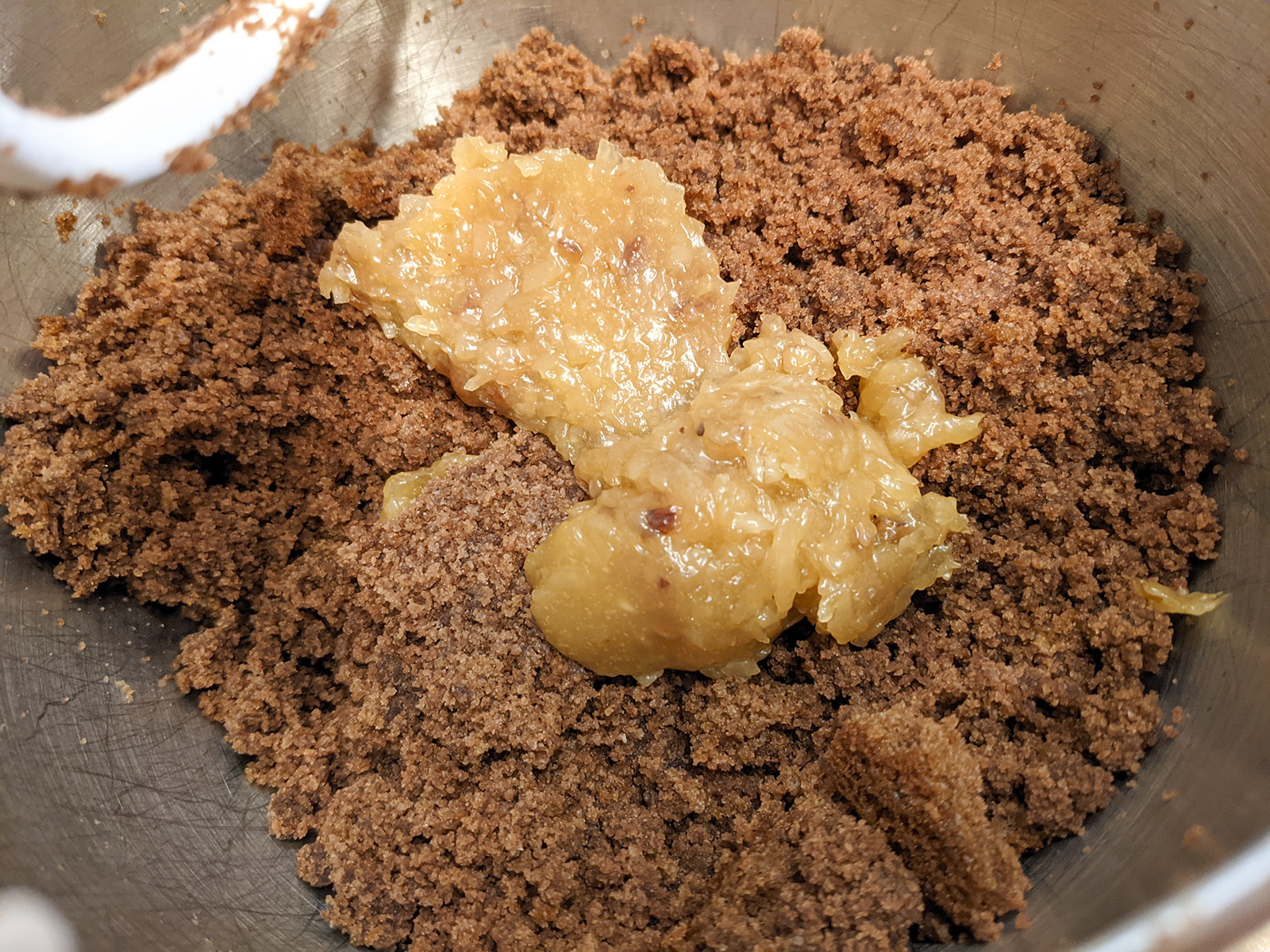 Use a cookie scoop to portion out the balls of cake. This will make them just the right size to fit a maraschino cherry into the middle.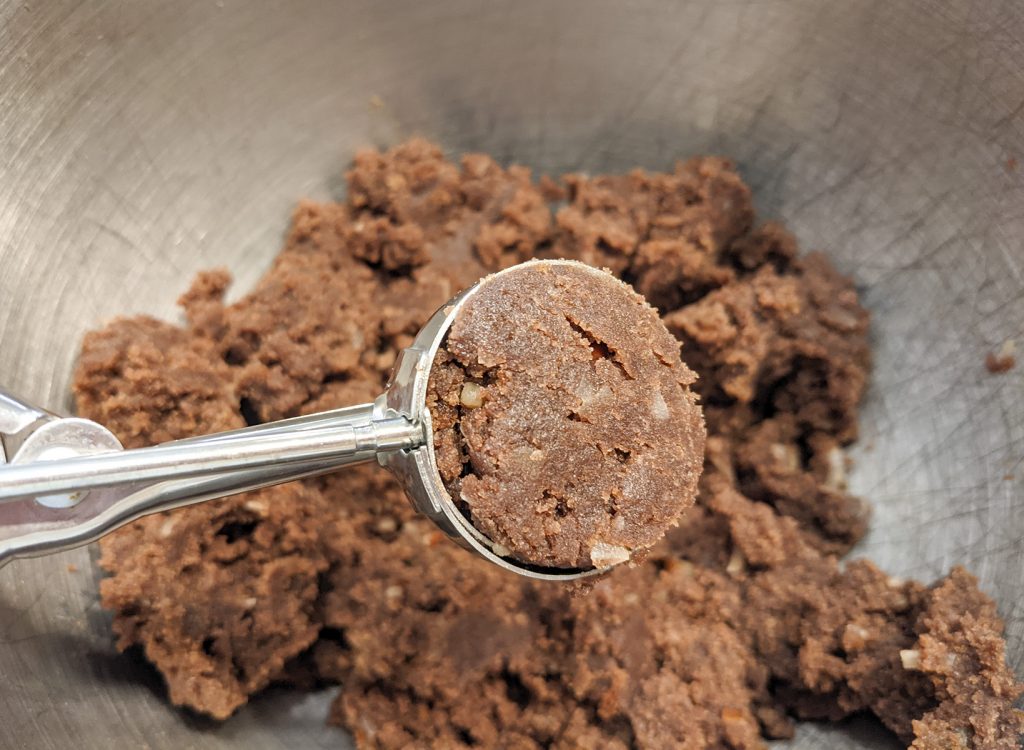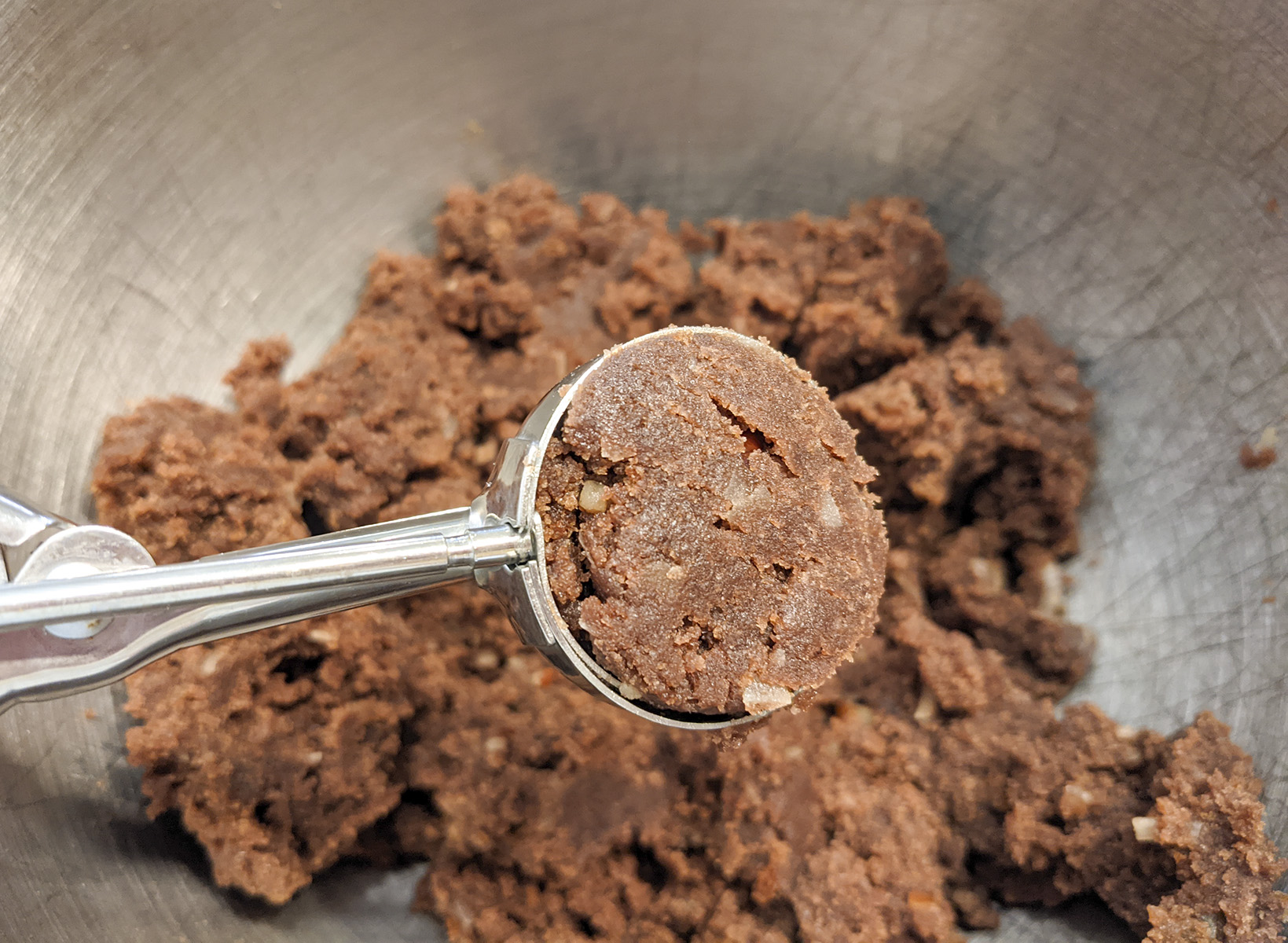 Add the maraschino cherry to the center and form the ball of cake into a nicely rounded ball. Place in a container so they can be chilled before coating them in chocolate. While they are chilling in the fridge, toast the coconut in a small pan over medium heat until it smells toasty and is lightly browned.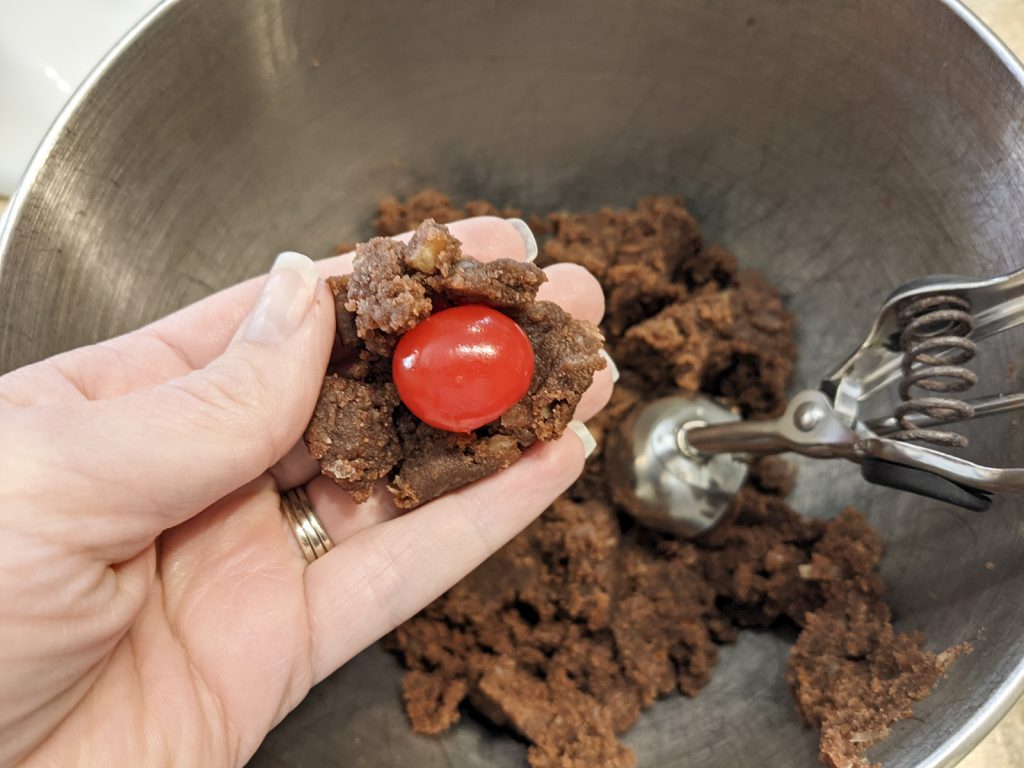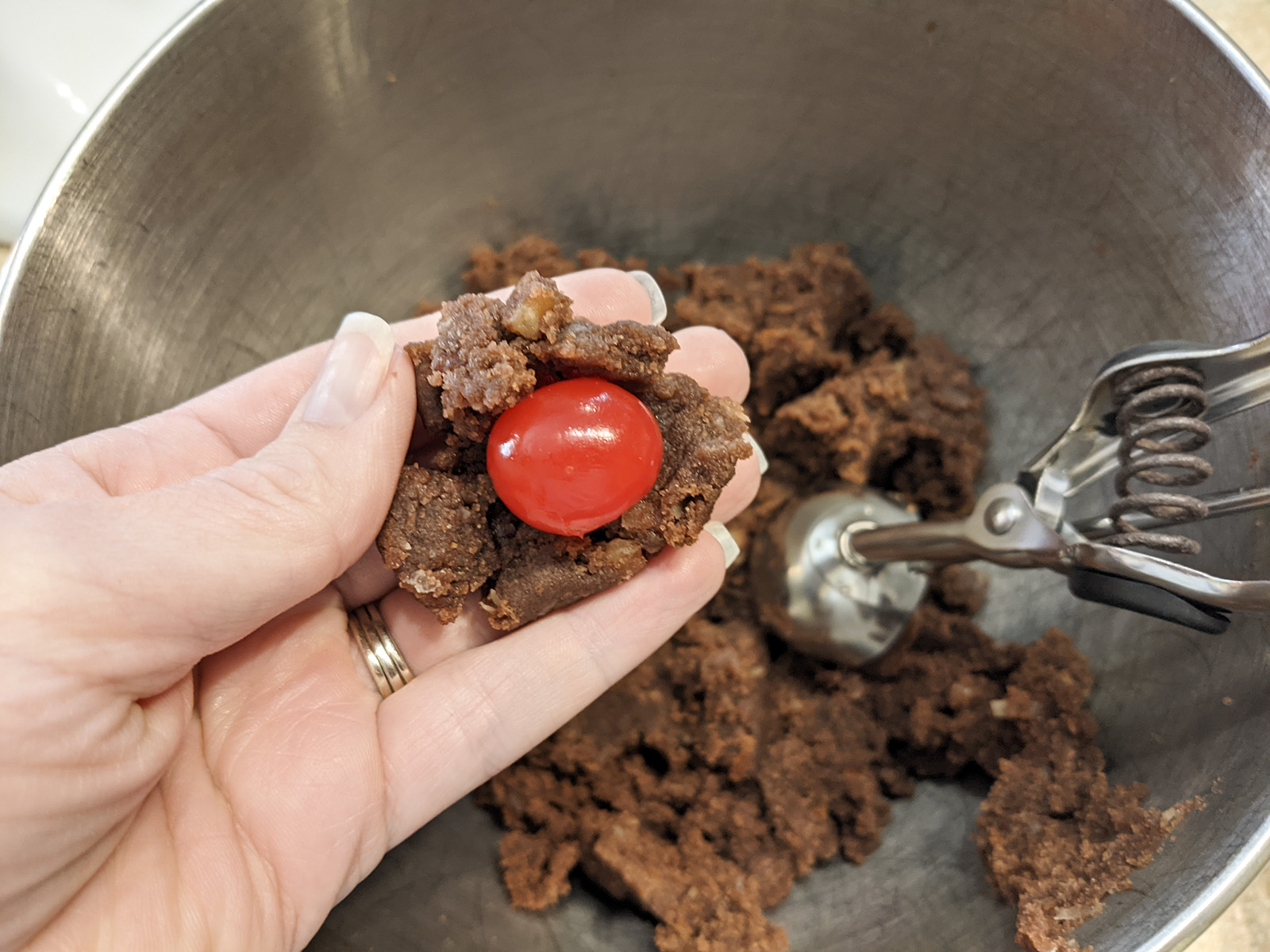 I like to use mini forks instead of the cake pop sticks. It looks really neat and it helps the cake pop to stay in place while you are covering it in chocolate. Remember to dip the mini fork into the melted chocolate before pressing down into the cake ball. This will help it to hold onto it better.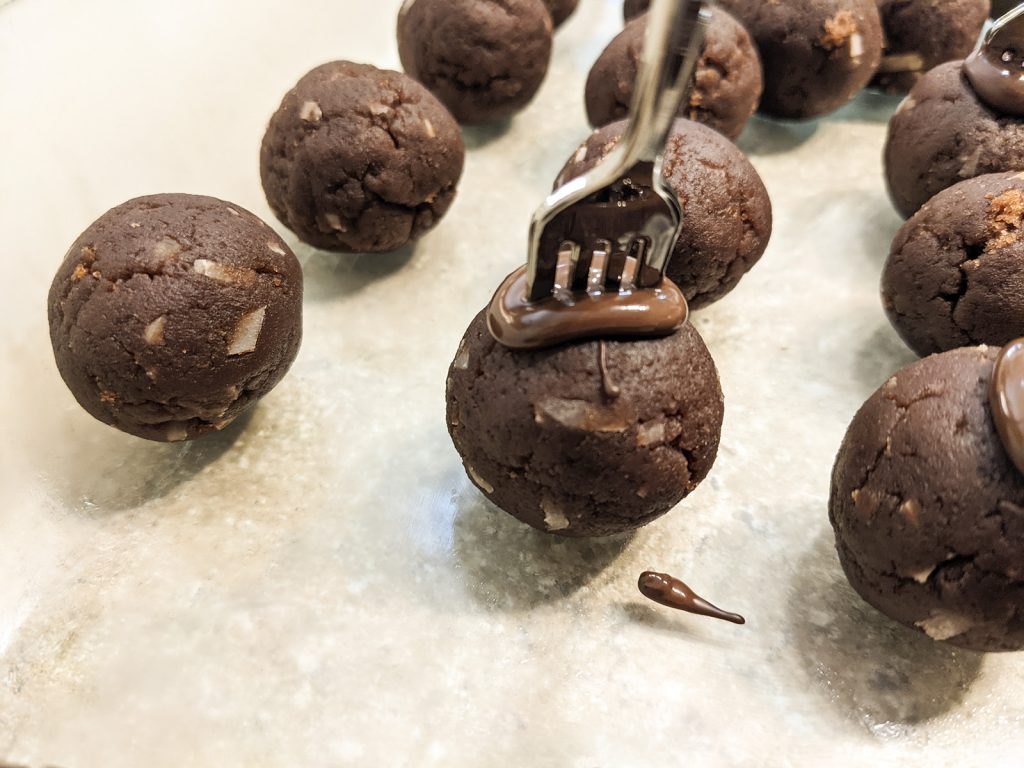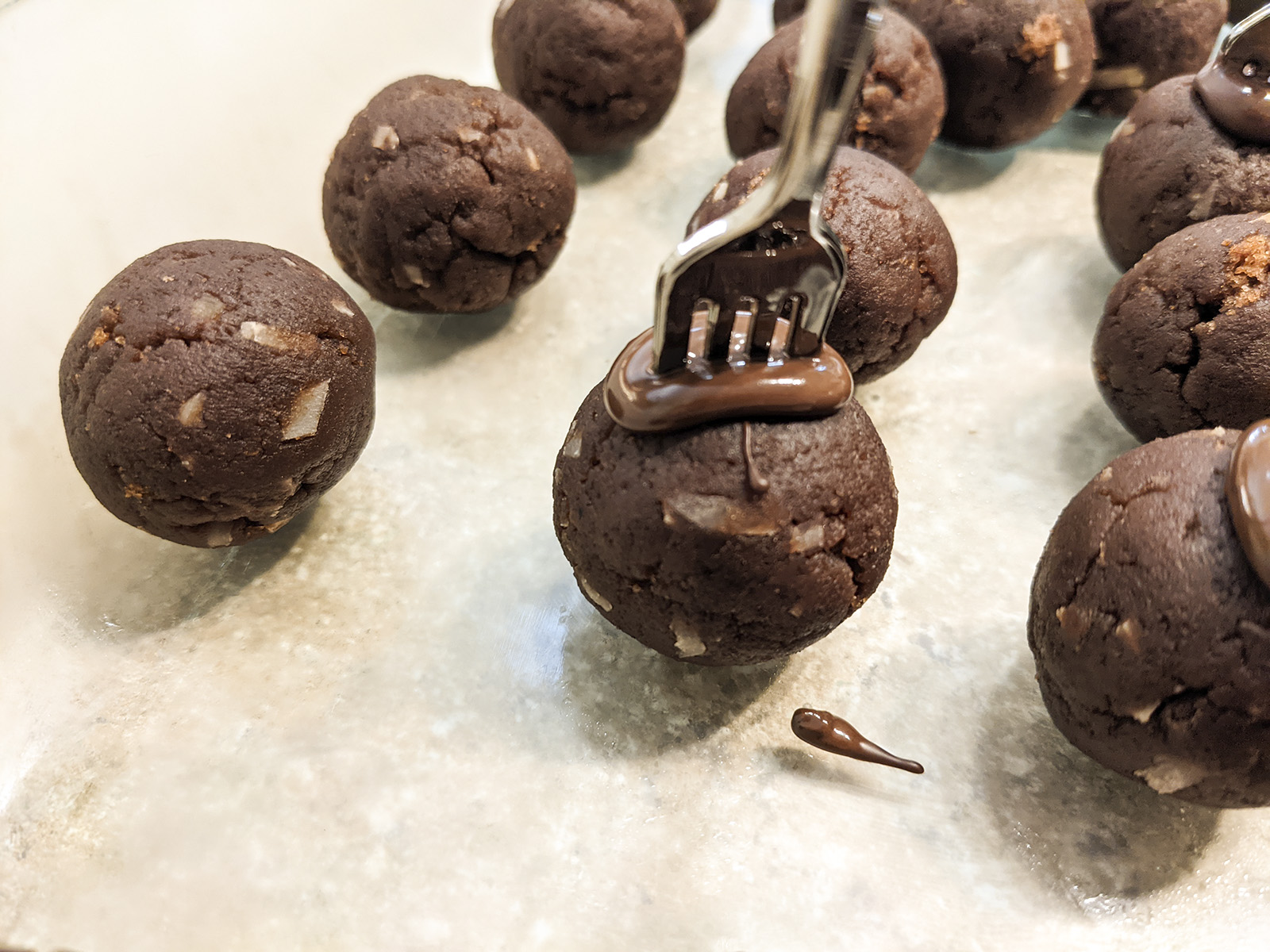 After dipping in chocolate, sprinkle right away with toasted coconut and chopped pecans. Place on parchment paper to harden the chocolate.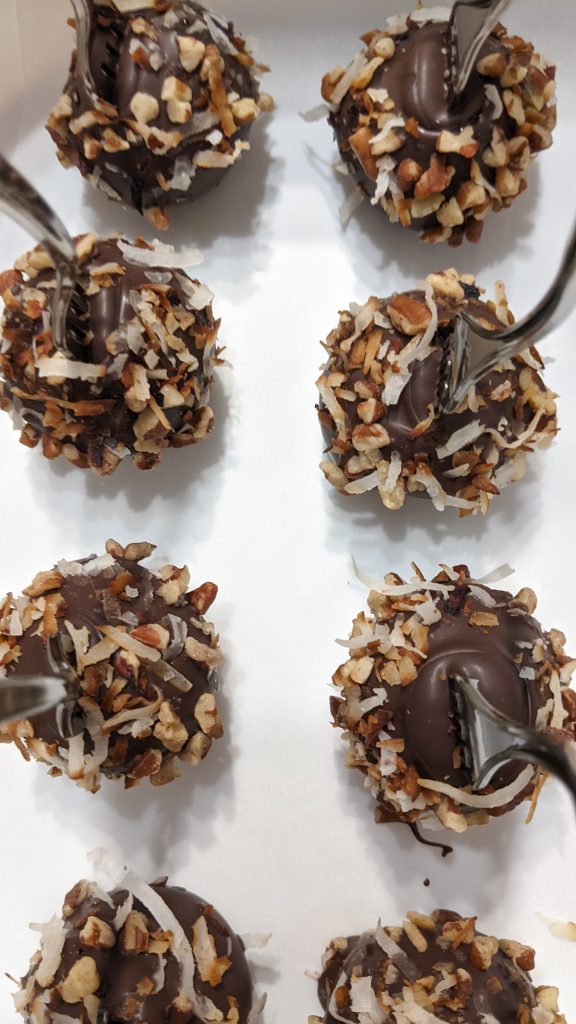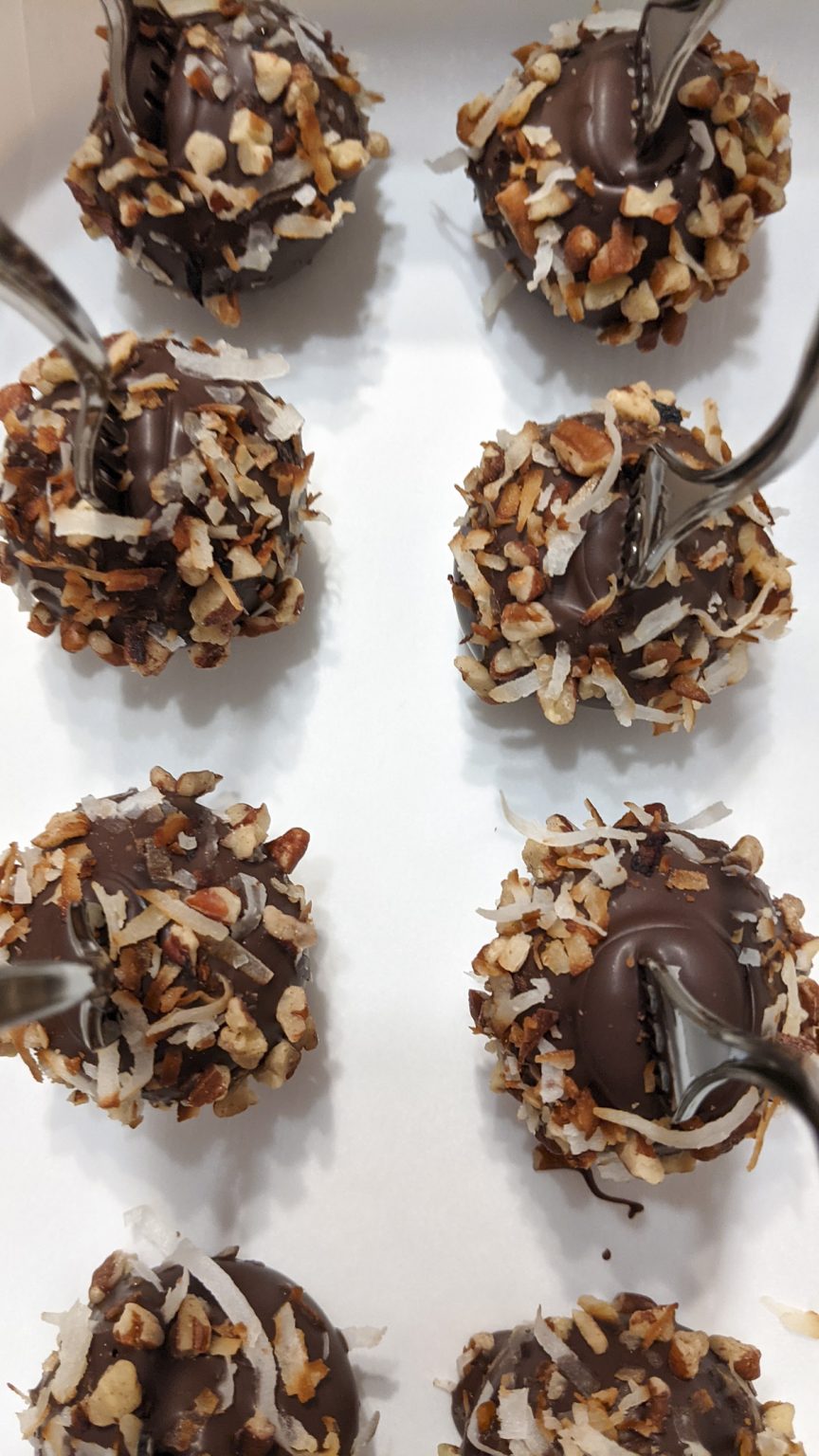 Other Recipes Made For Robbie's Birthday
Fried Chicken Eggs Benedict – Inspired by Hash House A Go Go menu item with mashed potatoes, biscuits, lettuce, tomatoes, bacon, sage fried chicken, eggs, mozzarella cheese, and a chipotle cream sauce.
Pizza Dough – Was originally shared on Robbie's birthday and later updated.
Root Beer Cake – Moist chocolate root beer flavored cake
Zucchini, Mushroom and Chicken Alfredo – This wasn't actually a birthday post, but a favorite meal that often is made on a birthday.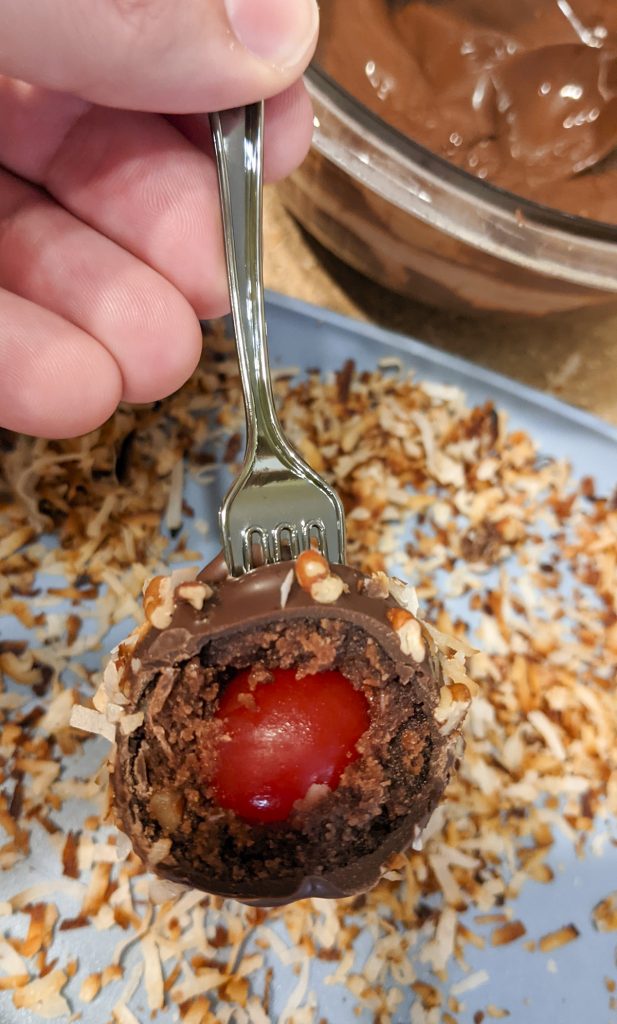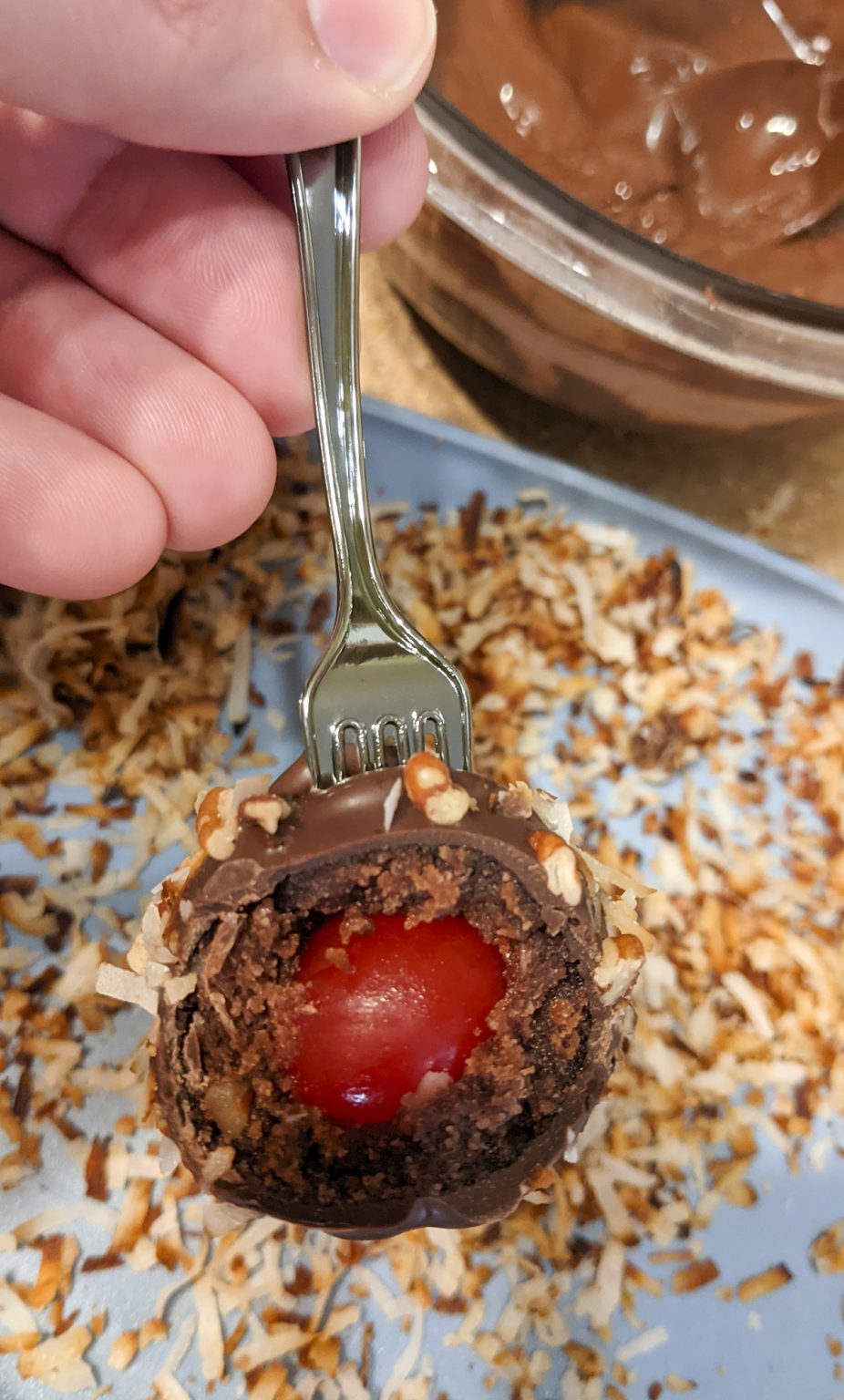 Top Amazon Picks For This Recipe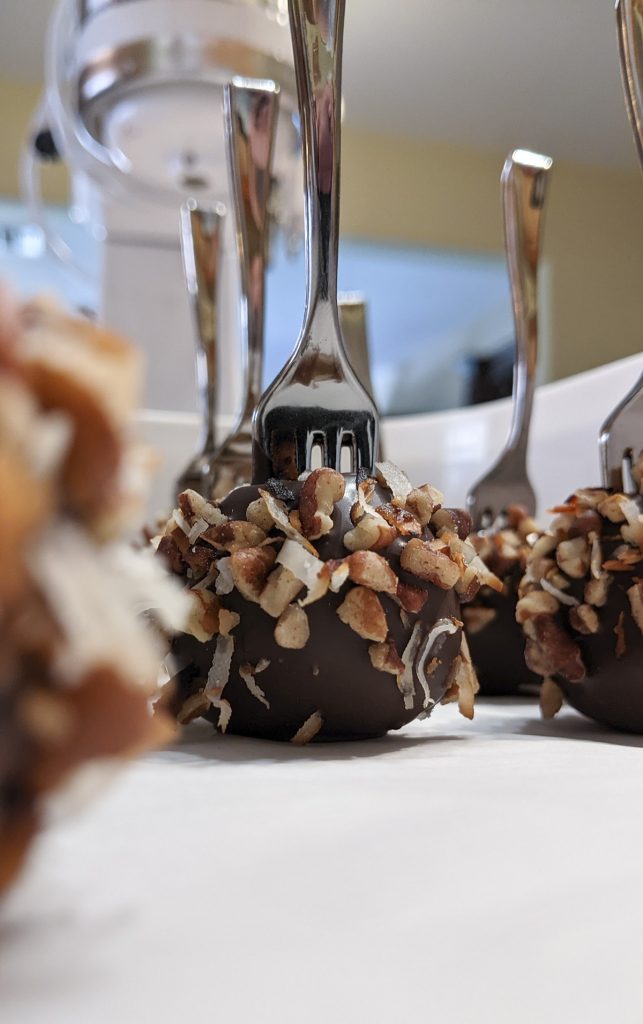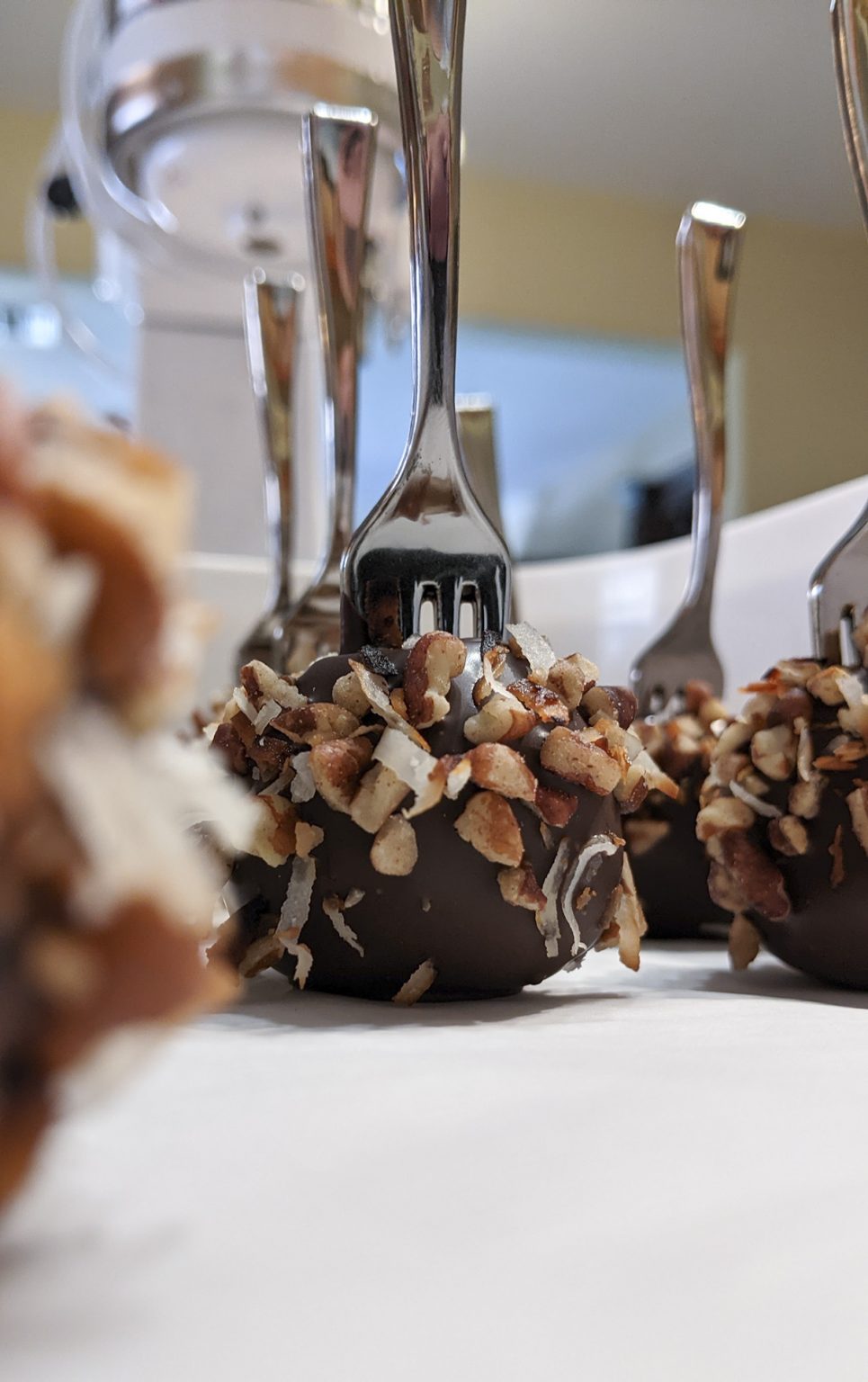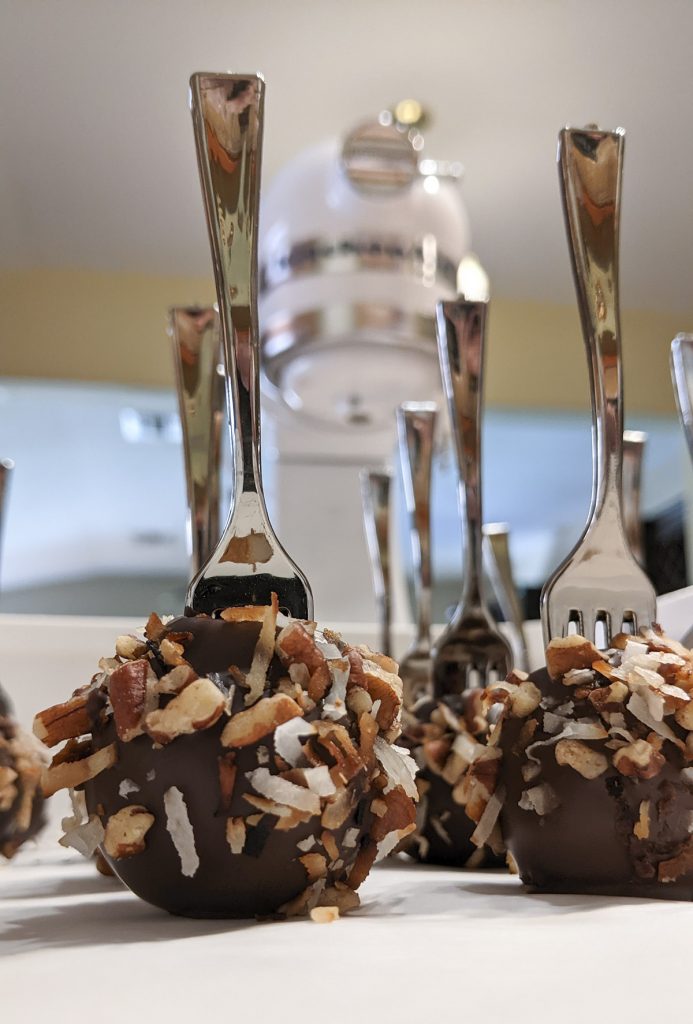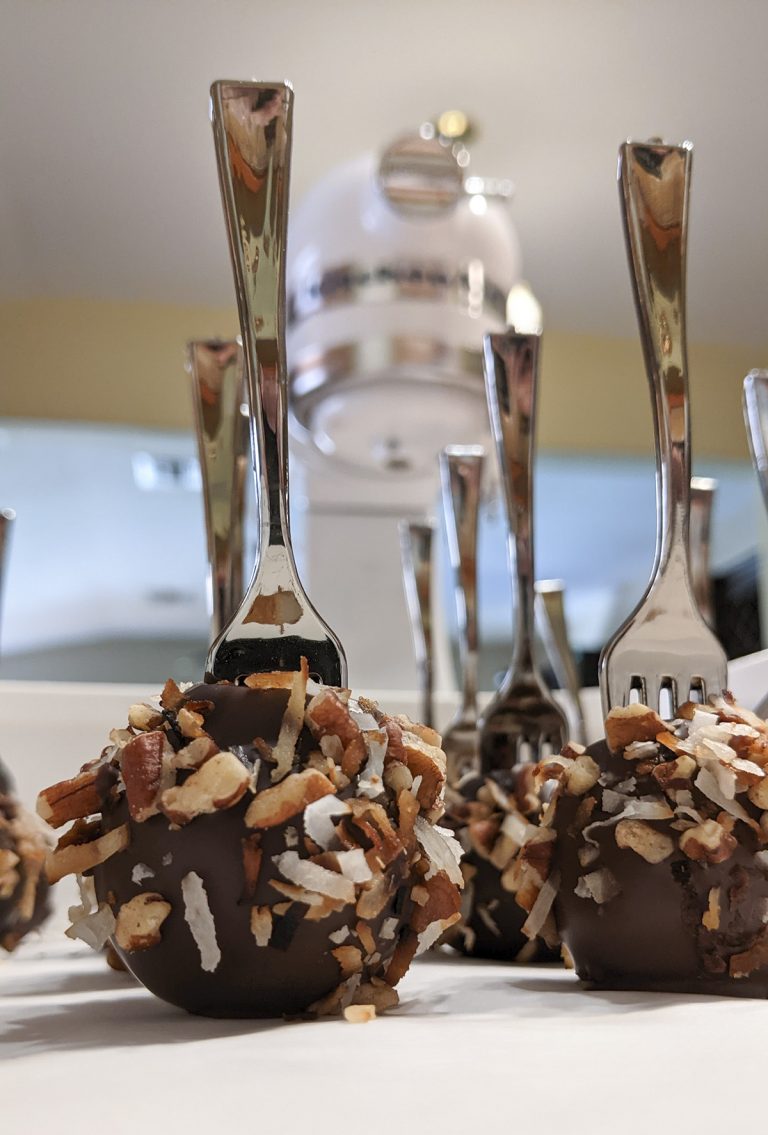 Connect With Us!
If you try this recipe, please leave a comment and star rating below to let us know how it turned out! We would also love to connect with you on Facebook, Instagram, or Pinterest. Tag @chloestrayblog or #chloestray to show us your food!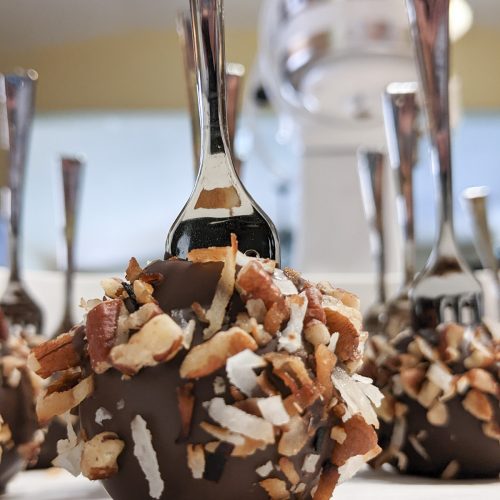 Black Forest German Chocolate Cake Pops
Black forest cake meets German chocolate cake in these delicious cake pops that you will make again and again.
Ingredients
15.25

oz.

German chocolate cake mix,

plus egg and oil needed per package instructions

1

tub

coconut pecan frosting

1/2

cup

sweetened coconut flakes

1/2

cup

chopped pecans

16

oz.

melting chocolate

36

maraschino cherries

36

mini forks
Instructions
Prepare the cake mix according to package directions in a 9 x 13 inch pan. Let cool.

Transfer the cake to the bowl of a stand mixer. Mix on low to break up the cake. This can also be done by hand in a large bowl.

Add a scoop of the coconut pecan frosting to the bowl with the broken up cake. You will need less than half of the tub of frosting. Don't add too much to start with or it will end up too moist. Mix in just enough so the cake will hold it's shape when formed into balls.

Use a cookie scoop to portion out the cake pop mixture. Dry the maraschino cherries on paper towels so they don't add too much moisture to the cake pops. Flatten out the cake a little and form around a maraschino cherry and into a ball shape.

Place the balls of cake in the freezer for about 15 minutes. You want them to be firm, but not frozen.

Toast the coconut in a small pan over medium heat, stirring frequently, until it smells toasty and is light golden brown. Set aside.

Prepare a place to set the finished cake pops. This can be as simple as a baking sheet lined with parchment paper.

Melt the chocolate in the microwave according to the package directions. Be careful not to overheat it. The chocolate will cool down as you work and can be reheated for 15 seconds.

Take a mini fork and dip it in the melted chocolate then press it into the top of the cake ball. Repeat with the remaining cake and forks.

Dip the cake pops into the melted chocolate. Holding the cake pop over the bowl of chocolate, tap your wrist with your other hand to gently remove any extra chocolate.

Sprinkle with the toasted coconut and chopped pecans right after coating each cake pop with chocolate. Set on prepared pan to harden the chocolate.