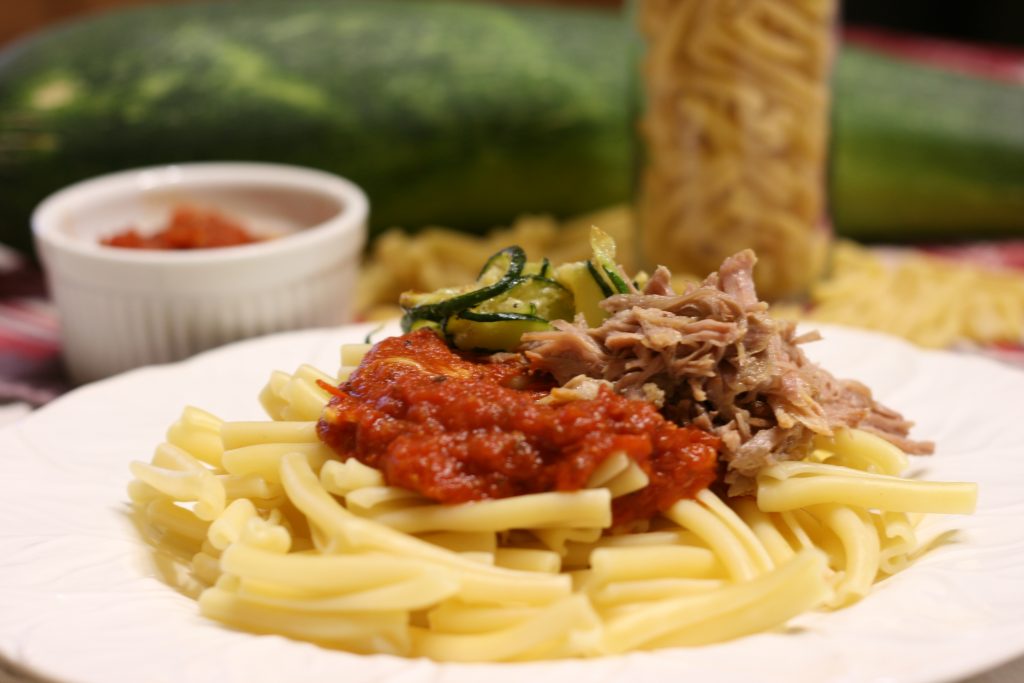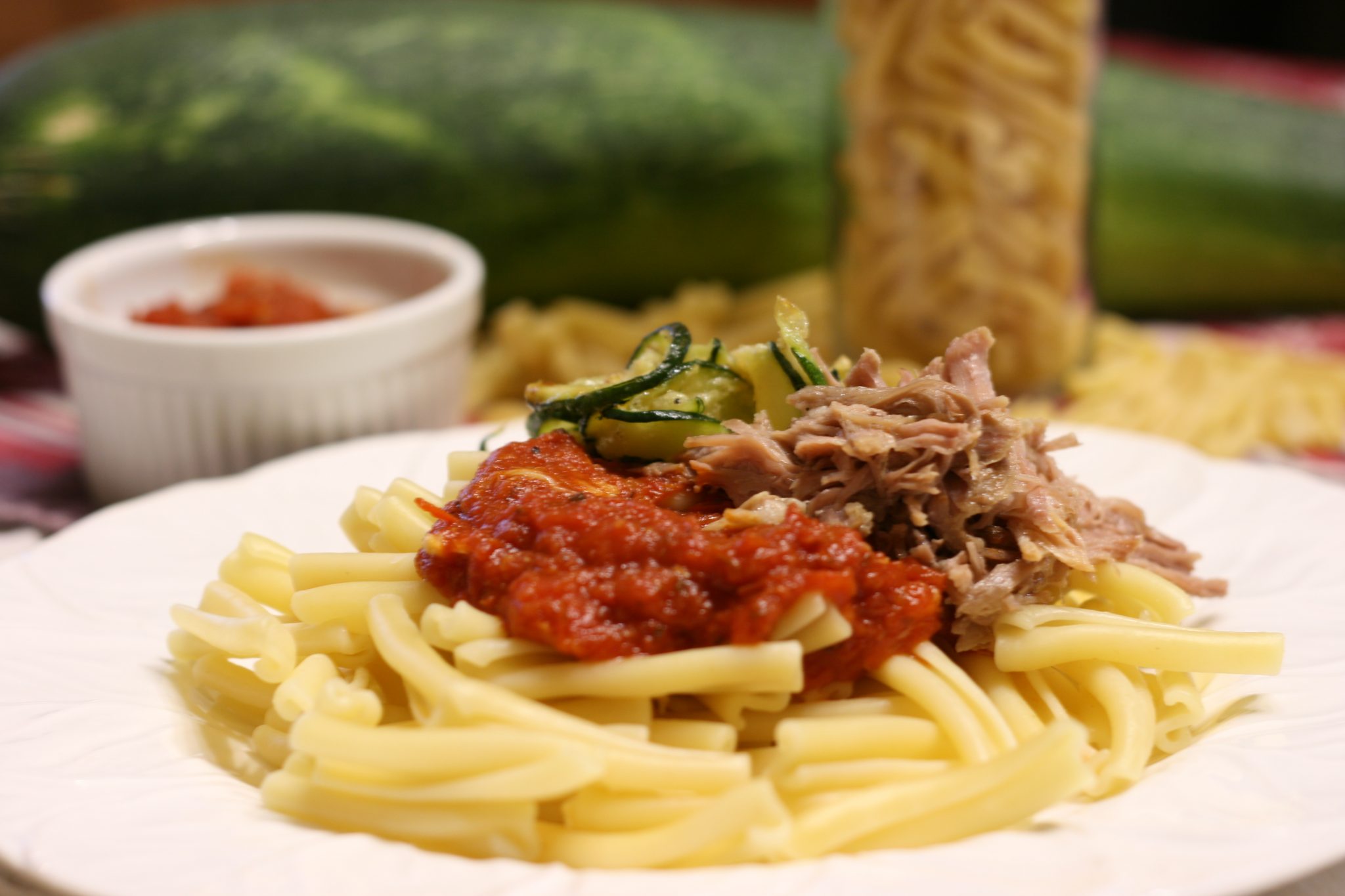 Roasted garlic is so delicious. Roasting makes the garlic super soft and wonderfully flavorful. Sometimes I like to roast a bulb of garlic and spread it on some warm toasted slices of bread. You are definitely going to have garlic breath after eating this pasta. Many different vegetables and meats would be delicious on this pasta, but I decided to use zucchini because it is in season right now and a friends gave me some that she grew in her garden. I like to slow cook pork and chicken regularly to have on hand for meals during the week. The pork I used was a shoulder roast that I cooked in my slow cooker on high for about 8-9 hours with some salt and chili powder. Cooking it on high all day makes it super tender and will shred very easily. You could throw a roast in the slow cooker the day you are going to make this pasta dish and it will be ready to use by dinner time. The pasta I used is called casarecce and it looks like a flat rectangle of pasta that is formed into an 's' shape.  Other short pastas like penne, rigatoni, and farfalle would be great for this dish as well.

Ingredients:
1 bulb garlic
olive oil
1 lb casarecce pasta
28oz can crushed tomatoes
1 tablespoon dried onion flakes
1 tablespoon Italian seasoning
1 large zucchini, sliced
2 teaspoons garlic powder
1 1/2 cups cooked shredded pork
Preheat oven to 400°F.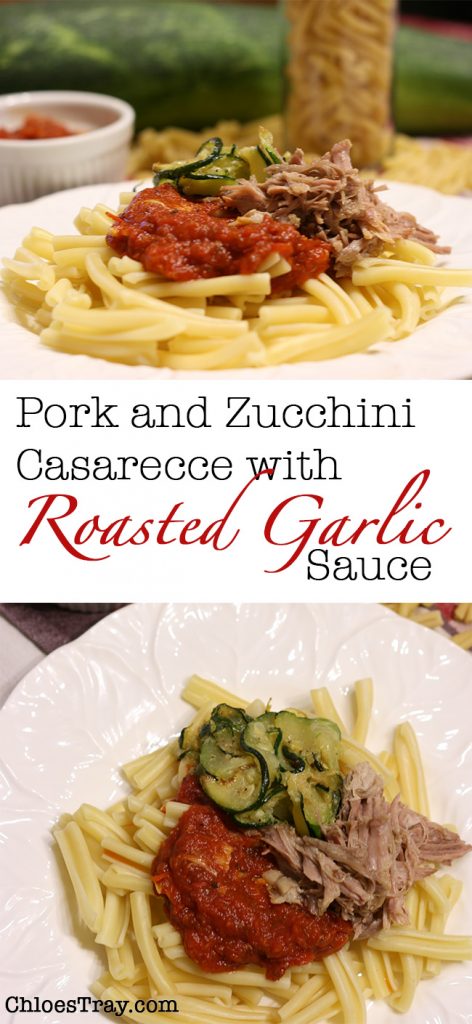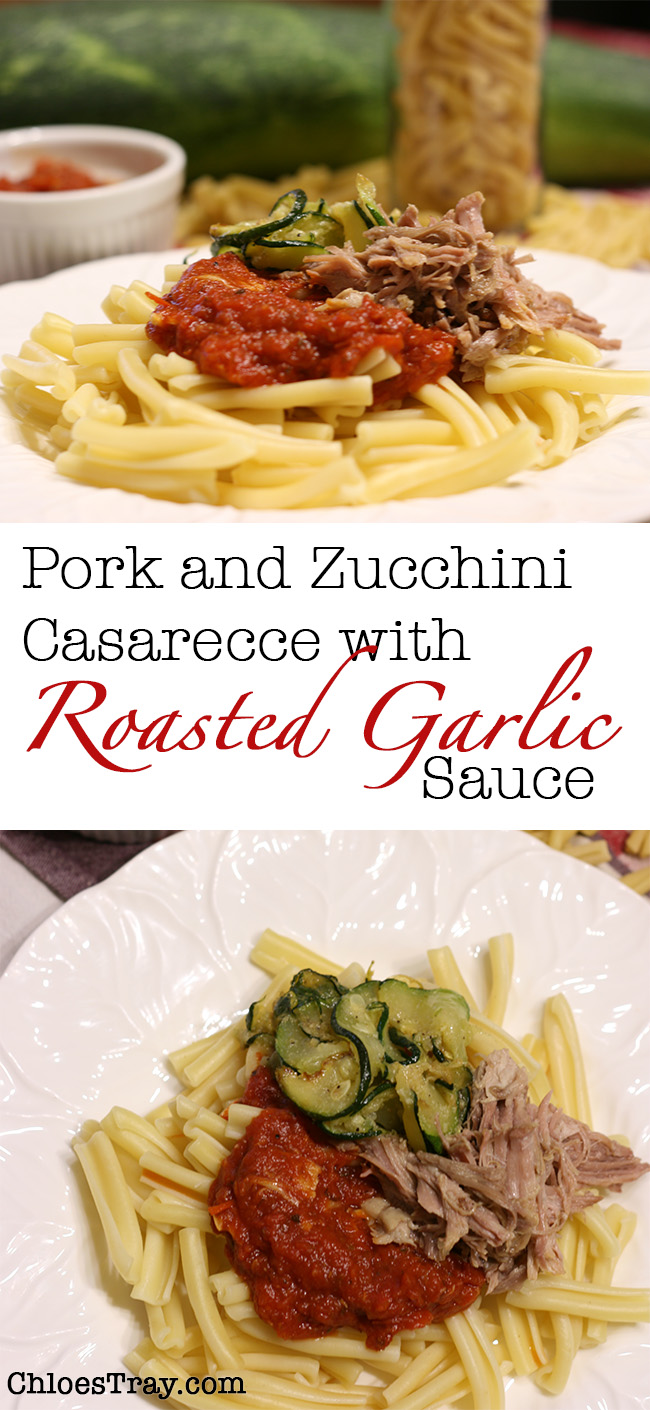 Slice the top off the garlic bulb, set on a square of aluminum foil and drizzle with olive oil. Wrap the foil around the garlic bulb, place on a foil lined baking pan, and bake for about 40 minutes, or until the garlic is soft enough to pierce easily with a knife. Let cool slightly and remove all the roasted garlic cloves.
Bring a pot of water to a boil and cook the pasta according to the package directions.
While the water is coming to a boil, heat 1 Tablespoon olive oil in a saucepan and add the roasted garlic. Smash garlic with a potato masher or fork. Cook for 2 minutes. Add crushed tomatoes, dried onion, and Italian seasoning. Season with salt and pepper to taste. Bring to a bubble then reduce to low and simmer until the pasta is cooked.
Heat 1 Tablespoon olive oil in a skillet over medium high heat. Add zucchini, 2 teaspoons garlic powder, and season with salt and pepper. Sauté until zucchini is cooked and browned slightly, about 5-7 minutes.
Heat shredded pork either in the microwave or in the same skillet as the zucchini.
Serve pasta topped with sauce, zucchini, and shredded pork.
Yield: 4 servings
Please follow and like us: