Side Dish
Jodi on December 14th, 2012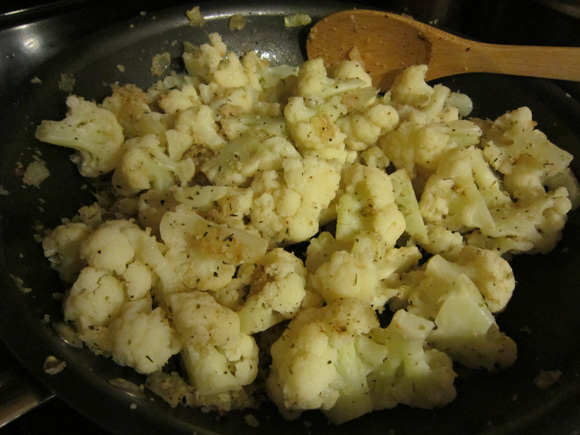 This is a delicious cauliflower side dish that is sure to go well with almost any main dish!
Ingredients:
1 Head Cauliflower, cut into florets
4 Tablespoons Butter, divided
1 Onion, chopped
1/2 Cup Italian Seasoned Bread Crumbs
Salt and Pepper
Bring 2 Cups water to a boil in a large skillet.  Add cauliflower florets and boil until tender.  Drain and set aside.
Melt 1 Tablespoon butter in the same skillet over medium high.  Brown onion, about 3-5 minutes.  Add remaining 3 Tablespoons butter and melt.  Stir in bread crumbs, coating with melted butter.
Add cauliflower back to the skillet and heat though, 3-5 minutes.  Season to taste with salt and pepper.
Yield: 4-6 Servings
-Recipe from AllRecipes.com-
Tags: Cauliflower, Side Dish
Jodi on December 5th, 2012
Broccoli Potato Mash is a great way to add in some extra vegetables to your family's diet!  This great side dish would go great with just about any dinner.  I used Idaho potatoes for my Broccoli Potato Mash, but it would be delicious with any type.  With delicious cheese mashed in, this Broccoli Potato Mash is sure to because a family favorite!
Ingredients:
1 lb Potatoes
3/4 lb Broccoli Florets
3/4 Cup Shredded Colby Jack Cheese
1/2 Cup Milk
Salt & Pepper, to taste
Cut potatoes into 2 inch chunks and place in a large pot of water.  Bring to a boil, reduce heat and simmer until almost done.
Add broccoli florets to the water with the potatoes.  Simmer until potatoes and broccoli are tender.  Drain.
Mash potatoes and broccoli together with the cheese and milk.  Season to taste with salt and pepper.
Yield: 4 Servings
-Recipe adapted from Sweet and Savory Tooth-
Tags: Broccoli, Cheese, Gluten Free, Mashed Potatoes, Potato, Side Dish
Jodi on October 17th, 2012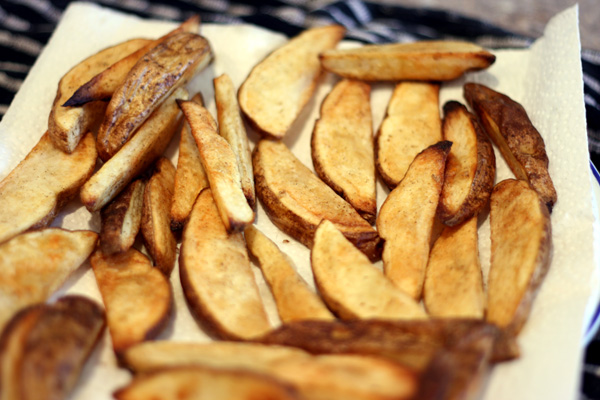 Have you made oven fries and ended up with floppy potatoes?  I have too and it's no good.  These Crispy Baked Potato Wedges are super crispy and delicious.  No floppy fries anymore.  The hot salt water soak really helps to crisp them up.  If your fries are floppy, try this Crispy Baked Potato Wedges recipe and be amazed!
Ingredients: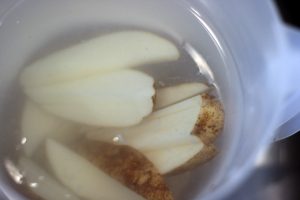 4-5 large Russet Potatoes
Kosher Salt and Freshly Ground Black Pepper
2-3 Tablespoons Canola Oil
Fill a large bowl with hot tap water and stir in 1 Tablespoon salt.  Cut potatoes into wedges and add to the hot salt water.  Let soak for 30 minutes.
Preheat oven to 450°F.
Drain and dry the potatoes with a towel.  Coat the potatoes with canola oil and season with salt and pepper.  Arrange on a baking sheet in a single layer.
Bake until the bottoms are browned, about 15-20 minutes.  Flip wedges over and bake until the other side browns, about 10-15 minutes.  Place on paper towels to soak up any additional oil.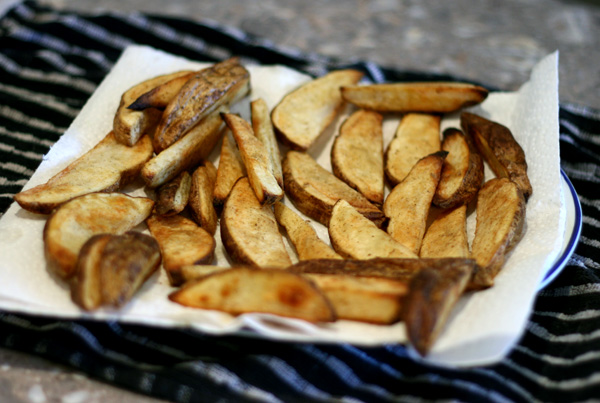 Yield: 3-4 Servings
Tags: Gluten Free, Potato, Side Dish, Side Dishes
Jodi on February 23rd, 2012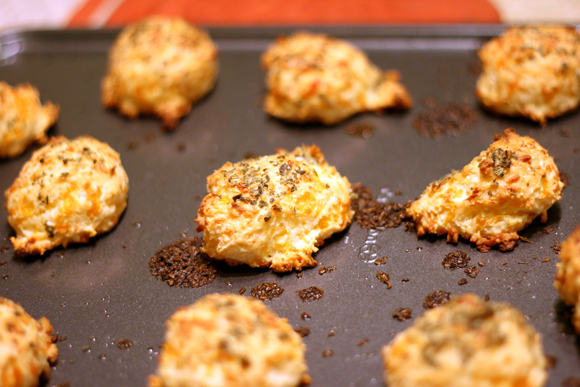 I found this recipe on Pinterest…of course.  They are supposed to be like the cheddar bay biscuits at Red Lobster, but I would assume those have bay seasoning in them.  These are super cheesy and delicious even without any bay seasoning.
Ingredients:
1 1/2 Cups Biscuit Mix (Bisquick)
1 1/2 Cups Shredded Cheddar Cheese
1/2 Cup Milk
2 Tablespoons Butter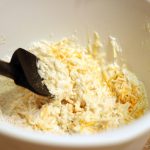 1 Tablespoon Oregano
3/4 teaspoon Garlic Salt
Preheat oven to 400°F.
Combine the biscuit mix, cheese and milk together in a bowl.  Drop balls of dough onto a lightly greased baking sheet.
Bake for 10 minutes.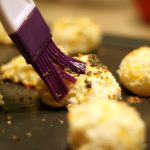 While they are baking, melt the butter and stir in the oregano and garlic salt.  Brush on the melted butter, reduce heat to 350°F and bake for another 3 minutes, or until browned.
Yield: 12 Biscuits
-Recipe from Salt & Turmeric -
Tags: Biscuits, Cheddar Biscuits, Dinner Biscuits, Garlic Biscuits, Garlic Cheddar Biscuits, Red Lobster, Side Dish
Jodi on November 18th, 2011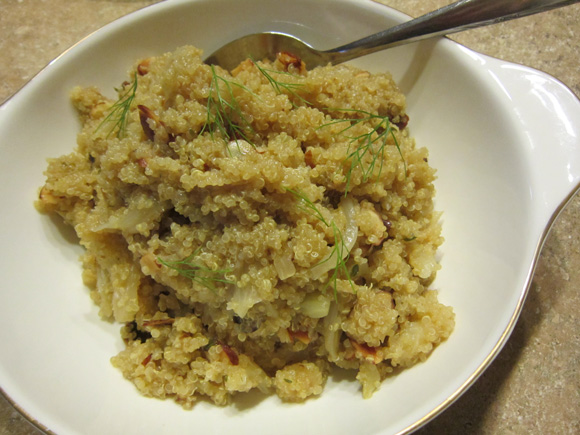 Quinoa (pronounced "keen-wah") is one of my new favorite foods.  You should give this little grain a try!
Ingredients:
1 Tablespoon Olive Oil
2 Garlic Cloves, finely grated
1 Large Fennel Bulb
2 1/2 Cups Vegetable (or Chicken Broth)
3 Fresh Thyme Sprigs
1 Cup Quinoa, rinsed in a mesh strainer
1/3 Cup Sliced Almonds
Cut the fronds off the the fennel bulb and peel of the outer layer of the bulb.  Reserve some of the fronds for garnish.  Cut the bulb in half and remove the core.  Thinly slice the fennel.
Heat the olive oil in a saucepan (one with a lid) over medium heat.  Add the garlic and saute for about 30 seconds.  Add the fennel and saute for about 3 minutes to soften.
Add the broth and thyme to the pan.  Bring to a bubble, reduce heat and simmer for 5 minutes.
Stir in the Quinoa.  Bring to a bubble, reduce heat to low and simmer until all the liquid is absorbed, about 20 minutes.  Remove the thyme sprigs.
Toast the almonds in the microwave for 1 1/2 minutes, stirring halfway through.
Stir in the almonds.  Garnish with some of the reserved fronds.
Serves: 4 as side dish
-Recipe comes from CookinCanuck.com-
Tags: Almonds, Dairy Free, Fennel, Garlic, Gluten Free, Quinoa, Side Dish, Vegan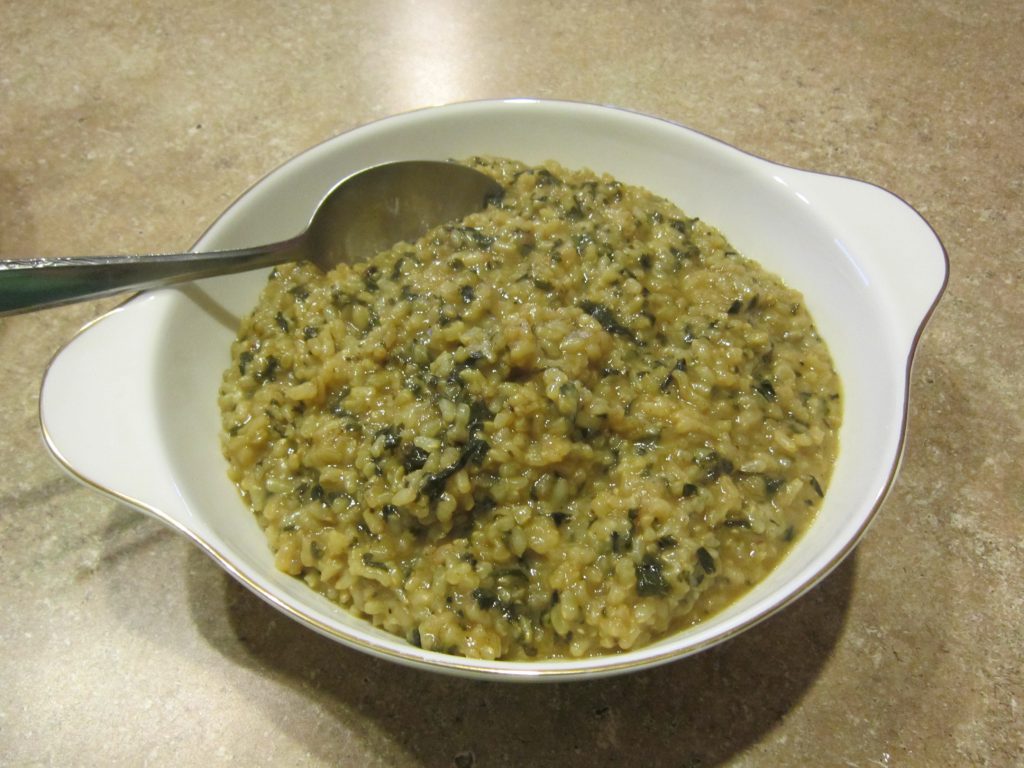 I don't typically buy chard, but Red Swiss Chard came in my produce co-op basket this week.  This is definitely the best way I've found to eat your greens!  This is adapted from a Bon Appétit recipe.
Ingredients:
6-7  Cups Chicken Broth
2 Tablespoons Olive Oil
1 Onion, chopped
1 1/2 cups Short Grain Brown Rice
4 Cups (packed) Coarsely Chopped Red Swiss Chard Leaves (1 bunch)
2 Tablespoons Butter
1/2 Cup Grated Parmesan Cheese
Salt & Pepper
Additional Grated Parmesan Cheese, for serving
Pour the chicken broth into a sauce pan and bring to a simmer over medium-high heat.
In a large sauce pan, heat the olive oil over medium heat.  Add the onion, cooking until softened, about 4-5 minutes.  Stir in the rice and red chard, cooking until the chard begins to wilt down.
Start adding the broth, 1-2 ladlefuls at a time.  Stir frequently until almost all of the liquid is absorbed before adding more broth.  Keep adding broth until the rice is softened and creamy.  This will take about 45 minutes with brown rice.
Remove from heat and stir in the butter and Parmesan cheese.  Season to taste with salt and pepper.
Serve with additional Parmesan cheese on top.
Serves: 4-6
Tags: Brown Rice, Brown Rice Chard, Chard, Chard Main Dish, Gluten Free, Greens, Main Dish Chard, Parmesan Cheese, Red Chard, Red Chard and Rice, Rice, Risotto, Side Dish, Swiss Chard