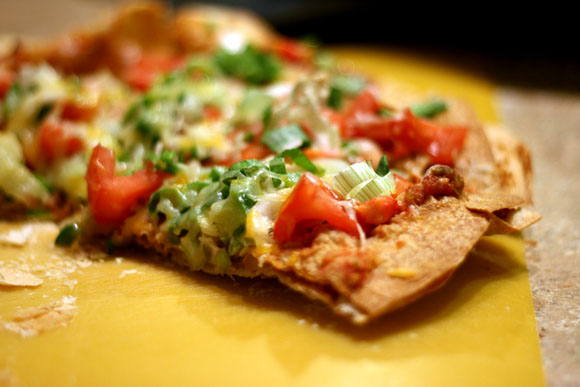 Ingredients:
8 Tortillas
2-3 Tablespoons Canola Oil
16oz Refried Beans
1 Small Onion, diced
1 teaspoon Paprika
1 teaspoon Taco Seasoning
1/4 teaspoon Freshly Ground Black Pepper
1/2 Cup Salsa
1 Bunch Green Onions, thinly sliced
1 Jalapeno, seeds removed and diced
1 Tomato, chopped
1 Cup Colby Jack Cheese, shredded
Sour Cream, for serving
Hot Sauce, for serving
Preheat oven to 400°F.
Brush tortillas lightly with canola oil.  Place the tortillas on baking sheets in the oven until crispy, about 10 minutes.  Turn tortillas over once during baking.
Combine the refried beans, onion, paprika, taco seasoning, and pepper together in a small pot.  Heat over medium heat until warm.
Remove the tortillas from the oven.  Divide the refried bean mixture among 4 of the tortillas and top each with 1 Tablespoon of salsa.  Place another tortilla on top of each and spread another Tablespoon of salsa on top.  Sprinkle on the green onions, jalapeno, tomato and cheese.
Place back in oven and bake until the cheese is slightly browned, about 10 minutes.
Serve with sour cream and hot sauce on top.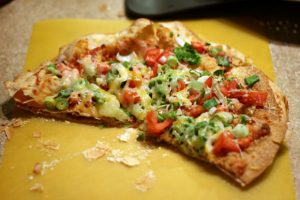 Yield: 4 Pizzas
-Recipe from Honey What's Cooking–