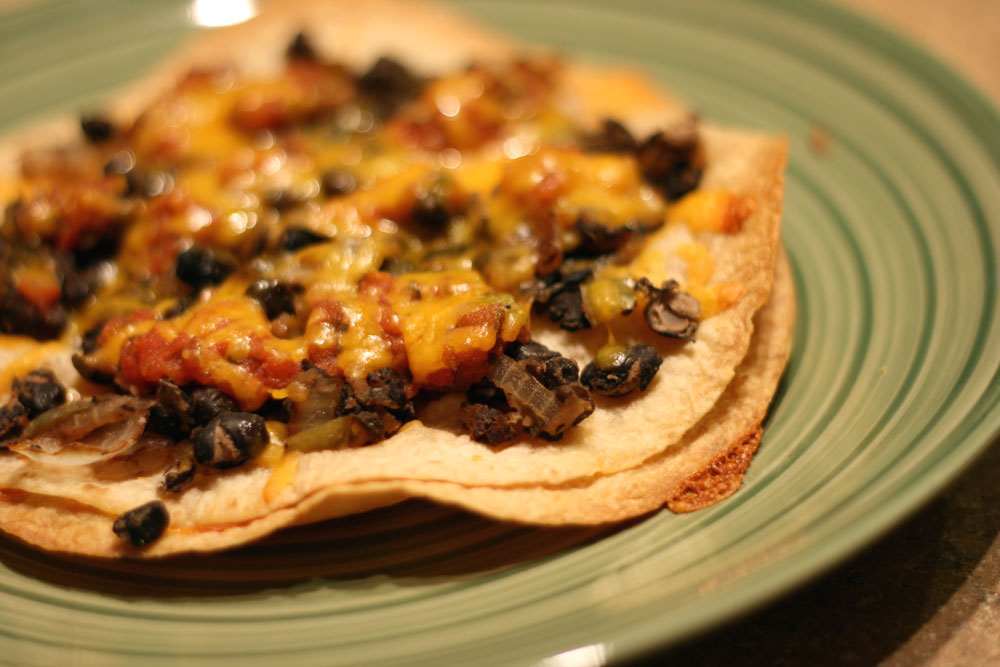 Crunchy, cheesy Mexican black bean tortilla pizza is great for taco night. I made mine meatless, but you could add meat if you like. It would be delicious with some shredded pork.
Ingredients:
2 Tablespoon olive oil
8 small flour tortillas (about 6 inches)
1 cup cheddar cheese, shredded
1/2 cup Monterey Jack cheese, shredded
1 small onion, chopped
15 oz can black beans, drained
1/2 cup salsa
small can diced green chiles
Preheat oven to 350°F. Line a baking sheet with foil and brush with 1 Tablespoon olive oil.
Arrange 4 tortillas on the baking sheet. In a bowl, combine 1/2 cup cheddar cheese and all of the Monterey Jack cheese. Sprinkle cheese mixture on the four tortillas then top with the remaining four tortillas. Bake until lightly browned, about 5 minutes.
While the tortillas are in the oven, heat 1 Tablespoon olive oil in a skillet. Add onions, cooking until browned. Add black beans and mash about half of them. Heat throughly.
Top toasted tortillas with black bean mixture, salsa, green chiles, and remaining cheddar cheese.
Melt the cheese in the oven, about 5 minutes.
Yield: 4 servings