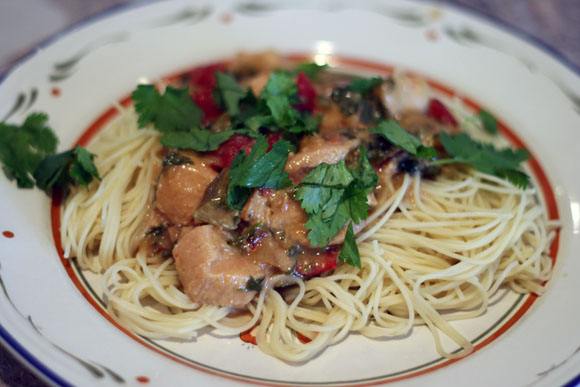 For some reason peanut butter and chicken are a delicious combination.  Chloe really loved this one because her favorite food is peanut butter!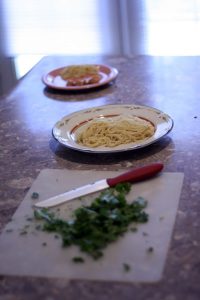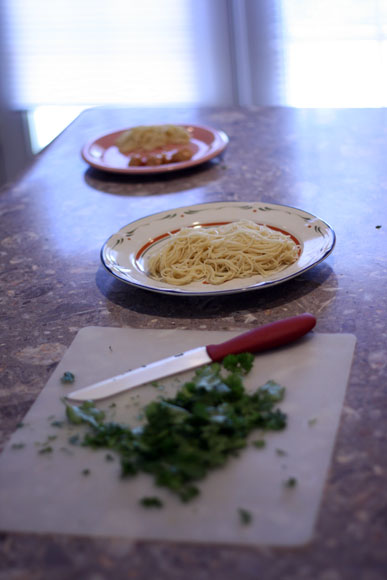 Ingredients:
2 Cloves Garlic, minced
2/3 Cup Peanut Butter
1 Cup Chicken Broth
1 lb Boneless, Skinless Chicken Breasts, cut into bite sized pieces
1 Zucchini, shredded
1/3 Cup Soy Sauce
1 teaspoon Sugar
1 Red Bell Pepper, chopped
1 Tablespoon Lime Juice
1 Cup Cilantro, chopped
1 Package Angel Hair Pasta
Stir together the garlic, peanut butter, chicken broth, chicken, zucchini, soy sauce, sugar, and bell pepper in the slow cooker.  Cook on low for 4-5 hours or high for 2-3 hours.
Stir in the lime juice and cilantro 30 minutes before serving.
Serve over cooked angel hair pasta.
Yield: 4 Servings
-Recipe from 365 Days of Slow Cooking–