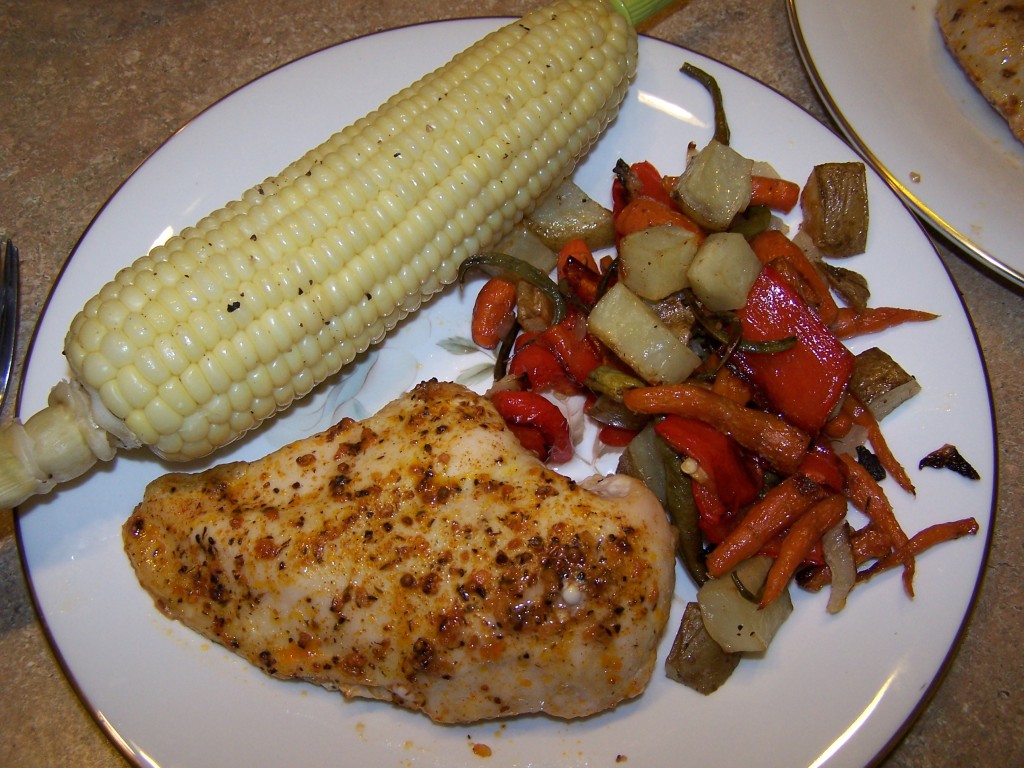 Today I went for the simple, just throw it in the oven and forget about it type of dinner.  It wasn't anything fancy, but I did serve it on a China plate.  That seems to make anything just a little bit fancy.  This made enough for the 2 of us and Chloe had a tiny bit too.  The carrots and green beans were from our garden.  There were maybe 10 really tiny green beans that I pulled off the dying plants.  We had tons of really delicious greens beans which makes me want to plant a lot more green beans next time around.
Ingredients:
2 Chicken breasts
1 potato (about 1/2lb)
1/2 lb of Carrots
Green Beans (I would have used about a 1/4 lb if I had more)
1 Red Bell Pepper
1/2 Onion, chopped
2 Corn on the Cob
Butter
Extra Virgin Olive Oil
Salt & Pepper
McCormick Roasted Garlic & Herb Seasoning
Preheat oven to 400.  Chop up the veggies into bite sized pieces and scatter on a baking sheet.  Drizzle with olive oil and season with salt & pepper.  Peel the husks and silks off the corn.  Lay each corn cob on a square of foil and spread on some butter and salt & pepper.  Wrap up the corn in the foil and place on the cookie sheet with the other veggies.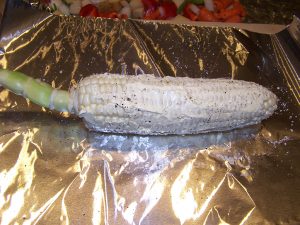 Stick that in the oven while you get the chicken ready.  Rub down the chicken breasts with olive oil and season with the McCormick seasoning (or just salt & pepper).  Put the chicken breasts in a baking dish and place in the oven.  I never set a timer for roasting, I just check on it after about 20 minutes.  You will know it's done when the veggies are tender and the chicken reaches 155 degrees.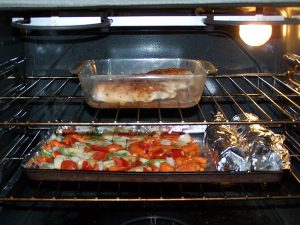 There it all is in the oven…just hanging out while I go play with Chloe.  Nothing fancy, but it was very tasty and filling.  So easy too!