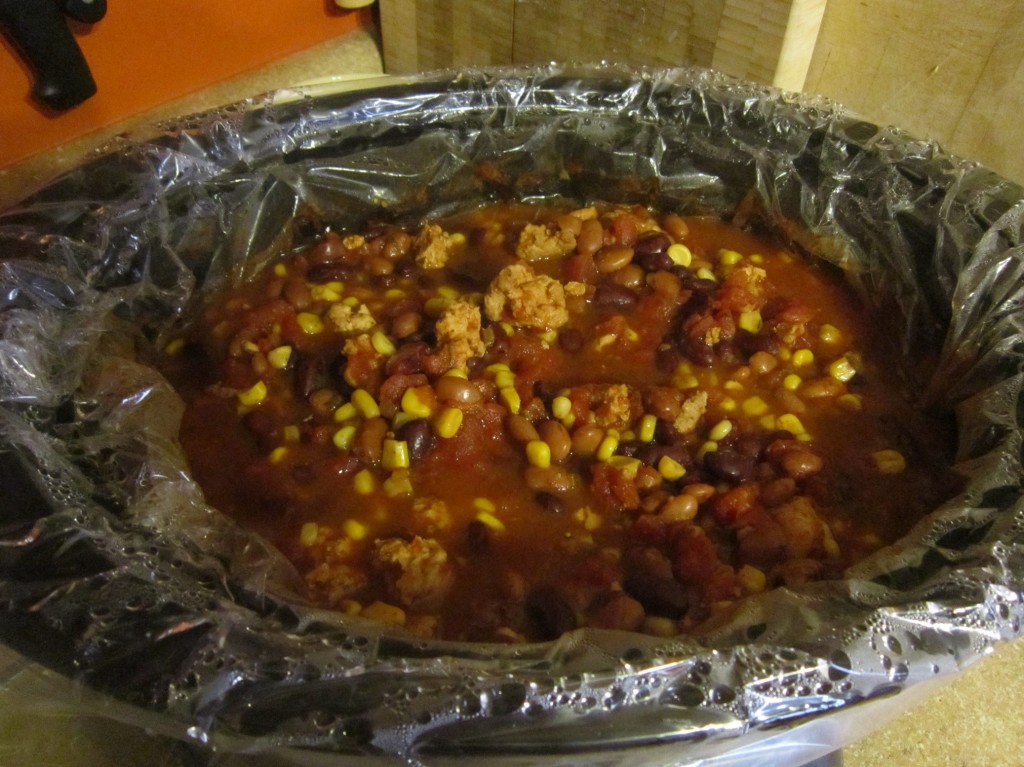 I love my slow cooker!  It makes it so easy to make dinner on busy days, weekdays, when you have guests or really just any day of the week.  I always use slow cooker liners to make for an easy clean up.  This recipe comes from A Year Of Slow Cooking.
Ingredients:
1 lb Ground Turkey or Beef
1 Packet Taco Seasoning (McCormick)
1 Packet Ranch Dressing Mix (or homemade – see below)
2 (15 oz) Cans Kindey Beans, drained and rinsed
2 (15oz) Cans Pinto Beans, drained and rinsed
2 (15oz) Cans Corn (or about 2 cups frozen corn + a little water)
1 (28oz) Can Diced Tomatoes
1 (15 oz) Can Tomatoes with Green Chiles
Toppings: Shredded Cheddar Cheese and Sour Cream
Brown the ground turkey or beef and place in the slow cooker.  Sprinkle with the seasoning packets.  Add the beans, corn and tomatoes.  Stir to combine.
Cover and cook on low 8-10 hours (or high for 4-5 hours).
Serve with cheese and sour cream on top
Serves: 6
Homemade Ranch Dressing Mix
1 Tablespoon Dried Parsley
1 teaspoon Dried Dill Weed
1 teaspoon Onion Powder
1 teaspoon Dried Minced Onion
1 teaspoon Kosher Salt
1/2 teaspoon Garlic Powder
1/4 teaspoon Ground Black Pepper
Combine all ingredients together in a small bowl.