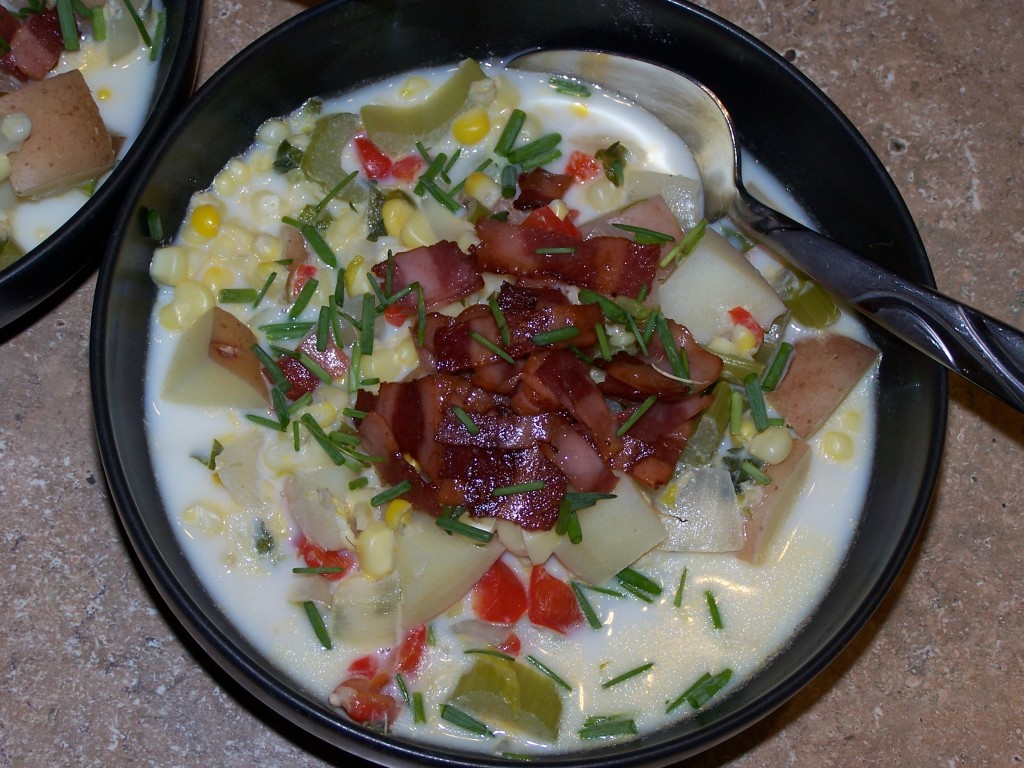 Oh, how I love Rachael Ray!  Here is my first (of many) blog posts with Rachael Ray recipes. 
Bacon Corn Chowder
.  Yum!  Robbie has been asking me to make this again for a long time now.  It just so happened that I had a ton of corn that needed to be used soon, and I couldn't think of a better dish to make with it.
8 ears of corn, kernels removed (reserve 4 of the cobs)
1/2 cup celery leaves, chopped
2 cups water
1 cup chicken stock
1 tablespoon EVOO – Extra Virgin Olive Oil
1/2 pound (about 8 slices) bacon, coarsely chopped
3 medium Yukon gold or red potatoes, peeled and cut into 1 1/2-inch cubes
1 medium onion, chopped
2 cloves garlic, grated
3 stalks celery, chopped
1 small red bell pepper, seeded and finely chopped (about 1/4 cup)
2 small bay leaves
4 sprigs fresh thyme (or a good sprinkle of dried)
1 quart milk
3 scallions, sliced on the bias
First, you will need to remove the corn kernels from the cobs.  Peel off the husks and silks.  Get a big bowl and a small cereal sized bowl.  Place the small bowl upside down in the big bowl.  Use a knife to cut the kernels off.  The big bowl will catch all the kernels so they don't make a mess all over the counter.  Brilliant!  (That's a tip I have learned from Rachael Ray)
Crisp up the bacon (I used Turkey bacon) in a large pot over medium heat.  Set aside on paper towels on a plate.