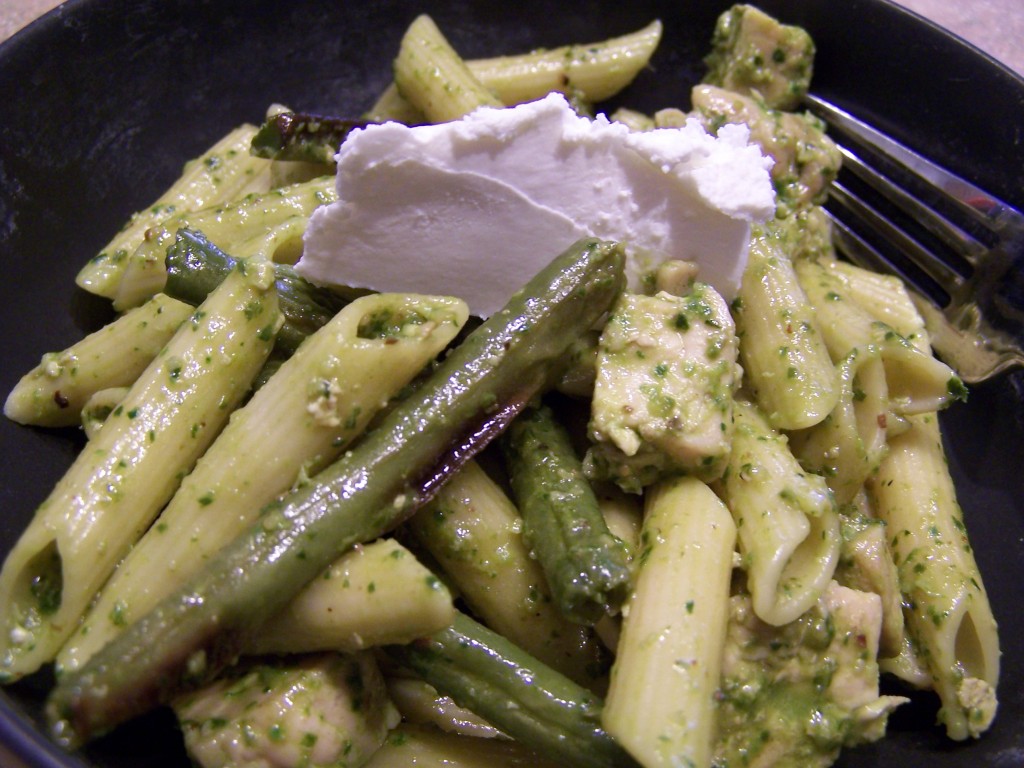 This is sort of a variation of another pesto pasta dish that I make. Both are awesome in their own ways. Pesto is one of those things that seem a lot fancier than it really is. I had some homemade pesto in the freezer, so I won't be showing you how to make it today. It was a Swiss Chard pesto sauce.
Ingredients:
2 Chicken Breasts
Green Beans (about 1/2lb)
1 lb Penne Rigate
1 Cup Pesto Sauce
EVOO
Salt & Freshly Ground Pepper
Goat's Milk Cheese (Optional)
Preheat the oven to 400 and bring a large pot of water to a boil.
Chop of the ends and cut them into 2-3inch long pieces. Scatter them on a foil lined cookie sheet and drizzle some olive oil and sprinkle with salt and pepper. Stick them in the oven while you prepare everything else.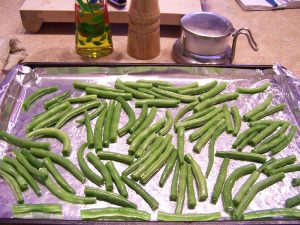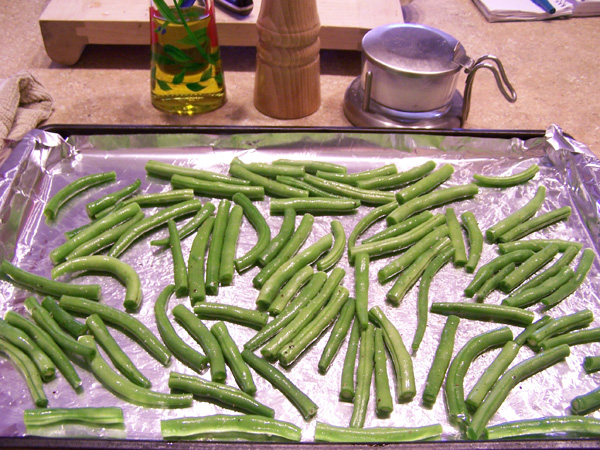 Preheat a skillet to med-high heat with about 1 Tbsp olive oil in it. Cut up the chicken into bite sized pieces. Once the pan is hot, add the chicken and season with salt and pepper. Now is the hard part…leave it alone, don't touch it! Let it brown up for a few minutes.
The water should be boiling by now, so add a good amount of salt and the pasta. Before the pasta is finished cooking add 1/4 cup of the starchy pasta water to the pesto sauce to thin it out a bit. Cook pasta until al dente, drain and return to the pot.
Once the chicken has browned a bit, give the pan a shake to flip them over. Yep, we are going pro with shaking the pan and everything! Cook a few more minutes until the chicken is cooked thoroughly.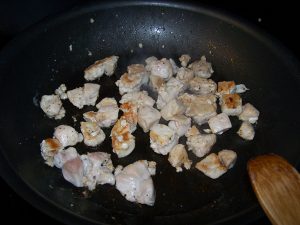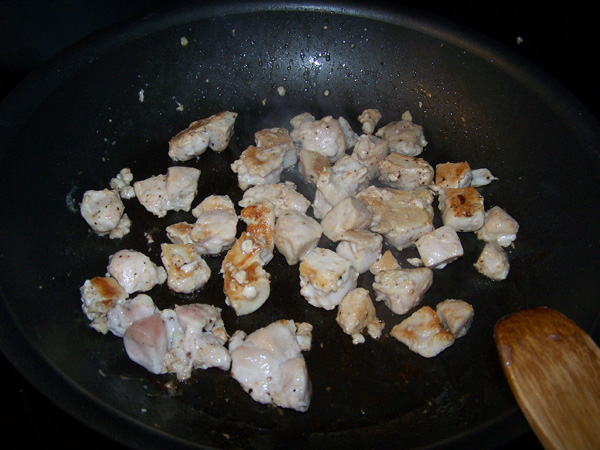 The green beans should be done by now and they will look like this.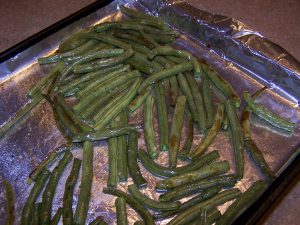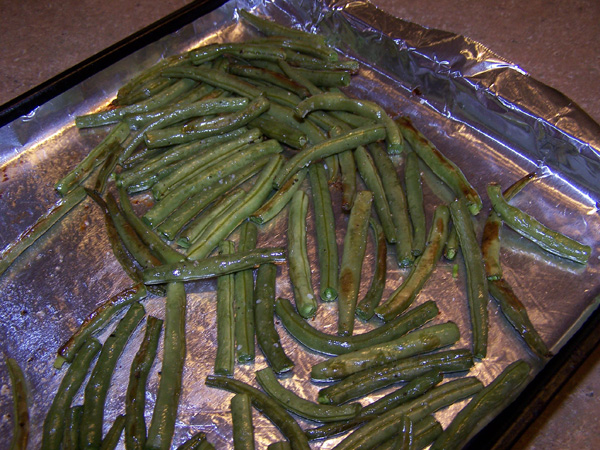 Add the chicken, green beans and pesto sauce to the pot with the cooked pasta. Stir to combine.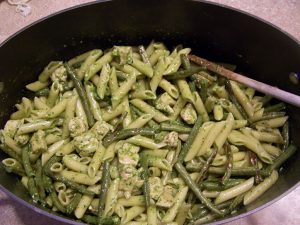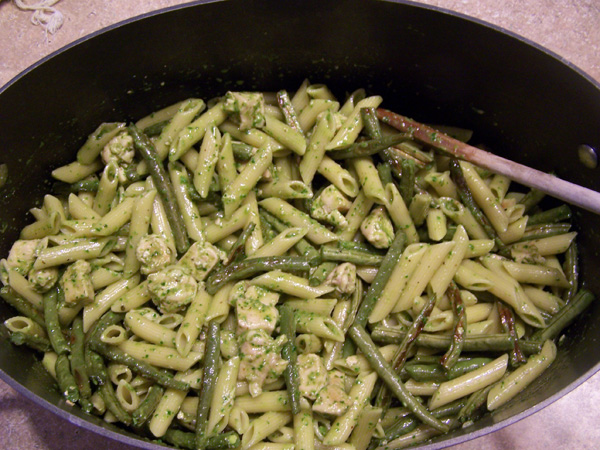 Serve with some goat's milk cheese on top. Yum. This made enough for 4 good size servings.
Here is the Swiss Chard Pesto Recipe as requested:
1 Bunch Swiss Chard, stems removed
1/4 Cup Walnuts, toasted in a pan over low heat
1/2 Cup Parmesan Cheese
Zest of 1 Lemon
1 Clove Garlic
Salt & Pepper, to taste
1/3 Cup EVOO (more or less)
In the bowl of a food processor, combine the Swiss Chard, Walnuts, Parmesan Cheese, Lemon zest, Garlic, and Salt & Pepper. Turn on the food processor and stream in the EVOO until a thick sauce is formed. Add more salt and pepper if needed.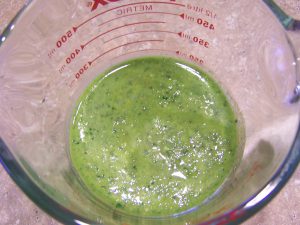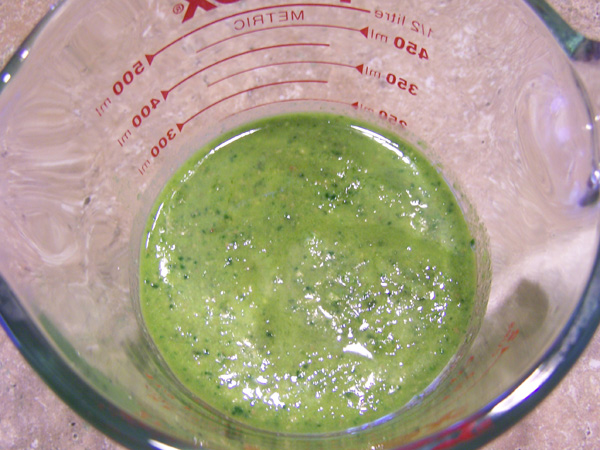 Once you make your own pesto sauce, you can't go back to store bought!