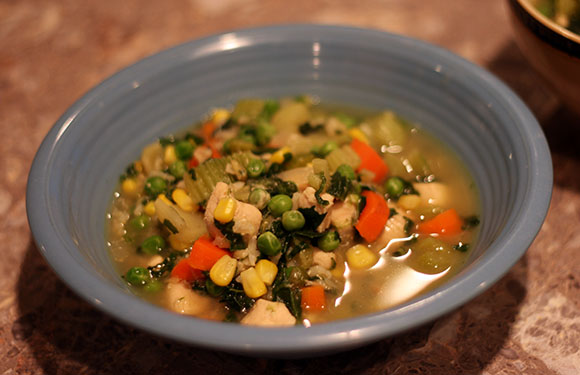 In preparation of moving, I've been trying to use up all our food.  We only have a small cooler, so I needed to tackle the fridge and freezer.  I decided to make soup and just throw everything in.  The freezer is practically empty now!  This Chicken and Vegetable Soup turned out great and it is super healthy since it's packed with tons of veggies.  Yum!  Enjoy!
Ingredients:
2 Tablespoons Olive Oil
1 Onion, chopped
2 1/2 lbs Chicken Breasts, cut into 1 inch pieces
1 Inch Ginger, peeled & finely grated
1 Bulb Garlic, peeled & finely grated
6 Carrots, peeled & chopped
4 Cups Chopped Celery
2 Quarts Chicken Broth
2 Cups Frozen Corn
1 Cup Frozen Peas
1 Cup Tuscan Kale, chopped
1 Cup Frozen Chopped Spinach
2 Cups Cooked Brown Rice
2 Tablespoons Liquid Aminos (or soy sauce)
Salt and Pepper, to taste
Heat olive oil in a large soup pot over medium high heat.  Add onion and cook until softened, 2-3 minutes.  Add chicken pieces, cooking until no longer pink, 6-8 minutes.
Add ginger, garlic, carrots and celery.  Cook until veggies are tender, 5-7 minutes.
Stir in broth, corn, peas, kale, spinach, brown rice, and liquid aminos.  Bring to a bubble, reduce heat a simmer an additional 5-10 minutes.  Season to taste with salt and pepper.
Yield: 1 Large Pot of Soup – About 8-10 servings or more