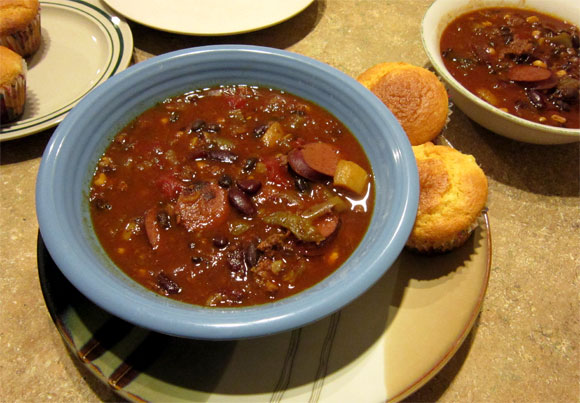 I have been meaning to post this recipe for quite a while now.  While going through a box of recipes I found this recipe and realized I made it back in October of 2011…Now that we are coming up to 2013, I guess it's time to post it.  This Andouille Chili is a delicious chili made with smoked andouille sausage and ground beef.  The roasted yellow squash gives this chili a deliciously nutty flavor.  Enjoy!
Ingredients:
1 Yellow Squash, diced
2 Tablespoons Olive Oil
Salt and Pepper
14 oz Smoked Andouille Sausage, sliced
1 lb Ground Beef
1 Onion, chopped
2 Green Bell Peppers, chopped
2 Cloves Garlic, minced
2 Tablespoons Chili Powder
1 teaspoon Cumin
2 teaspoons Paprika
1 Can Kidney Beans, not drained
1 Can Black Beans, not drained
1 Can Diced Tomatoes
1 Cup Frozen Corn
3 Cups Chicken Stock
Cilantro, for topping
Shredded Cheddar Cheese, for topping
Preheat oven to 400°F.
Place sliced squash on a baking sheet and lightly coat with olive oil.  Season with salt and pepper.  Roast in the oven until browned.
Heat a large pot to medium/high heat and brown the sausage.  Reserve on a plate.
Add ground beef to the pot, cooking until browned.  Add onion, bell peppers and garlic.  Cook until tender, about 5 minutes.
Stir in chili powder, cumin, paprika, kidney beans, black beans, tomatoes, corn and chicken stock.  Add the roasted squash and reserved sausage.  Bring to a bubble, reduce heat and simmer for at least 15-20 minutes.
Serve with chopped fresh cilantro and shredded cheese on top.
Serves: 6-8