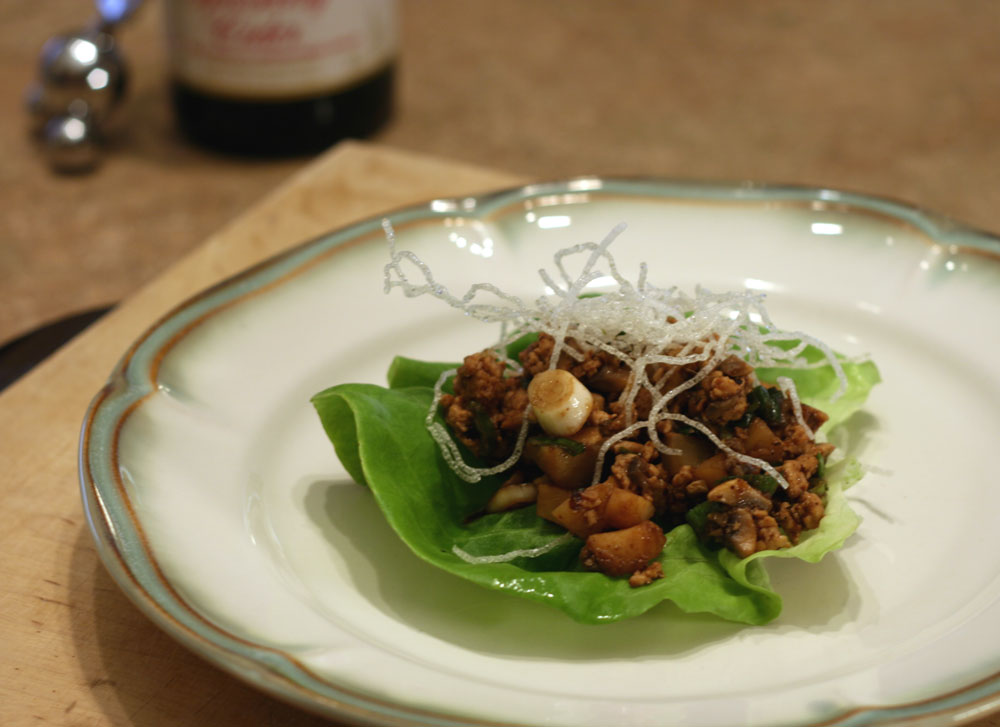 Ingredients:
1/4 cup Black Bean Garlic sauce
2 tablespoons soy sauce
1 tablespoon rice vinegar
1 tablespoon freshly grated ginger
2 teaspoons Sriracha, or more, to taste
2 cloves garlic, minced
1 tablespoon olive oil
1 pound ground chicken
½ lb mushrooms, diced
1 (8-ounce) can whole water chestnuts, drained and diced
4 green onions, thinly sliced
1 head butter lettuce
Rice Sticks, for serving (fried)
In a small bowl stir together black bean garlic sauce, soy sauce, rice vinegar, ginger, Shiracha and garlic.
Heat olive oil in a large skillet or wok over medium/high heat.  Cook chicken until lightly browned, about 3-5 minutes.
Add the sauce and mushrooms, cook for 1-2 minutes.  Add water chestnuts and green onions, cooking another 1-2 minutes.
Serve with butter lettuce leaves and rice sticks.
Yield: 4 Servings