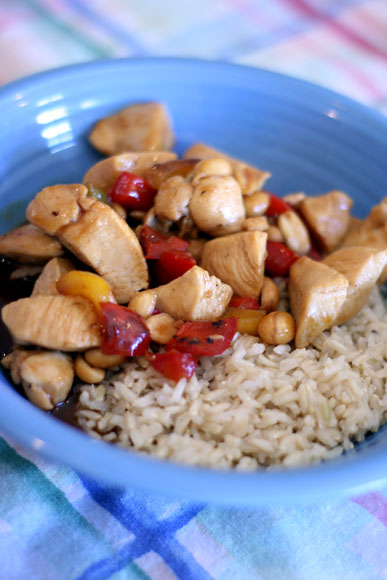 Homemade Chinese take-out is one of my all time favorites.  It's much healthier than going out because you can control what goes into your food. This wasn't as spicy as I would have liked it to be, so feel free to add more hot sauce if you like it spicy.
Ingredients:
1 Cup Chicken Broth
3 Tablespoons Soy Sauce
2 teaspoons Hot Sauce
2 teaspoons Cornstarch
3 Tablespoons Canola Oil, divided
1 1/2 lbs Boneless, Skinless Chicken Breasts, cut into bite sized pieces
1/2 Cup Dry-Roasted Peanuts
1 Red Bell Pepper, cut into 1/2 inch pieces
3 Garlic Cloves, minced
1 Tablespoon Fresh Ginger, grated
Combine the chicken broth, soy sauce, hot sauce and cornstarch together in a small bowl.  Set aside.
Heat 2 Tablespoons oil in a large skillet over medium-high heat.  Add the chicken and peanuts, cooking until the chicken is lightly browned.  Reserve on a plate.
Heat 1 Tablespoon oil in the same skillet over medium-high heat.  Add the bell pepper and cook until lightly browned.  Stir in the garlic and ginger, cook for 30 seconds.  Stir in the broth mixture and the chicken and peanuts.  Simmer until thickened slightly.
Serve over brown rice.
Yield: 4 Servings
-Recipe adapted from Cook's Country magazine-