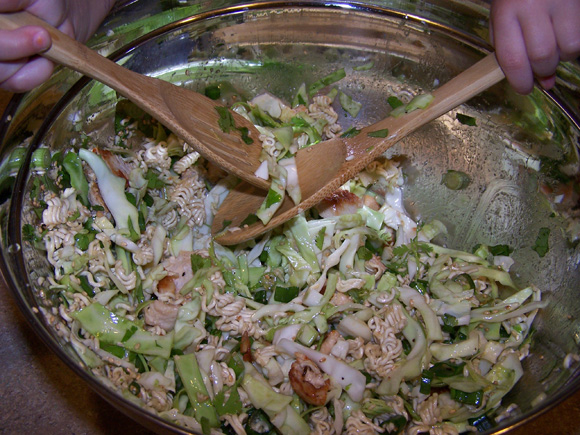 This dinner salad can be made ahead and refrigerated until ready to eat, making it great to take to a potluck.
Ingredients:
1 Head Green Cabbage, shredded or thinly sliced
4 Green Onions, thinly sliced
2 Tablespoons Sesame Seeds, toasted
1/4 Cup Cilantro
2 (3 oz) Packages Uncooked Oriental Flavor Instant Ramen Noodles (save 1 seasoning mix packet for dressing), crushed
2 Cups Cooked Chicken Breasts, cubed
4 Tablespoons Sugar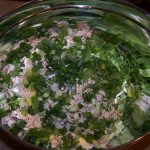 1/4 cup Sesame Oil
1/4 cup Canola or Olive Oil
1/2 teaspoon Fresh Ground Black Pepper
6 Tablespoons Rice Vinegar
1 teaspoon Fresh Gingerroot, minced or finely grated
In a large bowl, toss together the cabbage, green onions, sesame seeds, cilantro, ramen noodles, and chicken.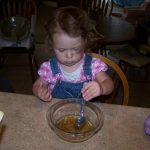 In a small bowl, stir together the one packet of seasoning from the ramen package, sugar, oils, pepper, vinegar, and gingerroot.  Pour over the salad and toss to combine.
Serves: 4