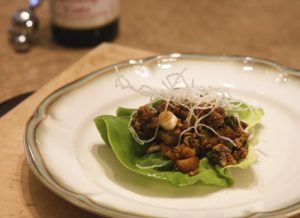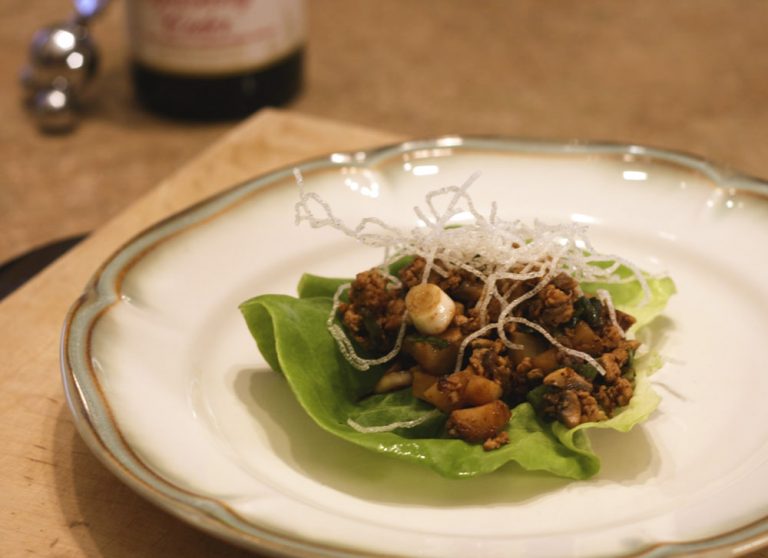 Do you ever order lettuce wraps at a restaurant? They are so fun. Chicken, mushrooms, and water chestnuts wrapped in a lettuce leaf. Make sure you buy the butter lettuce because it's flexible enough to wrap without breaking. Top these with some rice sticks and it's ready to eat. The rice sticks are really fun to make. You fry them in some oil and they puff right up.
Ingredients:
1/4 cup Black Bean Garlic sauce
2 tablespoons soy sauce
1 tablespoon rice vinegar
1 tablespoon freshly grated ginger
2 teaspoons Sriracha, or more, to taste
2 cloves garlic, minced
1 tablespoon olive oil
1 pound ground chicken
½ lb mushrooms, diced
1 (8-ounce) can whole water chestnuts, drained and diced
4 green onions, thinly sliced
1 head butter lettuce
Rice Sticks, for serving (fried)
In a small bowl stir together black bean garlic sauce, soy sauce, rice vinegar, ginger, Shiracha and garlic.
Heat olive oil in a large skillet or wok over medium/high heat.  Cook chicken until lightly browned, about 3-5 minutes.
Add the sauce and mushrooms, cook for 1-2 minutes.  Add water chestnuts and green onions, cooking another 1-2 minutes.
Serve with butter lettuce leaves and rice sticks.
Yield: 4 Servings