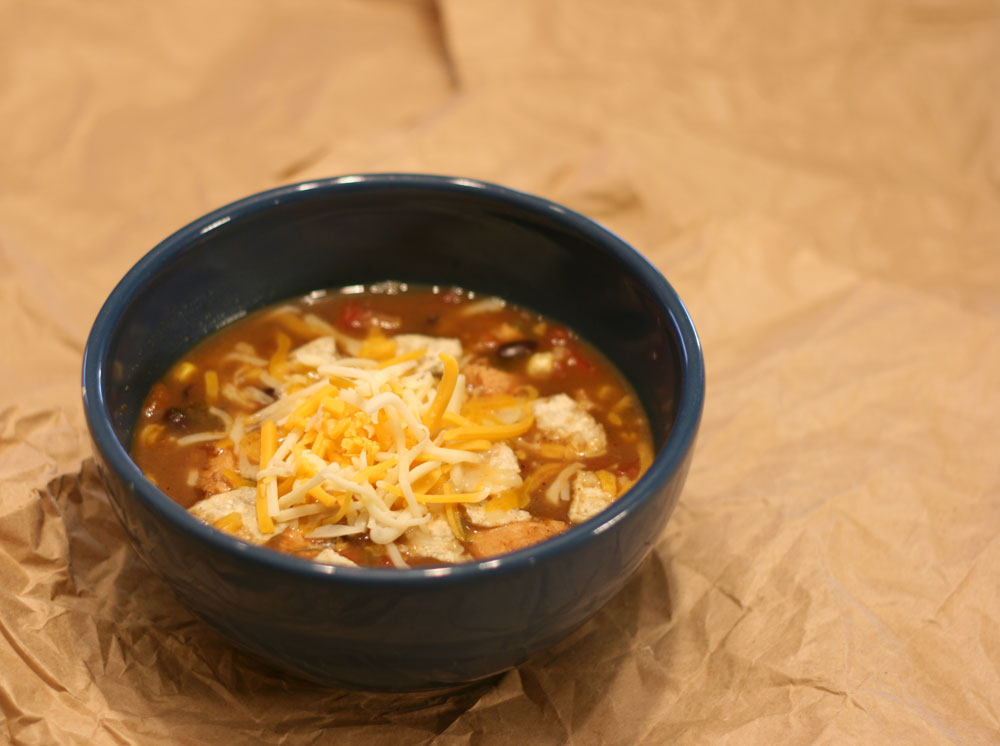 Ingredients:
1 Tablespoon Olive Oil
½ lb Boneless, Skinless Chicken Breasts (cut in 1 inch cubes)
4 Cups Chicken Broth
2 Cups Frozen Corn
15 oz Can Black Beans, rinsed and drained
10 oz Can Diced Tomatoes with Green Chilies
1 Jalapeno Pepper, seeded and chopped
2 Tablespoons Fresh Cilantro, chopped
3 teaspoons Chili Powder
½ teaspoon Cumin
1 Tablespoon Cornstarch
Tortilla Chips, for topping
Shredded Colby Jack Cheese for topping
Heat the oil in a large soup pot over medium heat.  Add the chicken and cook until browned, about 5 minutes.
Pour about 2 Tablespoons of chicken broth into a small bowl and reserve.  Pour remaining broth into the pot with the chicken.  Add corn, beans, tomatoes, jalapeno, cilantro, chili powder and cumin.  Bring to a bubble, reduce heat and simmer covered for about 15 minutes.
Add cornstarch to the small bowl with reserved chicken broth.  Whisk with a fork to combine, then stir into the soup.  Boil for about 2 minutes to thicken the soup.
Top the soup with tortilla chips and cheese.
Yield: 6 servings
-Recipe from Taste of Home magazine-