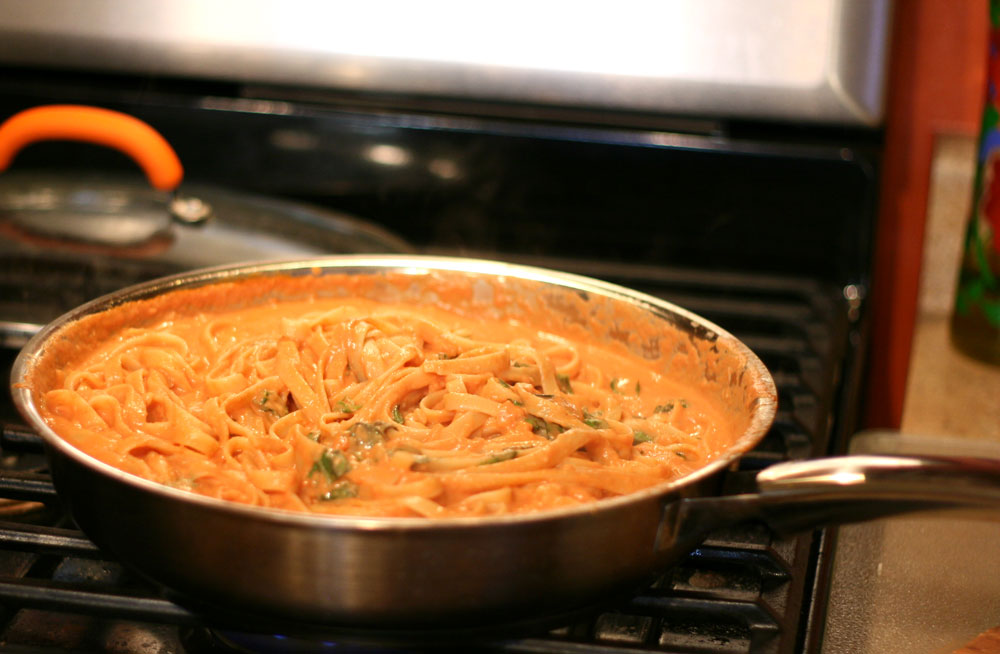 I added a couple cups of leftover Slow Cooked Spicy Pulled Pork to this pasta to make it extra delicious.
Ingredients:
12 oz Fettuccine
2 Tablespoons Olive Oil
2 Tablespoons Butter
1 Medium Onion, finely diced
4 Garlic Cloves, minced
2 (15oz) Cans Tomato Sauce
Salt and Pepper
1 Cup Heavy Cream
½ Cup Grated Parmesan Cheese
Chopped Fresh Basil
Bring a large pot of water to a boil, add salt and cook the pasta.  Reserve a little cooking liquid before draining.
Heat a large skillet over medium heat, add olive oil, butter, onion and garlic.  Cook until onion is softened.  Add tomato sauce, salt and pepper, and heavy cream.  Stir together.  Once hot, stir in the parmesan cheese then toss in the pasta.  Add in a little of the reserved cooking liquid if the sauce is too thick.
Just before serving, add the basil and toss to combine.
Yield: 6-8 Servings
-Recipe adapted from The Pioneer Woman Cooks cookbook-