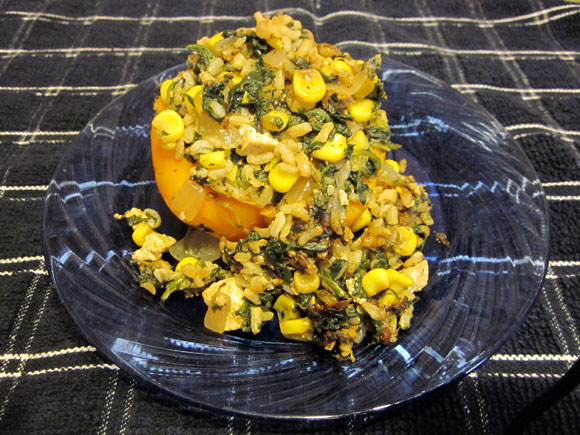 These beautiful Vegan Stuffed Peppers are a great weeknight meal.  I used very large red and orange bell peppers.  My hubby, Brian, chose to add BBQ sauce.  I think next time I would add a béchamel sauce.
1 Large Vidalia Onion, diced
1 teaspoon Garlic, minced
2 Cups Frozen Spinach (loose pack)
2 Cups Cooked Brown Rice
6-8 oz Extra Firm Tofu, dried between paper towels and diced in ¼" cubes or crumbled.
1 Cup Frozen Corn
1 teaspoon Garlic Powder
1 teaspoon Onion Powder
½ teaspoon Oregano
½ teaspoon Rosemary
½ teaspoon Nutmeg
1 Tablespoon Soy Sauce
Salt and Pepper, to taste
3 Large Bell Peppers (any color) halved lengthwise, seeded and deveined
Toss onions and garlic in a large skillet and cook over medium-high heat with a little salt until they start to caramelize.  Add a little water if they start to stick.  Add spinach, stir until cooked through.  Add remaining ingredients (except peppers) and stir to combine.  Adjust seasonings to your liking and add a little water or vegetable stock if it looks too dry.  (My rice was freshly cooked, and a little juicy, so I didn't need to add much liquid.)  Scrape everything to one side of the pan.  Fill each pepper piece full to overflowing and place back in pan.
Pour about ¼ cup of water down around the bottom of the pan.  Cover and cook on medium heat for 10 minutes.
Serve warm.
Serves: 6 (a half pepper each)