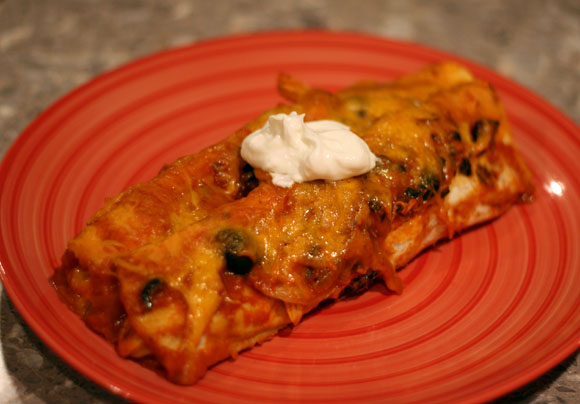 I just love enchiladas.  This is a shredded chicken version of my favorite enchilada recipe.  I hope you enjoy!  These enchiladas freeze well…so make two and freeze one pan.
Ingredients:
1 Tablespoon Olive Oil
1 Sweet Onion, thinly sliced
6 oz Can Olives, chopped
4 Green Onions, sliced
3 Cups Shredded Chicken
4 Cups Enchilada Sauce
12-14 (10 inch) Tortillas
Sauce-
1 Tablespoon Olive Oil
2 Tablespoons Flour
2 1/2 Tablespoons Chili Powder
1/2 teaspoon Cumin
1 teaspoon Garlic Powder
1 teaspoon Onion Powder
1/4 teaspoon Kosher Salt
1/2 teaspoon Cayenne Pepper
15 oz Can Tomato Sauce
1 1/2 Cups Chicken Broth
For the sauce: Combine all ingredients together in a blender.  Blend until smooth.
Preheat oven to 350°F.
Heat olive oil in a large skillet over medium/high heat.  Add onion, cooking until softened.  Remove from heat.
Add olives, green onions, 1/2 cup enchilada sauce and 1 heaping cup of shredded cheese.  Stir to combine.
Pour about 1/2 cup enchilada sauce in a casserole dish.  Dip both sides of a tortilla in enchilada sauce and place some of the filling on the tortilla.  Roll up and place seam side down.  Repeat with remaining tortillas and filling.  Cover with remaining sauce and sprinkle with cheese.
Bake until bubbly, about 20 minutes.
Serves: 6-8