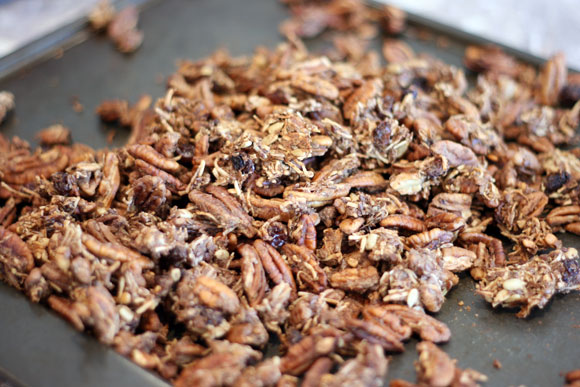 This Nutty Cinnamon Raisin Granola is full of nuts and deliciousness! This granola is grain free and sugar free…and so very yummy. Use any combination of nut you like. For the almond or pecan meal flour listed in the ingredients, you can either buy the flour or just grind up some nuts until it's a powder. The same goes for the chia seed meal. A coffee grinder will turn the chia seeds into a nice powder very quickly. I hope you try this deliciously nutty, Nutty Cinnamon Raisin Granola recipe!
Ingredients:
4 Cups Nuts (Cashews, Almonds, Pecans, Walnuts)
1 Cup Unsweetened Coconut Flakes
1/2 Cup Raisins
1/2 Cup Almond or Pecan Meal Flour
1 Cup Unsweetened Applesauce
1/4 teaspoon Liquid Stevia
1/4 teaspoon Vanilla Extract
1/4 Cup Sunflower Seeds
1/4 Cup Flax Seeds
1/4 Chia Seed Meal
1 Tablespoon Cinnamon
1/2 teaspoon Kosher Salt
Soak the nuts in water for 8 hours. Rinse and strain after soaking.
Preheat oven to 375°F.
In a large bowl, combine nuts, coconut, raisins, almond meal flour, applesauce, Stevia, sunflower seeds and flax seeds.
In a small bowl, stir together chia seed meal, cinnamon and salt. Stir into the nut mixture.
Spread out on a baking sheet. Bake for 10 minutes, stir and return the pan to the oven. Turn the oven off and let sit overnight to dehydrate.
Recipe adapted from The Balanced Platter