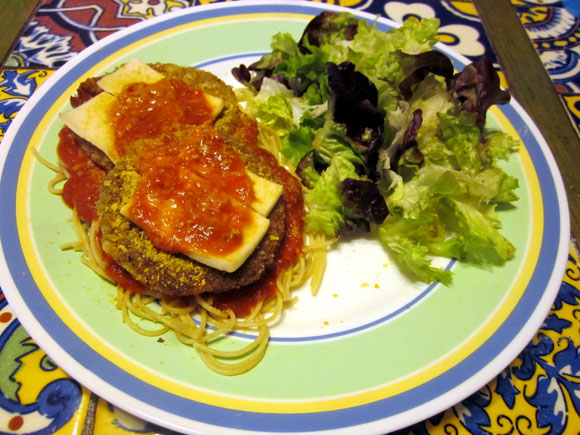 I found vegan mozzarella on clearance sale today for $1.49 (instead of $4.98) so I bought one block to try.  Usually I would just use regular cheese and this recipe would be vegetarian instead, but hey, it was good this way too!
Ingredients:
1 large eggplant, peeled and sliced into ¼" slices
¼ cup ground flax seed mixed in 1½ cups warm water, let set until thickened
½ cup cornstarch
1 sleeve saltine crackers, crushed to crumbs (use whatever kind of crackers you like)
1 tsp garlic powder (divided)
¼ tsp kosher salt
½ tsp pepper (divided)
Canola oil (enough to cover the bottom of your skillet about 1/8" deep)
8oz Vegan Mozzarella, thinly sliced
1 jar of your favorite marinara sauce (We like the mushroom sauce from Aldi)
Mix cornstarch, ½ tsp garlic, kosher salt and ¼ tsp pepper in one shallow bowl.  Mix cracker crumbs with remaining garlic and pepper.
Heat oil in large, heavy bottomed skillet over medium to medium-high heat.
Set up your dunking station:
Cornstarch Mix, Flaxseed Water, Cracker Mix, Hot skillet.
Dip one slice of eggplant in cornstarch, then flax seed (make sure it is fully coated), then cracker crumbs and lay in hot skillet.  Repeat with remaining slices until skillet is full.  Allow to cook 3-5 minutes on each side before removing to a paper towel lined plate.  (You can keep them warm in oven while you cook the rest.)
Repeat in small batches, adding more oil as needed, until you have cooked all the eggplant.
There are two ways to finish this dish and sometimes I do it one way, sometimes the other.  Tonight I wanted to enjoy the crispiness of the eggplant, so I opted for the deconstructed version.
Deconstructed:
Layer eggplant, sliced mozzarella and little bit warmed marinara on your plate. Serve warm with whole grain pasta and a salad. Top with a sprinkle of nutritional yeast if you like.
Family Style:
Wipe out your skillet and put in a little sauce, then eggplant slices, then mozzarella and repeat layers, ending with an extra sauce layer.  Cover and let warm through over medium heat.  Serve with whole grain pasta and a salad.  Top with a sprinkle of nutritional yeast if you like.
Serves: 4-6