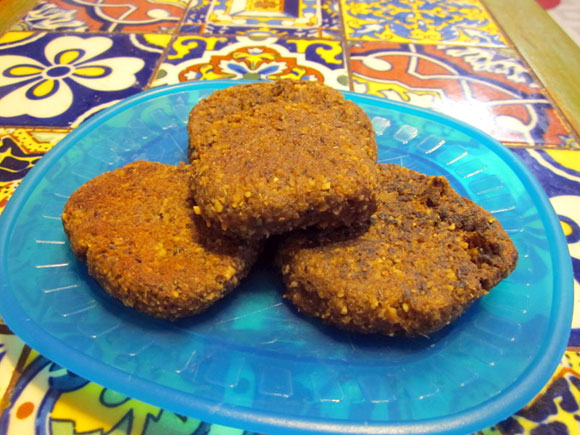 This vegan sausage is a hit with my hubby! It's good by itself, on a biscuit, crumbled in a scramble, or made into gravy.
Ingredients:
1 1/2 cups cooked brown rice
1 cup walnut pieces
1 cup vital wheat gluten
3 tablespoons nutritional yeast
1 cup applesauce
2 Tablespoons ground flaxseed mixed with 2 Tablespoons warm water
2 tsp onion powder
1 tsp garlic powder
2 tablespoons rubbed sage
1 tsp thyme
1 1/2 tsp oregano
1 tsp paprika
1-2 tsp salt
2 tsp pepper
1/4-1/2 cup water
Coarsely process rice and walnuts in food processor or blender.
In large mixing bowl combine rice mixture with all other ingredients, adding just enough water to form a raw-meat-like texture.
Patties: Form into 16 patties, place on a greased cookie sheet and bake until firm, about 45 minutes. Flip the patties halfway through cooking.
Serve warm. You can freeze the extras.
Crumbles: Put the mixture into an oiled slow cooker and cook on high for 1 1/2 -2 hours. Break the loaf down into crumbles in the food processor. Store extra in the freezer.
Yield: 16 patties or about 3 cups crumbles
-Adapted from The Vegan Slow Cooker by Kathy Hester-