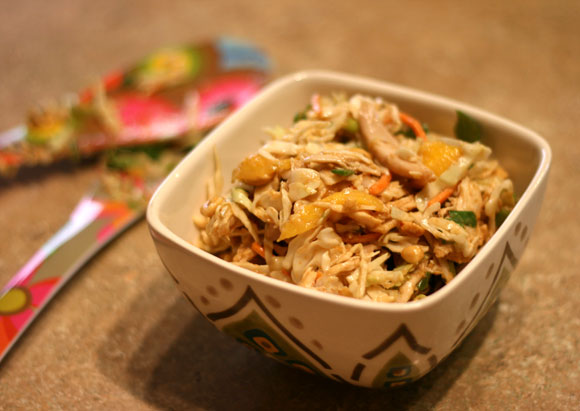 Thai Chicken Salad is a beautiful cabbage and chicken salad with a peanut dressing.
Ingredients:
2 Cups Cooked Chicken, shredded
16 oz Bag Cole Slaw Mix (green cabbage and carrots)
1 Mango, chopped
Large Handful Cilantro,
6 Green Onions, sliced
1/2 Cup Peanuts, chopped
Dressing:
2 Cloves Garlic, finely grated
1/2 teaspoon Cayenne Pepper
2 Tablespoons Soy Sauce
2 Tablespoons Apple Cider Vinegar
2 Tablespoons Sugar
1 Tablespoon Lime Juice
1 Tablespoon Extra Virgin Olive Oil
1/4 Peanut Butter
1/4 Cup Water
In a large bowl, whisk together all dressing ingredients until smooth,
Add the remaining ingredients to the bowl and toss to combine.
Serve cold.
Yield: 4 Servings
-Adapted from Pinch of Yum–