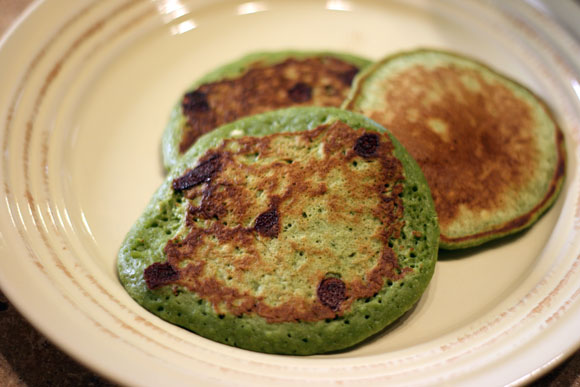 I make these pancakes very often for the kids and they love them.  They usually eat them without syrup, but they are good with syrup too.  These Spinach Pancakes freeze well and are easily reheated in the microwave or toaster oven.  I love these pancakes too, so they aren't just for the kids.
Ingredients:
3 Tablespoons butter, melted
1 Ripe Banana
1 1/2 Cups Fresh Spinach (or 1/3 cup frozen)
1 Cup Milk
1/4 Cup Water
2 Eggs, lightly beaten
3 Tablespoons Brown Sugar
1 Cup + 2 Tablespoons All-Purpose Flour
1/4 Cup + 2 Tablespoons Whole Wheat Flour
1/2 teaspoon Salt
1 1/2 teaspoons Baking Powder
a few dashes Cinnamon
a handful of Chocolate Chips (5 chocolate chips per pancake)
Combine butter, banana, spinach, milk and water together in a blender.  Blend until the spinach is chopped super fine.  Pour into a large bowl.
Add eggs and sugar to the bowl.  Whisk to combine.
Add flours, salt, baking powder and cinnamon to the bowl.  Whisk to combine.
Heat a griddle pan to 350°F or medium.  Adjust heat as needed while cooking.  Lightly grease the griddle pan.  Ladle the green pancake batter onto the griddle pan.  Drop on 5 chocolate chips on each pancake.  Flip when the pancakes start to bubble, flip and cook until browned on the other side.
Serve warm.
Yield: Quite a few pancakes…I guess I should have counted them.  I usually double this recipe so I can freeze a lot of them for a quick breakfast for the kids.