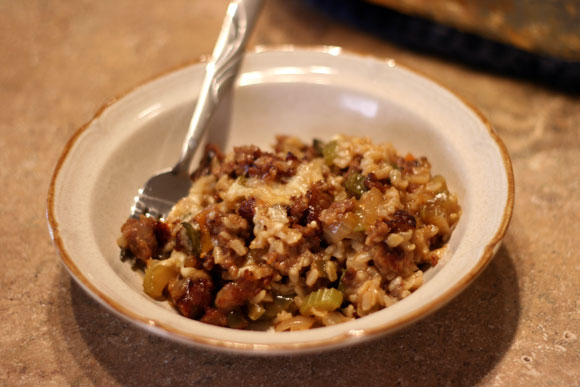 Sausage and Brown Rice Casserole is a delicious combination of rice, sausage and veggies in a creamy chicken velouté sauce topped with cheese. Enjoy this comforting dish!
Ingredients:
2/3 Cup Brown Rice
1 lb Pork Sausage
1 Small Onion, chopped
1 Celery Stalk, chopped
1 Green Bell Pepper, chopped
Salt & Pepper, to taste
3 Tablespoons Butter
3 Tablespoons Flour
2 Cups Chicken Stock
1/2 Cup Monterey Jack Cheese, shredded
Preheat oven to 350°F.
Cook brown rice.
While the rice is cooking, brown the sausage in a large skillet over medium/high heat. Add onion, celery and bell pepper, cooking until softened. Season with salt and pepper to taste.
While the sausage is cooking, melt butter in a medium saucepan. Whisk in the flour and cook for 1 minute. Slowly whisk in chicken stock. Bring to a boil, reduce heat to low and simmer for 10-15 minutes until thickened.
Combine rice, sausage mixture and sauce together in a casserole dish. Top with cheese and bake until bubbly, about 30 minutes.
Yield: 4 Servings (could stretch to 6 servings with more rice)