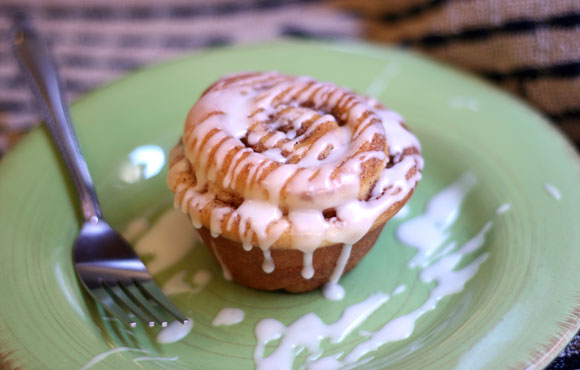 Try baking cinnamon rolls in a muffin tin. Cinnamon Roll Muffins make serving breakfast a breeze.
Ingredients:
1 Cup Warm Water
1 Egg
¼ Cup Canola Oil
1/3 Cup Sugar
3½ Cups Bread Flour
1 Tablespoon Yeast
1/2 Cup Butter, softened
1/2 Cup Sugar
1 1/2 Tablespoons Cinnamon
2 Cups Powdered Sugar
1/2 teaspoon Vanilla Extract
3-4 Tablespoons Milk
Combine warm water, egg, oil, sugar, bread flour and yeast in the bowl of a stand mixer. Mix until a ball of dough forms. Place in a greased bowl and let rise until doubled in size, about 45-60 minutes.
Punch down the dough and turn onto a floured surface. Roll out dough into a 12 inch by 24 inch rectangle.
Combine softened butter, sugar and cinnamon together in a small bowl. Spread butter mixture on dough. Roll tightly to make a 24 inch long dough log.
Butter 2 muffin tins (24 muffins total). Slice dough with a pizza cutter or pastry scraper into 1 inch slices and place in pans. Let rise until doubled in size, about 45-60 minutes.
Preheat oven to 350°F. Bake until golden brown, about 20 minutes.
Make the glaze by mixing powdered sugar, vanilla and milk together. Drizzle over the cinnamon roll muffins.
Note: This can be prepared the night before to bake in the morning. Refrigerate covered before final rise. Let sit out at room temperature for 30 minutes before baking.
Yield: 24 Muffins