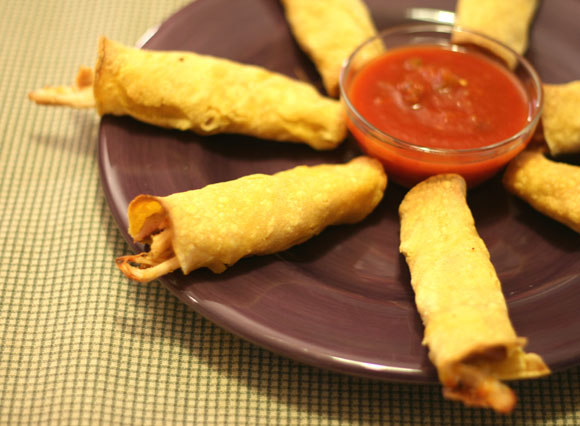 While researching the best way to make Baked Chicken Taquitos, I found that most recipes call for dipping the corn tortillas in warm oil or chicken broth. I decided that chicken broth would be best because I was cooking my chicken in the slow cooker and would have broth from that. So, I warmed my chicken broth and dipped for the recommended 15 seconds and the tortilla turned to complete mush. Then I tried about 5-10 seconds and had major rolling issues. Next I tried a quick dip and it was still horrible. I ended up just rolling them up without dipping them at all and it worked out great. After I got them in the oven, I remembered that I saw a recipe call for microwaving 2 tortillas at a time wrapped in paper towels for 20-30 seconds before rolling. So, if you are having issues rolling your corn tortillas, try heating them in the microwave. Different brands of corn tortillas will act differently, so you will just have to play it by ear. I think I got lucky being able to roll them without heating. It was pretty warm in my kitchen at the time, so maybe my tortillas were already warmed enough.
Ingredients:
18 Corn Tortillas, 4 inch
3 Cups Shredded Chicken
1 Tablespoon Taco Seasoning
1 Cup Mexican Blend or Cheddar Cheese, shredded
Preheat oven to 425°F.
Combine chicken, taco seasoning and cheese together in a bowl.
Place a large spoonful of the chicken mixture on a tortilla and roll up. If you are having trouble rolling them because they are cracking, heat 2 tortillas at a time in the microwave wrapped in paper towels for 20-30 seconds.
Place rolled tortilla on a lightly greased baking sheet, seam side down. Repeat with remaining tortillas and chicken. Lightly spray the top of the rolled tortillas with non-stick cooking spray. Bake until crispy, about 15-20 minutes.
Note: Leftovers can be reheated in 400°F oven until warmed and crispy, about 5-10 minutes.
Yield: 18 taquitos