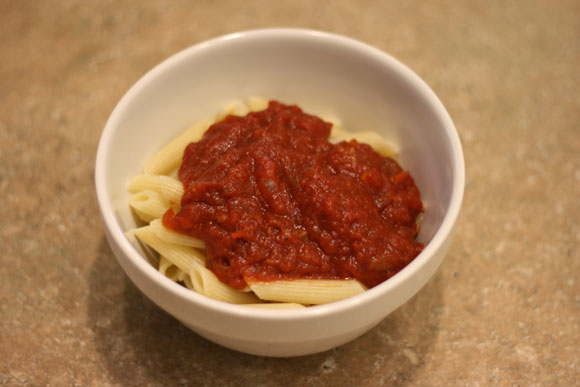 This is an easy slow cooker Marinara Sauce. This recipe makes a lot of sauce, so make sure you have some zip top bags and freezer space.
Ingredients:
3 (28 oz) Cans Crushed Tomatoes
2 (15 oz) Cans Tomato Sauce
3 (6 oz) Cans Tomato Paste
1 Tablespoon Extra Virgin Olive Oil
1 Large Onion, finely chopped
4 Cloves Garlic, finely grated
2 Celery Stalks, finely chopped
2 Carrots, peeled and finely chopped
1 teaspoon Kosher Salt
1 teaspoon Black Pepper
4 Bay Leaves
Heat olive oil in a large skillet over medium/high heat. Once hot, add onion, garlic, celery and carrots. Cook, stirring frequently until softened and translucent.
Pour all cans of tomatoes into a slow cooker along with the sauteed vegetables, salt, pepper and bay leaves. Cook on high for 4 hours.
Yield: Slow cooker full of marinara sauce