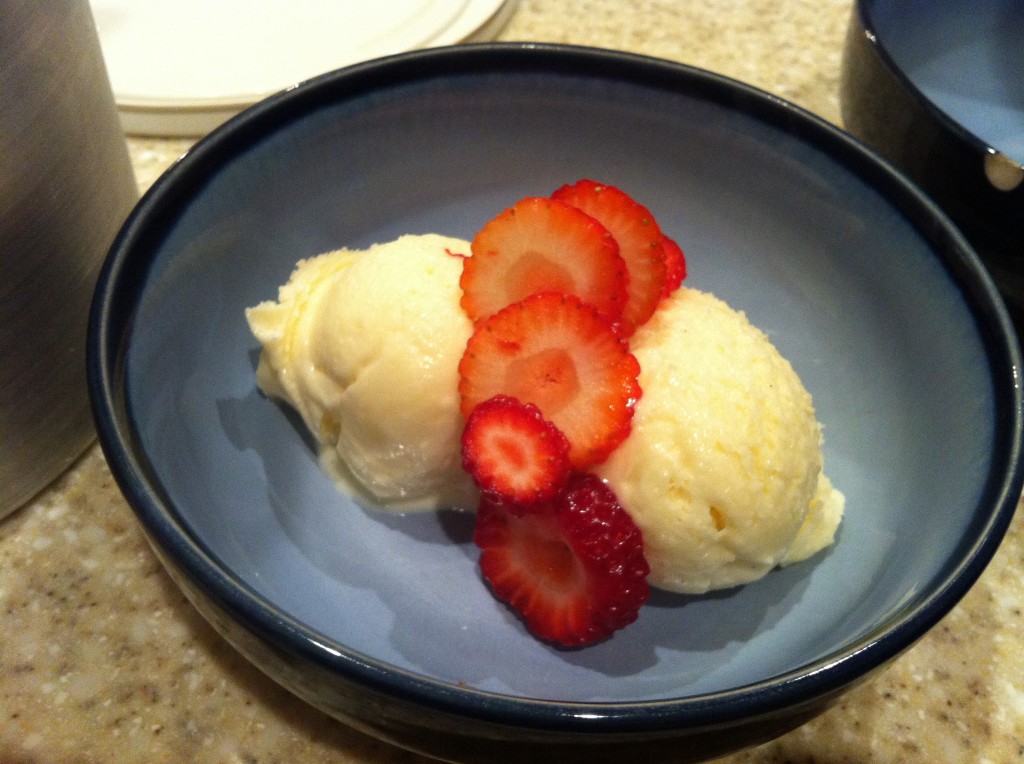 My ice cream maker had been collecting dust in the back of my pantry for quite some time now, so I decided to bring it out and make some ice cream!  This ice cream turned out great and was very easy to make.  I found the recipe on the Eating Well website.
Ingredients:
3 teaspoons unflavored gelatin
2 tablespoon water
6 cups low-fat milk, divided
6 large egg yolks
2 (14-ounce) cans sweetened condensed milk
2 vanilla beans (or about 2 teaspoons pure vanilla extract), cut in half lengthwise and seeds scraped
Stir together the gelatin and water in a small bowl.  Set aside for now.
Add 3 cups milk and the vanilla bean seeds and pods to a large saucepan.  Heat until the milk is steaming over medium heat.
In a large bowl, whisk together the egg yolks and sweetened condensed milk.  While still whisking, very slowly pour in the hot milk.  Return this to the saucepan over medium heat, cooking until thickened enough to coat the back of a spoon, about 5 minutes.  Do not boil.
Strain this mixture through a mesh strainer into a clean large bowl.  Stir in the gelatin and water mixture.  Whisk until fully incorporated then whisk in the remaining 3 cups of milk.
Cover and refrigerate until cold, about 2 hours.
Whisk the mixture before pouring into your ice cream maker.  Freeze in an ice cream maker according to manufacturer's directions.  After freezing, place in the freezer to firm up more.
Yield: 2 Quarts Ice Cream