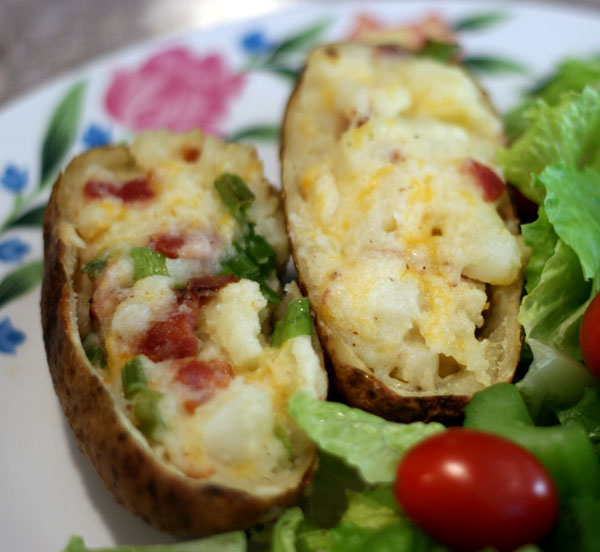 When I make Twice Baked Potatoes, I like to make a lot and stick them in the freezer.  They are great to have in the freezer for lunch or even an easy dinner.  As you can see in the picture, I forgot to save some cheese so sprinkle on top.  They were still super cheesy and delicious without the extra sprinkle of cheese.
Ingredients:
16 Idaho Baking Potatoes, rinsed
1 lb Bacon, sliced
1 lb Butter (4 sticks), sliced
2 Cups Sour Cream
2 1/2 Cups Shredded Colby Jack Cheese, divided
1 Bunch Green Onions, thinly sliced
Salt and Pepper
Preheat oven to 400°F.  Poke several holes in the potatoes with a fork and place on a baking sheet.  Bake until very tender, about 1 hour and 15 minutes. Cool slightly before scooping out the insides.
Brown the bacon in a skillet over medium/high heat.  Drain on paper towels.
Combine butter, bacon and sour cream in a very large bowl.
Once the potatoes are cool enough to touch, cut them in half lengthwise.  Scoop out the insides, leaving a potato skin shell.  Leave a little attached to the skin for some stability.  Put the potato insides in the bowl with the butter.
Mash the potatoes together with the butter, bacon and sour cream.  A potato masher works well for this.  Stir in 2 cups cheese and green onions.  Season to taste with salt and pepper.
Spoon the potato mixture into the potato skin shells.  Top with remaining cheese.
Bake at 350°F until warm and bubbly, about 15-20 minutes.
These can also be frozen in a zip top bag.  Baking time will be longer for frozen potatoes.
Yield: 32 Twice Baked Potato Halves
-Recipe inspired from The Pioneer Woman–