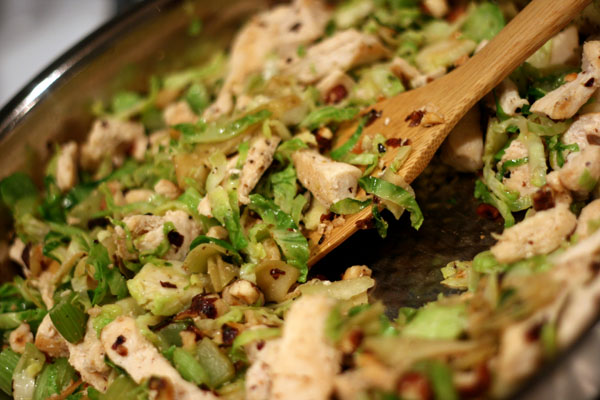 I never really know what to do with Brussels Sprouts except for roasting them.  They are really delicious roasted.  I wanted to make a main dish with these Brussels Sprouts though.  I came across a recipe that had chicken, Brussels sprouts, hazelnuts (YUM!), celery and lemon.  I was excited because I actually had all those ingredients!  Then I saw it was all uncooked veggies and I'm not so into eating raw Brussels sprouts.  I decided to take all those yummy ingredients and make a stir-fry of sorts.  This Chicken and Brussels Sprouts Stir-Fry ended up being quite delicious.  The toasted hazelnuts gave it a nice toasty crunch.
Ingredients:
1/2 Cup Hazelnuts
3 Tablespoons Olive Oil, divided
2 Boneless, Skinless Chicken Breasts, sliced thin
Salt and Pepper
2 Broccoli Stems, outer layer removed and peeled thin with vegetable peeler
10 Brussels Sprouts, thinly sliced
2 Celery Stalks, thinly sliced
Juice of 1 Lemon
Toast the hazelnuts in a large skillet over medium/low heat until fragrant and light brown.  Reserve on a plate.
To the same skillet, heat 1 Tablespoon olive oil over medium/high heat.  Add the chicken and season with salt and pepper.  Cook until chicken is browned and cooked through.  Reserve on a plate.
Heat the remaining 2 Tablespoons olive oil in the skillet.  Add broccoli stems, Brussels sprouts and celery.  Cook until veggies are tender, stirring frequently.  Season to taste with salt and pepper.
Return chicken to the skillet along with any juices on the plate.  Add the toasted hazelnuts and freshly squeezed lemon juice.
Serve over brown rice.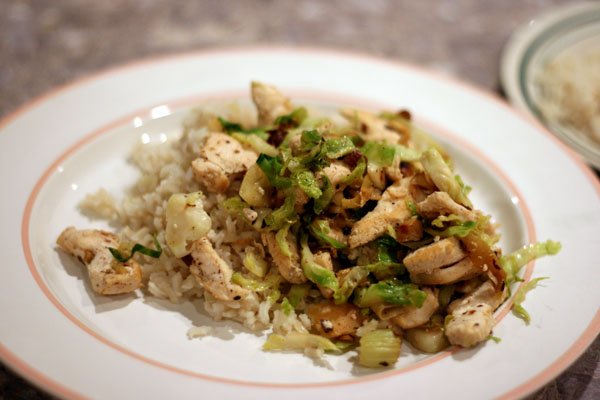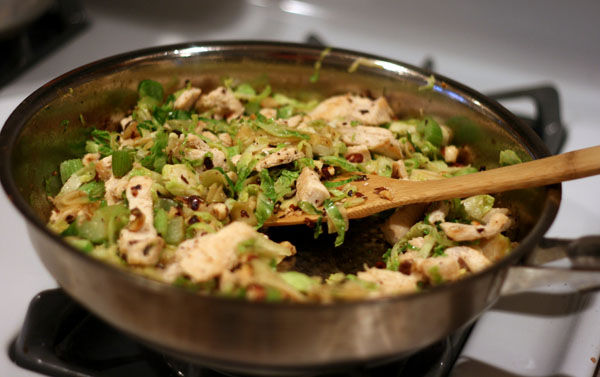 Yield: 4 Servings