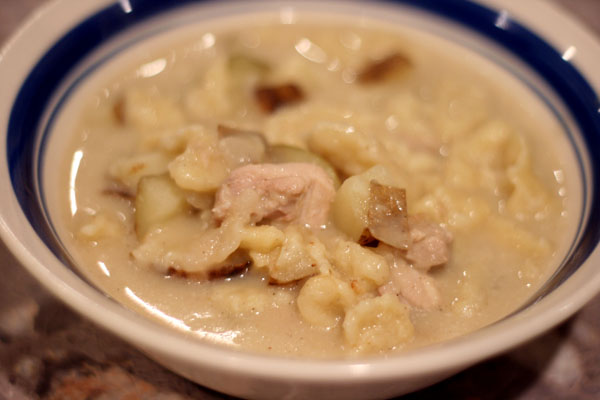 This Chicken and Dumplings Soup is different than the average Chicken and Dumplings Soup.  Normally there are a few large dumplings that are cooked on the top of the soup.  With this Chicken and Dumplings Soup, there are tons of tiny dumplings that are cooked within the soup.  The dumplings cook more evenly and much quicker this way.  It's delicious too!  Chloe even ate it!
Ingredients:
1 1/2 lbs Boneless, Skinless Chicken Thighs, cut into bite size pieces
Salt and Pepper
1 teaspoon Olive Oil
1 Onion, chopped fine
8 Cups Chicken Broth
2 lbs Potatoes, cut into bite sized pieces
2 1/2 Cups Flour
1/4 teaspoon Baking Powder
3 Eggs, lightly beaten
1 Cup Half-and-Half, divided
1/2 Cup Water
Season chicken with salt and pepper.  Heat olive oil in a large pot over medium/high heat.  Once hot, add the chicken and cook until browned.  Reserve on a plate.
Add onion to the pot, cooking until browned, about 3-5 minutes.  Add broth and potatoes.  Bring to a bubble, reduce heat and simmer for 10 minutes.  Season with salt and pepper.
While the soup is simmering, mix together the dumpling batter.  Combine flour, baking powder, 1 teaspoon salt, and 1/4 teaspoon pepper in a bowl.  Add eggs, 1/2 cup half-and-half and stir to combine.  Pour batter into a large zip top bag.  Snip off 1/4 inch of a corner of the bag.  Squeeze batter into the pot, cutting with kitchen shears every 1/2 inch as it comes out.  Simmer until they float, about 10 minutes.
Add chicken and any juices from the plate back to the pot.  Stir in the remaining 1/2 cup half-and-half.  Season with salt and pepper to taste.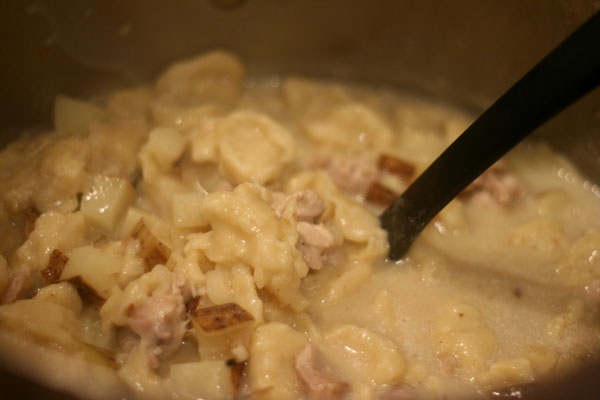 Serves: 8
-Recipe adapted from Cook's Country magazine-