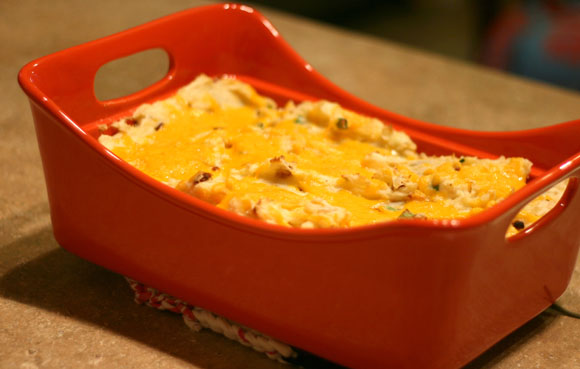 This casserole tastes just like Twice Baked Potatoes, but it's so much easier to make.  No stuffing potato skins here!  This can be served as a main dish or a side dish.
Ingredients:
5 lbs Potatoes, peeled and cubed
3/4 Cup Sour Cream
1/2 Cup Milk
3 Tablespoons Butter
Salt & Pepper, to taste
3 Cups (12 oz) Shredded Cheddar Cheese, divided
1/2 lb Bacon, cooked and crumbled
3 Green Onions, sliced
Boil potatoes until tender, about 15 minutes.  Drain and place in a large bowl.
Add sour cream, milk, butter, salt and pepper.  Blend with an electric mixer until smooth.
Stir in 2 cups cheese, bacon and onions.  Spread into a casserole dish and top with remaining cheese.  Bake for 30 minutes.
Yield: About 8 servings as main dish/about 14 servings as side dish
-Recipe from Taste of Home-