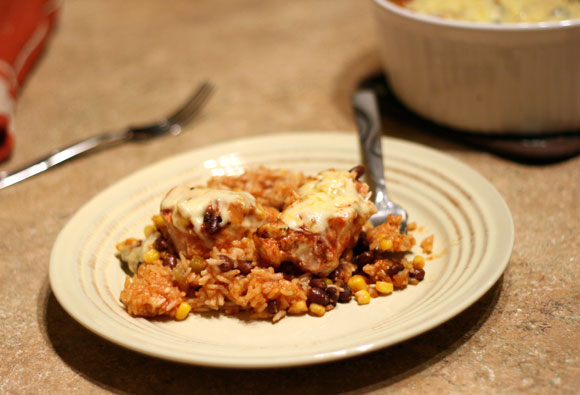 This Salsa Chicken Bake couldn't be easier to make. Just dump the ingredients into a baking dish and let it bake.
Ingredients:
1 Cups Uncooked White Rice
1 Cup Frozen Corn
15 oz Can Black Beans, drained and rinsed
16 oz Jar Salsa
1 Cup Chicken Broth
1/2 Tablespoon Chili Powder
1/2 teaspoon Oregano
2 Large Chicken Breasts (about 1.5 lbs), cut into 3 pieces each
1 Cup Shredded Gouda or Cheddar Cheese
Preheat oven to 375°F.
Stir together rice, corn, beans, salsa, broth, chili powder and oregano in an 8 inch casserole dish. Place the chicken on top and press down into the liquid.
Cover with foil and bake until rice is tender about 60-75 minutes. Remove foil. Sprinkle cheese on top and let melt in over for a couple minutes.
Yield: 4-6 Servings
-Recipe from Budget Bytes–