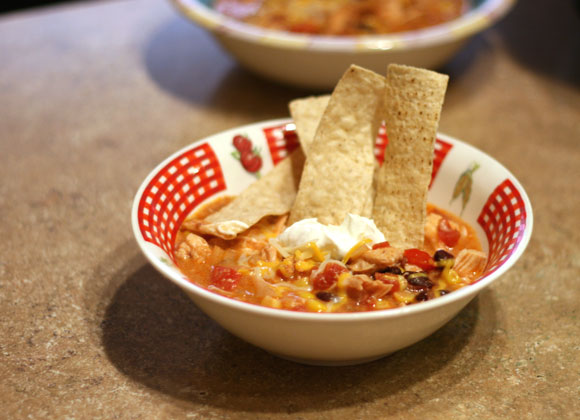 Try this Slow Cooker Chicken Enchilada Soup to warm you up on a rainy day. I really love soup and slow cooker meals. My favorite sauce for this is Macayo's red enchilada sauce. I've tried a few kinds and really love the taste of this kind.
Ingredients:
3 Tablespoons Butter
3 Tablespoons Flour
1/2 Cup Chicken  Broth
2 Cups Milk, divided
15 oz Can Black Beans, drained and rinsed
14.5 oz Can Diced Tomatoes with Jalapenos
10 oz Frozen Corn
1 Small Onion, chopped
1 Small Red Bell Pepper, diced
10 oz Can Red Enchilada Sauce
2 Chicken Breasts
Optional Toppings:
Shredded Colby Jack Cheese
Avocado
Sour Cream
Tortilla Chips
Melt butter in a saucepan over medium/low heat.  Whisk in flour and cook for 1 minute.  Whisk in broth and 1/2 cup milk.  Bring to a bubble and let thicken.  Remove from heat and whisk in enchilada sauce and remaining milk.
Combine beans, tomatoes, corn, onion and bell pepper together in a slow cooker.  Place chicken on top and pour in the enchilada sauce mixture.
Cook on low 6-8 hours or on high for 3-4 hours.  Shred chicken after cooking.
Yield: About 8-10 Servings
-Recipe from Dainty Chef–