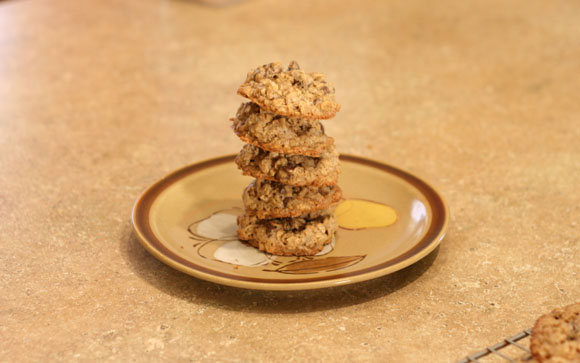 This is a delicious gluten free oatmeal cookie!
Ingredients:
4 1/2 Cups Gluten Free Oats, divided
2 Tablespoons Cornstarch
1 1/2 teaspoons Cinnamon
1 teaspoon Baking Powder
1/2 teaspoon Salt
2 Sticks Unsalted Butter, softened
3/4 Cup Sugar
1/2 Cup Brown Sugar
2 Eggs
2 teaspoons Vanilla Extract
1 1/2 Cups Semisweet Chocolate Chips
Preheat oven to 350°F. Lightly grease 2 cookie sheets.
Blend 1 1/2 Cups oats in a blender until they are a fine powder. Whisk together in a bowl with cornstarch, cinnamon, baking powder and salt.
Mix together butter, brown sugar and sugar with an electric mixer until fluffy. Mix in eggs and vanilla. Slowly mix in oat mixture until fully combined.
Stir in chocolate chips and remaining oats.
Drop 2 Tablespoons dough about 2 inches apart on prepared cookie sheets.
Bake until light brown at edges, about 15-18 minutes. Rotate cookie sheets half way through baking. Cool on racks.
Yield: about 3 dozen cookies
-Recipe slightly adapted from MarthaStewart.com–