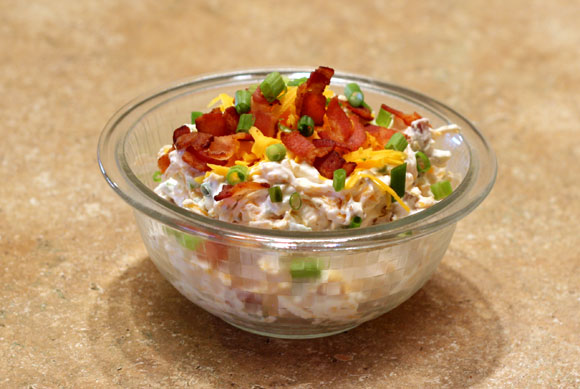 This Loaded Baked Potato Dip is deliciously packed with cheesy bacon goodness. I served this dip with regular potato chips, which added a nice saltiness to it.
Ingredients:
16 oz Sour Cream
12 oz Bacon, cooked and crumbled
8 oz (2 Cups) Shredded Cheddar Cheese
1/3 Cup Green Onions, thinly sliced
Mix all ingredients together in a bowl. Reserve a small amount of cheese, bacon and green onions for garnish if desired.
Cover and chill for at least 1 hour before serving. Garnish with reserved cheese, bacon and green onions.
Serve with potato chips.
Yield: about 4 Cups
-Recipe from Brown Eyed Baker–