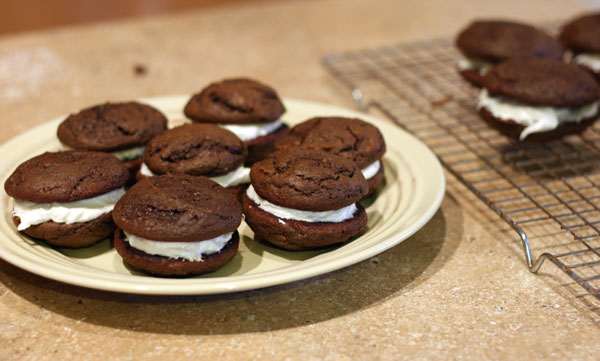 Ingredients:
Cookies:
1/2 Cup Butter, softened
1 Cup Sugar
1 Egg
1 Cup Evaporated Milk
1 teaspoon Vanilla Extract
2 Cups Flour
1/2 teaspoon Salt
1/2 Cup Unsweetened Cocoa Powder
1 1/2 teaspoons Baking Soda
1/2 teaspoon Baking Powder
Filling:
1/2 Cup Butter, softened
1 Cup Powdered Sugar
1/2 teaspoon Vanilla Extract
1 Cup Marshmallow Creme
Preheat oven to 400°F and lightly grease two cookie sheets.
Cream together butter and sugar in a large bowl. Mix in egg, evaporated milk and vanilla. In a separate bowl, combine flour, salt, cocoa powder, baking soda and baking powder. Slowly add flour mixture until combined.
Drop the dough by rounded tablespoonfuls onto the prepared baking sheets, leaving 3 inches between them. Bake until firm to the touch, about 6-8 minutes. Cool on racks.
Make the filling by mixing together butter, powdered sugar, vanilla and marshmallow creme until smooth.
Spread a spoonful of filling onto the flat side of the cookie and top with another cookie.
Connect With Us!
If you try this recipe, please leave a comment and star rating below to let us know how it turned out! We would also love to connect with you on Facebook, Instagram, or Pinterest. Tag @chloestrayblog or #chloestray to show us your food!