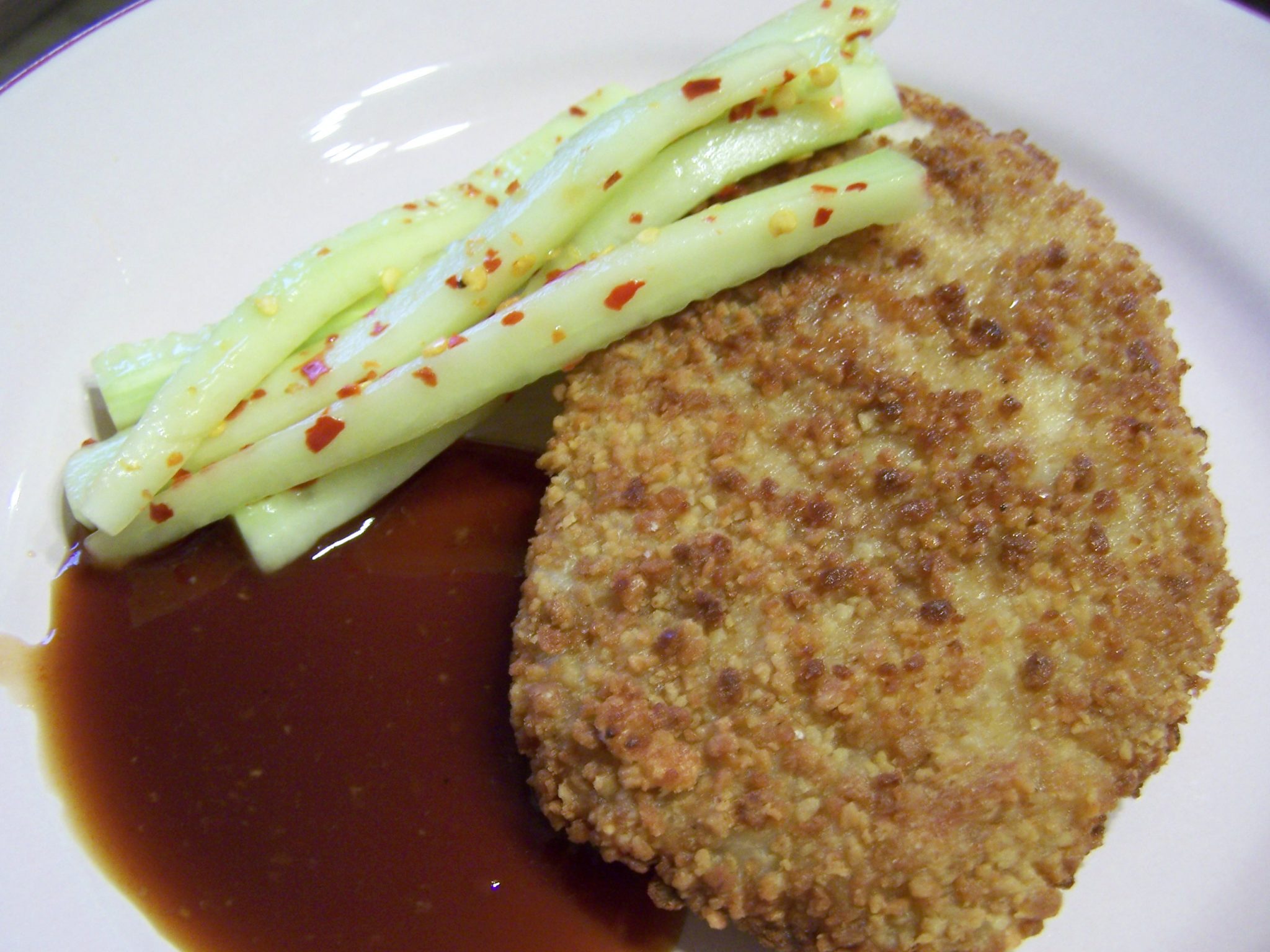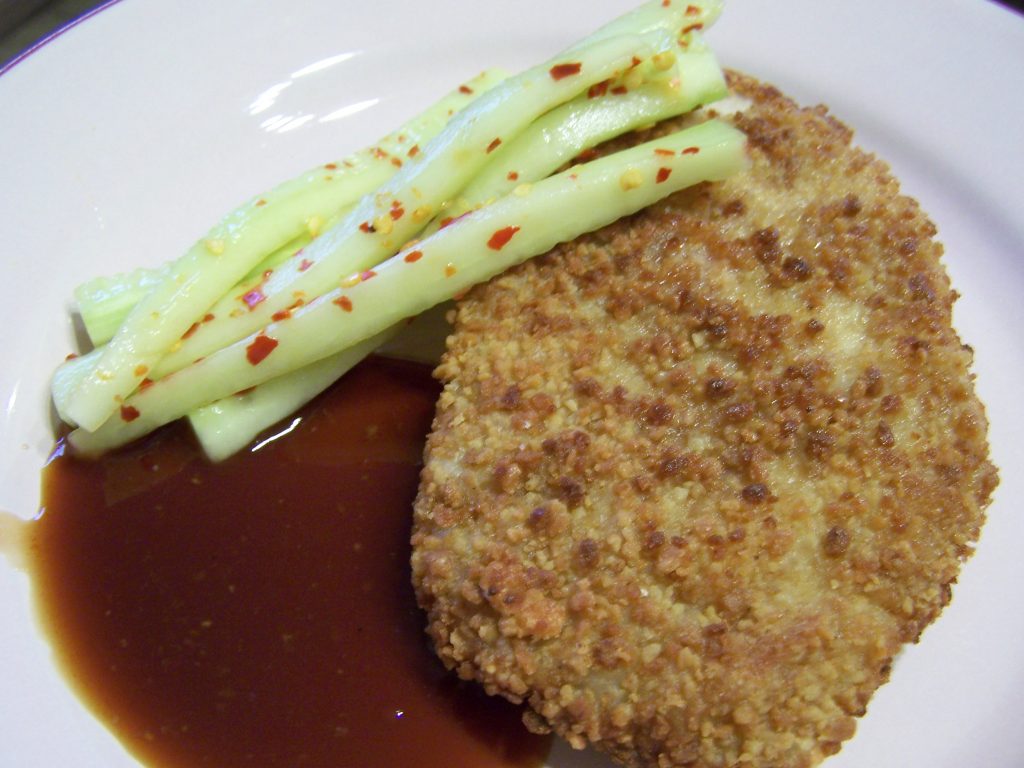 Tonkatsu is popular Japanese dish that is basically fried pork (see more about Tonkatsu here).  The recipe I found comes from Food Network.  I changed it slightly to accommodate what I had on hand.  It turned out really great.  The cucumbers were slightly too spicy for me, but Robbie liked them just fine.  The sauce was delicious on both the pork and the cucumbers.
Ingredients:
For the pork –
4 boneless pork chops, pounded to 1/4 in thickness
Kosher salt
1/4 cup rice wine vinegar
3 teaspoons finely grated peeled ginger
3/4 cup cornstarch
3 large eggs
2 cups bread crumbs (Preferably Panko)
Canola oil, for frying
For the sauce –
1/4 Cup ketchup
1/4 Cup Worcestershire sauce
1/4 Cup sugar
2 Tbsp water
1/2 tsp finely grated peeled ginger
For the cucumbers –
2 medium cucumbers
1/2 to 1 teaspoon sugar
2 teaspoons rice wine vinegar
1 1/2 teaspoons red pepper flakes
1 tsp Kosher salt
Mix 1/4 cup rice wine vinegar with ginger.  Season pork with salt and rub with vinegar mixture.  Set aside.
Prepare cucumbers by peeling and removing seeds.  Cut into 4 inch spears.  Combine cucumbers with the sugar, rice wine vinegar, red pepper flakes and salt.
Make the sauce by combining the ketchup, Worcestershire sauce, sugar, water and ginger in a bowl.
Set up the breading station on three separate plates.  Put the corn starch on the first plate.  On the second plate beat the eggs with 1/2 cup of water.  Put the bread crumbs on the third plate.  For each pork chop, dredge in corn starch, dip in egg and coat with bread crumbs.  Heat 1/4 inch of canola oil in a large pan over medium-high heat.  Once hot, fry pork in batches for 3-4 minutes per side.  It will be done when golden brown on the outside and has reached an internal temperature of 145°F.  Remove to a cooling rack over a plate.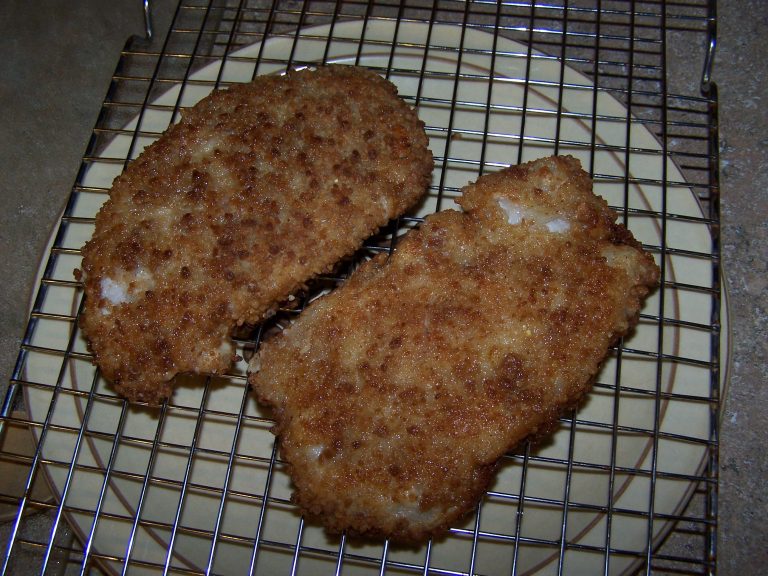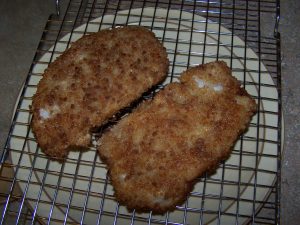 Serve the pork and cucumbers with sauce on the side.
Please follow and like us: