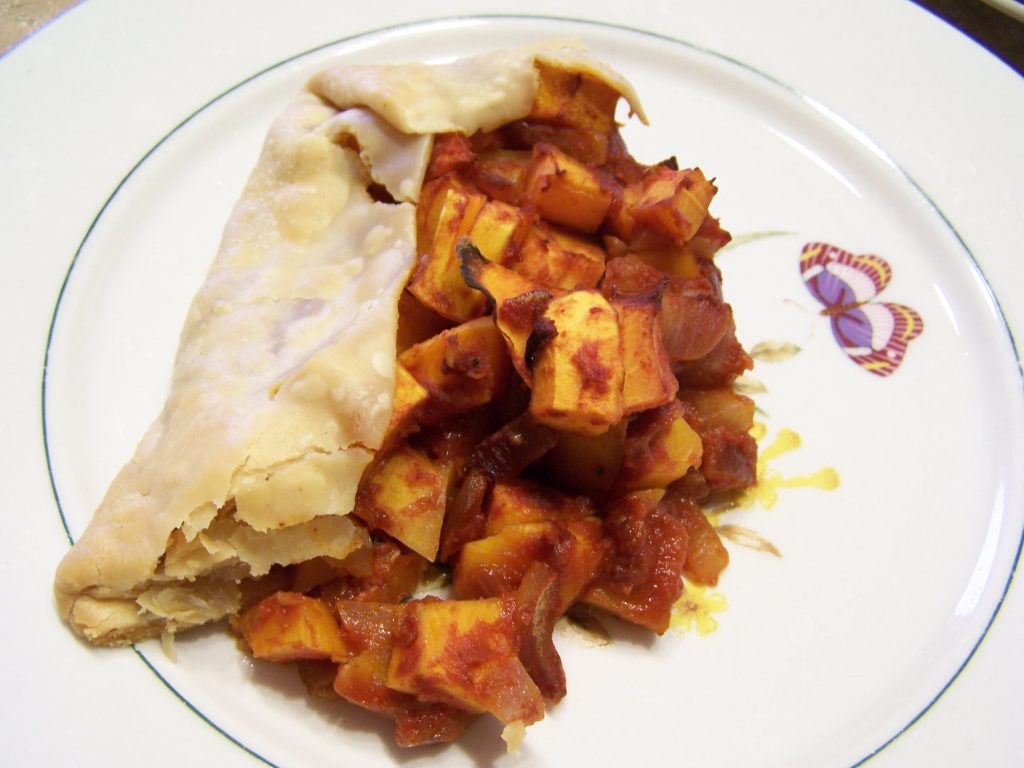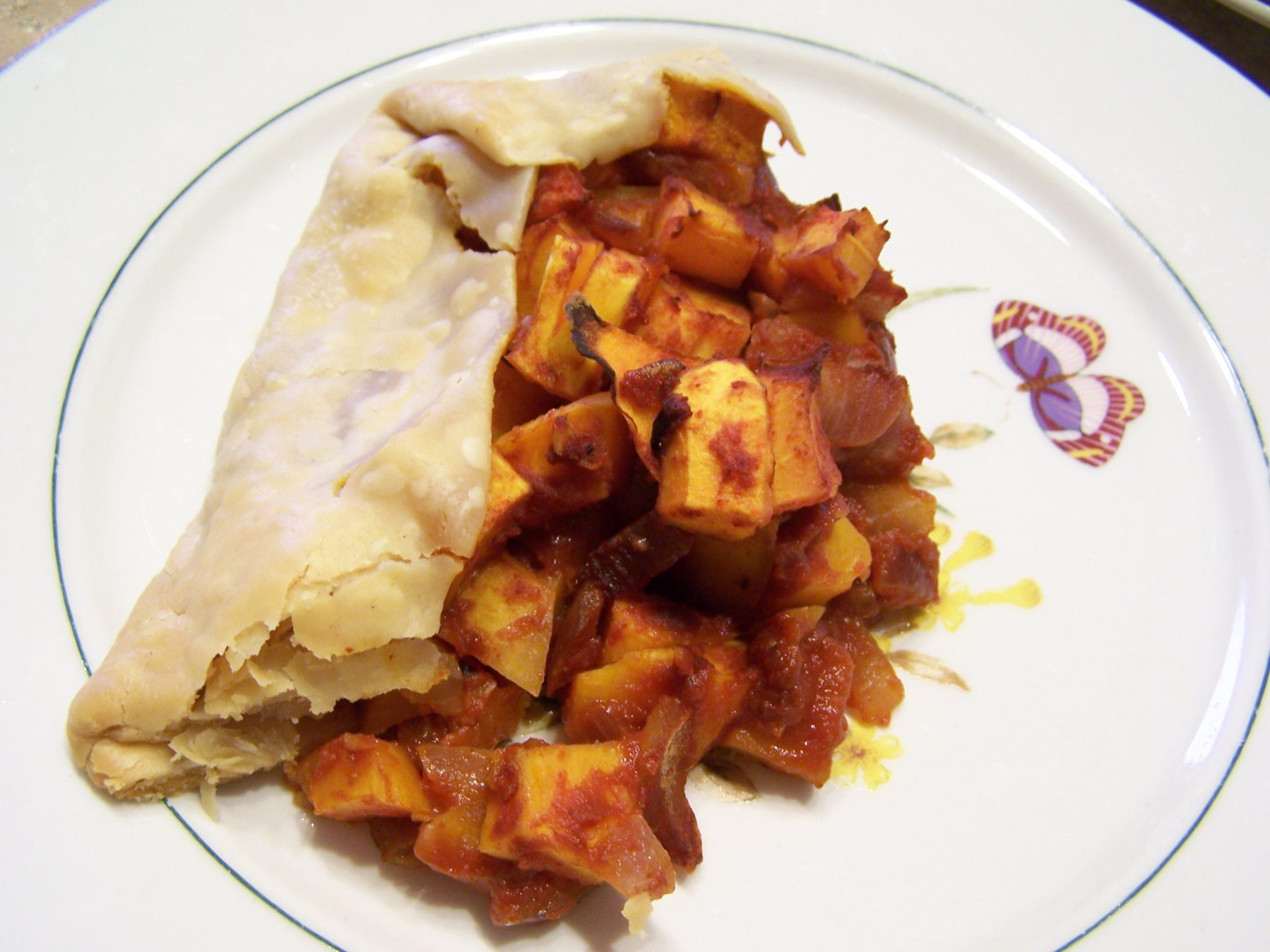 A galette is a free-form pie that can be either sweet or savory.  This galette is made with butternut squash, but it can also be made with any kind of winter squash or sweet potato.  I saw this recipe on the Today Show about 3 years ago and have been making it since.  I normally make my own pie crust for this, but I have a bunch of Pillsbury pie crusts in the freezer which I used this time.
Ingredients:
2 Tbsp Extra-Virgin Olive Oil
1 small red onion, chopped
2 cloves garlic, grated
salt and pepper
1 Tbsp chili powder
¼ cup tomato paste
½ cup vegetable/chicken stock
1 lb winter squash (butternut, pumpkin, acorn, hubbard, etc.), peeled, seeded and cut into small cubes
1 pie crust (see recipe below)
Preheat oven to 350°F
Heat olive oil in a large saute pan over medium- high heat.  Add onion and cook 2-3 minutes to soften.  Stir in garlic, salt, pepper, chili powder and tomato paste.  Cook for one minute then add in the stock and squash.  Cook for another 2-3 minutes and remove from heat.
Roll the pie crust into a circle 12 inches across.  Place pie crust on a greased baking sheet.  Pour squash mixture in the center of the pie crust, leaving about 3 inches of crust open around the edges.  Fold in the sides over the squash, leaving an open circle in the middle.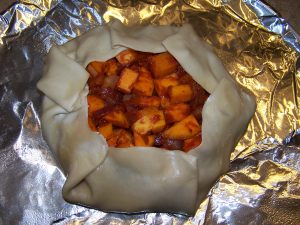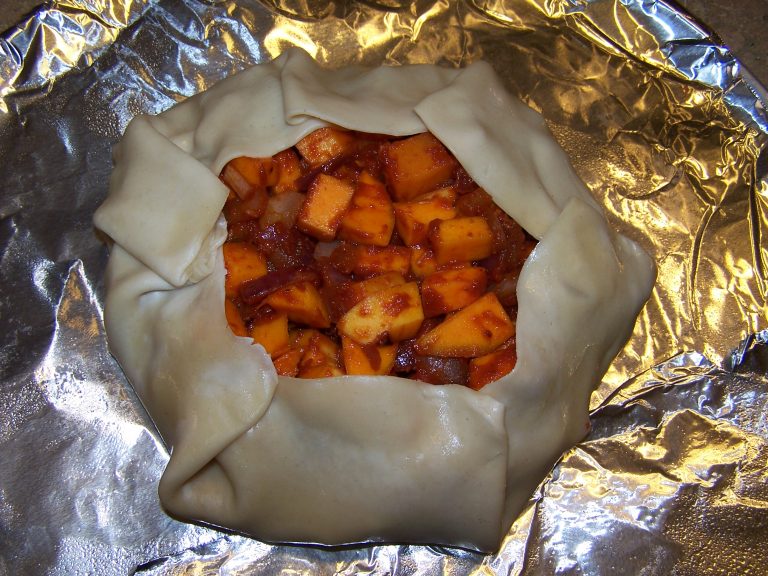 Bake until squash is soft and the crust is golden brown, about 35-45 minutes.
Serves 4.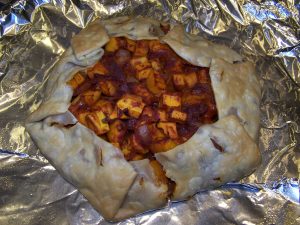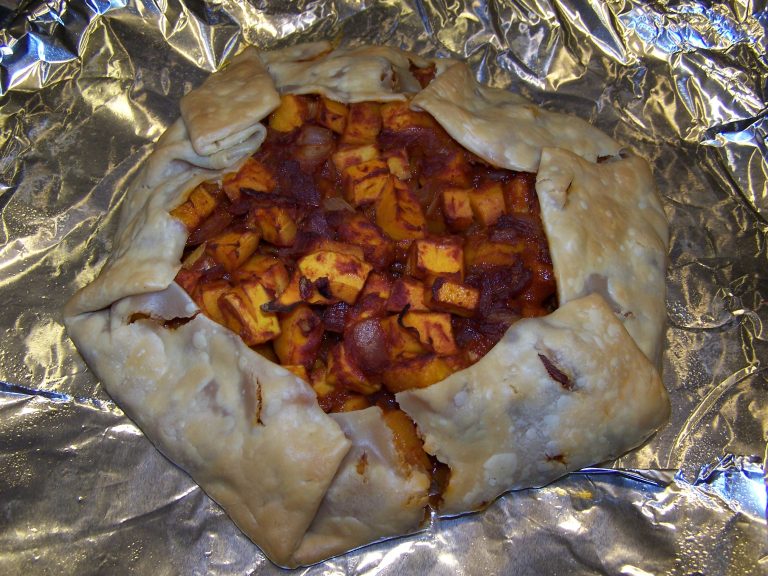 For the pie crust:
Ingredients:

1 cup plus 2 tablespoons (about 5 ounces) all-purpose flour, plus more for rolling
½ teaspoon salt
1 teaspoon sugar
8 tablespoons (1 stick) cold unsalted butter, cut into about 8 pieces
3 tablespoons ice water, plus more if necessary
In the bowl of a food processor, combine flour, salt and sugar.  Pulse twice.  Add in butter and process until crumbly, about 10 seconds.  Pour into a bowl and mix in 3 Tablespoons of ice water with your hands.  Add more water if needed to be able to form dough into a ball.  Wrap ball in plastic wrap and either freeze for 10 minutes of refrigerate for 30 minutes.