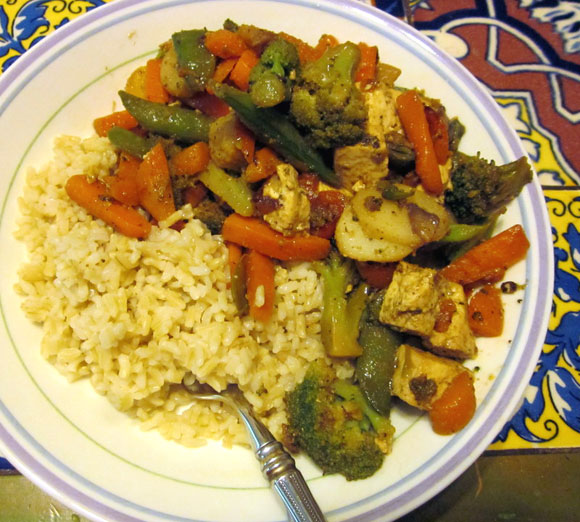 Ingredients:
1 16 oz package firm tofu, drained and cut into 1/2″ cubes
For marinade:
2 Tbsp soy sauce
1 Tbsp fish sauce
1 Tbsp sesame oil
1 tsp ginger powder
1 tsp garlic powder
For stir fry:
2-3 Tbsp canola oil (divided)
marinated tofu, drained, but reserve marinade
1 tsp chopped garlic
1 large bag frozen stir fry veggies
Place tofu in a gallon size zip-top bag with marinade.
Refrigerate for 4-8 hours, turning over ever hour or so.
Heat large skillet or wok over medium high heat. Add 1-2 tbsp canola oil and marinated tofu. Allow to crisp up a bit, then toss to get all sides, about 5-8 minutes. Place tofu on a plate.
Add 1 Tbsp oil to skillet with garlic. Stir until fragrant. Add frozen veggies. Cover and stir every couple minutes until cooked. About 10 minutes. Add marinade and tofu back to pan. Toss until heated through.
Serve with rice.
Yield: 3-4 Servings