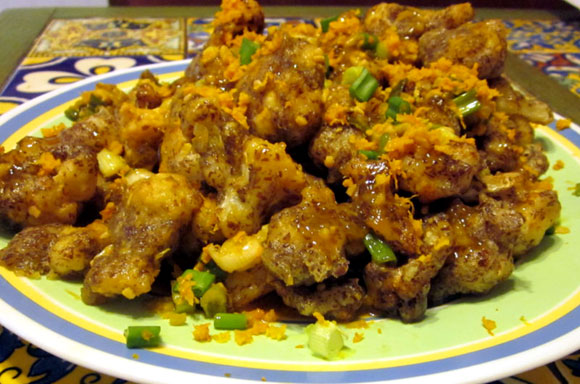 INGREDIENTS:
1 small head of cauliflower, cut into small florets
1/2 c. Oil for frying
For Flour Mixture:
1 Tb flaxseed meal + 2 Tb water, allow to sit until thickens
1/3 c. water
1/3 c. corn starch
1/3 c. whole wheat flour
1 tsp oil
For Orange Sauce:
2 Tb oil
2-3 tsp chopped garlic
6 green onions, thinly sliced
zest of 1 orange + juice of orange, reserve a small amount for garnish
1 tsp sesame oil
2 Tb soy sauce
2 Tb red wine vinegar
2 Tbsp brown sugar
1 tsp corn starch
For garnish:
1-2 Green Onions, thinly sliced
Sesame Seeds
Blend all flour mixture ingredients together until a nice batter is formed (shouldn't be too thick: think waffle batter consistency).
While you are doing this, heat up a skillet with 1/2 c. oil on medium/high heat. Make sure it has been properly heated.
Dip each small floret into the batter and make sure each piece is entirely covered.
Fry in oil until completely browned.
Allow to drain on a paper towel-lined plate.
Pour out oil from skillet and wipe clean with a paper towel, heat (fresh) oil and garlic for 1 minute.
Add everything else to skillet, whisk together until thickened and bubbly. Toss in crispy cauliflower into the skillet and coat thoroughly. Place on top of rice.
Garnish with green scallions, orange zest, and sesame seeds.
Serves: 2
-Adapted from E-how and Vegan Richa–
Please follow and like us: