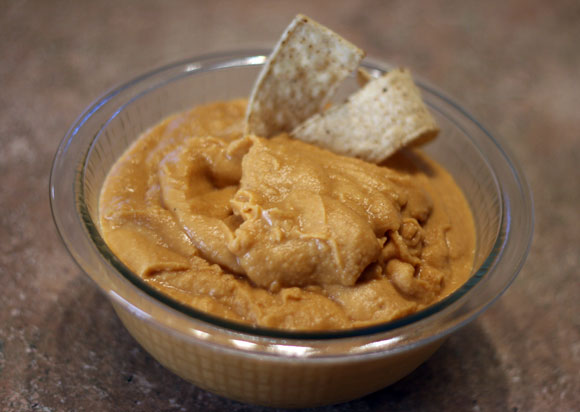 For less than the price of a tiny plate of restaurant hummus, you can make an entire bowl of deliciously creamy Roasted Red Pepper Hummus.
Ingredients:
1 large Red Bell Pepper, stem and seeds removed
2 (16oz) Cans Garbanzo Beans, 1 can drained, 1 can not drained
1 Tablespoon Extra Virgin Olive Oil
1/4 Cup Sesame Seeds
1/4 Cup Lemon Juice
1 teaspoon Hot Sauce
1 teaspoon Cumin
1 teaspoon Kosher Salt
1/2 teaspoon Black Pepper
1 Clove Garlic
Preheat broiler. Cut the bell pepper in half and place on a foil-lined baking sheet. Roast a couple inches away from the boiler. Roast the pepper until it is almost completely blackened, about 15 minutes. Remove from oven and place in a paper bag and fold the top of the bag over to close. Let sit 10 minutes. Remove from bag and peel off the skin.
In a blender or food processor, add the liquid from one can of beans, olive oil, sesame seeds, lemon juice, hot sauce, cumin, salt, pepper, garlic and roasted bell pepper. Blend until smooth.
Add beans and blend until smooth.
*Note: If you don't want to use canned beans, you will need 3 cups of cooked garbanzo beans and 1/2 cup water to replace the liquid from the can.
Yield: About 4 Cups Hummus