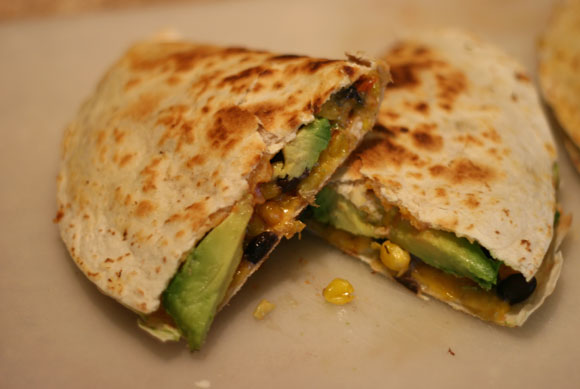 These Roasted Corn, Black Bean and Avocado Quesadillas are stuffed full of deliciousness. This meal won't leave you hungry!
Ingredients:
12oz Frozen Corn
Salt & Pepper
2-3 Tablespoons Olive Oil, divided
4 Large Tortillas (at least 8 inch)
15oz Can Black Beans, rinsed
2-3 Avocados, sliced
8oz Cheddar Cheese, shredded
1 Cup Salsa
Sour Cream
Preheat oven to 400°F and line a baking sheet with foil. Rinse frozen corn in a colander and towel dry. On the baking sheet, combine corn, 1 teaspoon olive oil, salt and pepper. Bake 10 minutes, stir and bake another 10 minutes until lightly browned.
Heat about 1 teaspoon olive oil in a large nonstick skillet over medium/high heat. Add 1 tortilla. Sprinkle cheese over the whole tortilla. On half of the tortilla, top with corn, beans, avocado and some salsa. Fold tortilla in half. Once the cheese is melted, remove to a plate. Repeat with remaining tortillas.
Serve with extra salsa and sour cream.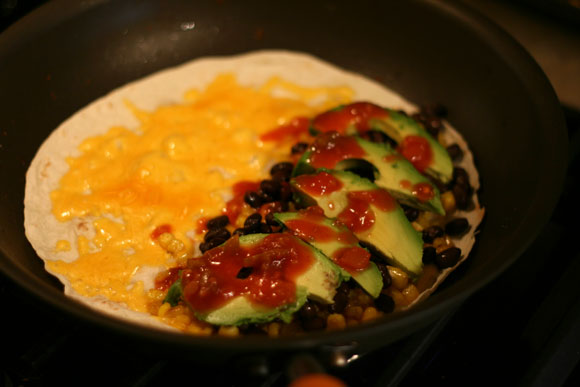 Yield: 4 servings
-Recipe from SheKnows–