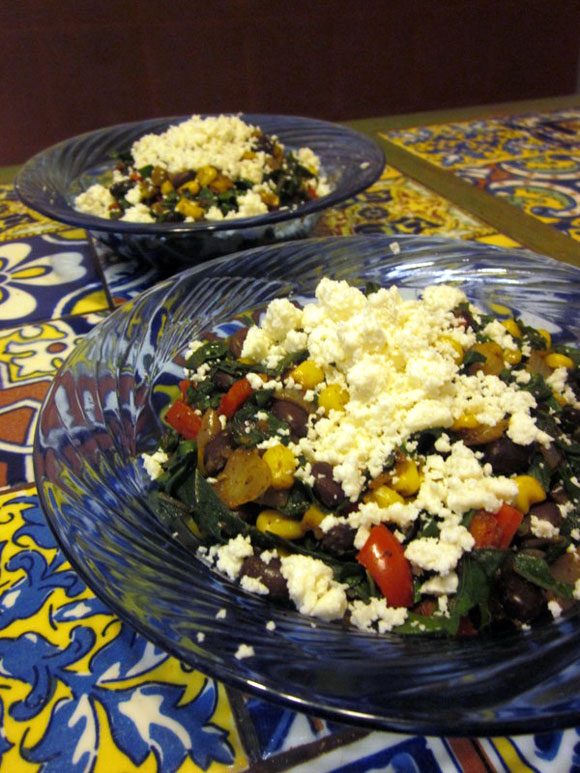 What to eat when you want Mexican, but have a whole bunch of Kale that needs to get eaten! I also considered calling this Confetti Kale. It's so pretty!
Ingredients:
1 tsp olive oil
1 large yellow onion, diced
2 mini red bell peppers or one regular red bell pepper, chopped
1/2 bag frozen corn kernels
1 can black beans, drained
1 bunch (about 18 stalks) Winter Red kale, tough stalk removed and cut into 1/4 inch ribbons
Seasonings: (Use these to taste, you know your family's taste buds. We like a sprinkle that covers the pan of each.)
onion powder
garlic powder
paprika
cumin
chili powder
oregano
salt and pepper
Optional Toppings:
Queso Fresco, crumbled
Cilantro, chopped
Lime Wedges
Scallions, sliced
In large skillet, heat olive oil over medium heat. Add onion, and peppers and cook until tender. Add frozen corn, allow to cook about 5 minutes, stirring occasionally. Add kale and stir until wilted. Add a little water to pan to de-glaze if needed. Add black beans and heat through. Add seasonings, stirring well to combine.
Serve immediately with optional toppings. (You could also use this as a stuffing for tacos, burritos, enchiladas, etc. I plan on trying that in the future!)
Yield: 3 Servings