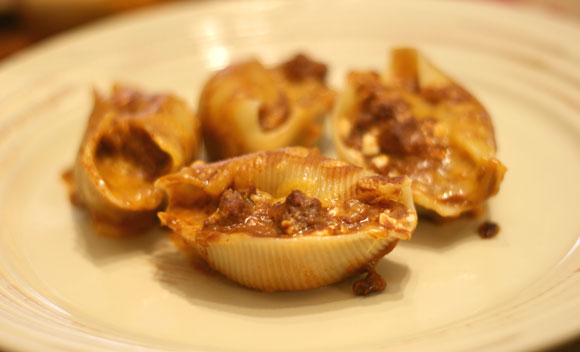 Taco Stuffed Shells are a different take on the typical stuffed shell recipe. These are filled with beef and cheese and smothered in enchilada sauce.
Ingredients:
1 lb Ground Beef
2 Tablespoons Taco Seasoning
1/2 Cup Salsa
1/4 Cup Water
1 Cup Cottage Cheese
2 Cups Shredded Cheddar Cheese, divided
12 oz Package Jumbo Shells, at least 21 shells
12 oz Enchilada Sauce
Preheat oven to 425°F.
Cook shells as per box instructions, set aside.
While the pasta is cooking, brown beef over medium/high heat in a skillet. Drain off any excess fat. Add taco seasoning, salsa and water. Simmer for 5 minutes.
Mix together cottage cheese, 1 cup cheddar cheese and beef mixture together in a large bowl.
Stuff the shells with the beef and cheese mixture. Place them in the prepared casserole dish. Top with enchilada sauce and remaining 1 cup cheese. Bake until bubbly, about 30 minutes.
Yield: 4-6 Servings
-Recipe from Plain Chicken–