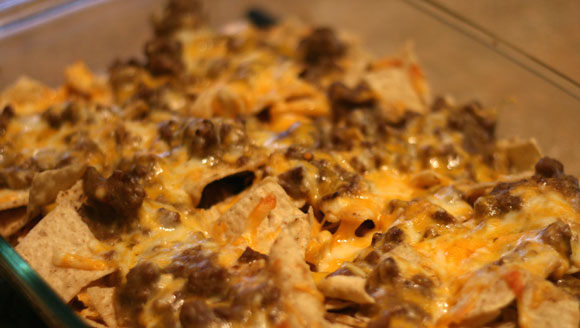 Nacho Casserole is a quick and filling weeknight meal. This can be make as a freezer meal as well by freezing instead of baking it. Thaw the casserole and bake until heated through.
Ingredients:
1 lb Ground Beef
1 -2 Tablespoons Taco Seasoning
1/4 Cup Flour2 Cups Chicken Broth
9 oz Tortilla Chips
2 Cups Cheddar Cheese, shredded
Salsa and Sour Cream for optional topping
Preheat oven to 350°F and lightly grease a casserole dish.
Brown beef in a skillet over medium-high heat. Season with taco seasoning. Sprinkle on flour, stir and let cook for 1 minute. Slowly stir in broth and bring to a bubble. Simmer until the sauce thickens.
Add half of the chips to the prepared casserole dish. Layer in half the meat and half of the cheese. Repeat with remaining chips, meat and cheese. Bake until the cheese is bubbly, about 20 minutes.
Serve with salsa and sour cream.
Yield: 6 Servings

-Recipe from Life As Mom–