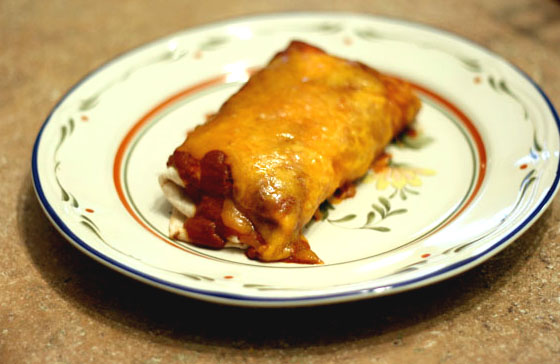 These burritos are amazing!  The enchilada sauce you use will really make a difference in the overall taste of the burritos since the meat is slow cooked in enchilada sauce.  My favorite enchilada sauce is Mayaco's brand. It's the only enchilada sauce I use, but definitely use whatever kind you love.
Ingredients:
2 lbs stew meat or cubed beef chuck roast
28 oz can red enchilada sauce
1 can refried beans
6 burrito flour tortillas
2 cups shredded cheddar cheese
Combine stew meat and enchilada sauce together in a slow cooker. 
Cook on low for 7-8 hours or high for 3-4 hours.
After the meat is finished slow cooking, heat the refried beans in the microwave or on the stove top.
Assemble the burritos by scooping on some of the meat with a slotted spoon onto a tortilla.  Top with refried beans.  Fold in the ends of the tortilla and roll up.  Place burritos in a casserole dish.  Repeat with remaining tortillas, meat and beans.
Top with the enchilada sauce from the slow cooker and sprinkle with shredded cheese.
Broil until cheese is melted, 2-4 minutes.
Yield: 4-6 Burritos