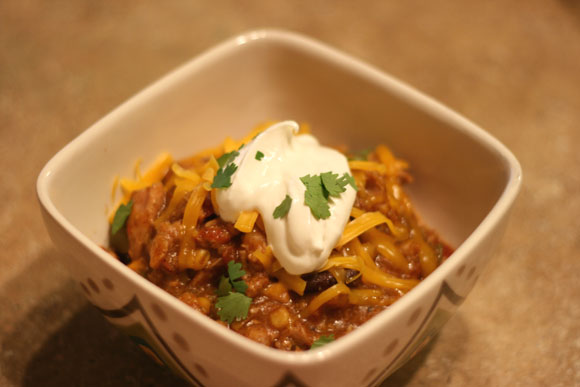 This is a great chicken chili to warm you up this fall. The chicken thighs are coated in crushed tortilla chips, which gives the chili extra flavor and thickens it at the same time. Top it with lots of shredded cheese and bake up some corn bread to make it extra comforting!
Ingredients:
14.5 oz Can Italian Style Diced Tomatoes
11 oz Can Mexicorn, drained
1 Garlic Clove, minced
5 teaspoons Chili Powder
1 teaspoon Cumin
1 teaspoon Kosher Salt
2 lbs Boneless, Skinless Chicken Thighs, cut into 1 inch pieces
2/3 Cup Finely Crushed Tortilla Chips
1 Large Onion, chopped
1 Large Green Bell Pepper, chopped
15.25 oz Can Kidney Beans, rinsed and drained
Toppings:
Shredded Cheese
Sour Cream
Cilantro
Drain tomatoes and reserve 1/4 cup of the liquid. Combine the tomatoes and the reserved liquid together in a bowl along with Mexicorn, garlic, chili powder, cumin and Kosher salt.
In another bowl, stir together chicken and crushed tortilla chips.
Place chopped onions and bell pepper in a slow cooker. Layer in beans, chicken and tomato mixture. Cook on high for 5 hours or 8-10 hours on low.
Serve with desired toppings.
Yield: about 8 servings
-Recipe from Woman's World Magazine-